May 6, 2022
Bright news from Sun Paper's Beihai mill in China. At noon on the 6th of December 2021, Sun Paper's new fiber line was successfully started up and produces bleached pulp. The project was challenged by several unexpected problems, but they were managed and solved through excellent teamwork between Sun Paper and Valmet's project teams in China and Sweden.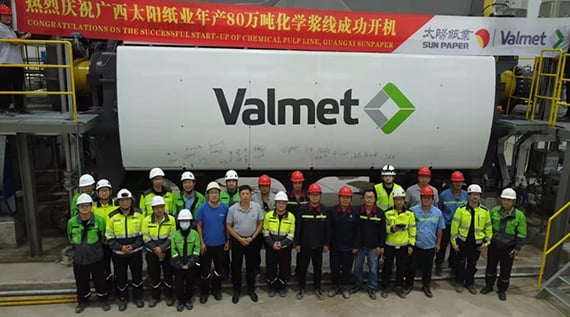 Challenges along the way
"We faced unforeseen problems along the way, but nothing that could not be overcome through determined teamwork," says Martin Löfqvist, Valmet's Fiberline Project Manager. "The project started when the main contract was signed back in April 2020, just as the outbreak of Covid-19 was a fact."
However, Covid-19 wasn't the only obstacle that Valmet faced during the project. "Shipping equipment offshore became a challenge due to repercussions from the pandemic," Martin continues. "And at the same time, we also faced problems with both the Suez Canal obstruction and congestion in Chinese ports. Working in close cooperation with our forwarders and shipping agents, we were able to get the final equipment delivered on-site just ahead of the start-up date. We would never have achieved this if we didn't have such excellent cooperation between our customer Sun Paper and Valmet's Chinese and Swedish project teams."
Schedules impacted by Covid-19 quarantines
There was also another major challenge, according to Martin, and that concerned quarantines and being able to get the correct personnel on-site and plan their schedules. "We lost man-weeks of labor and expertise due to first entry quarantine periods and local border quarantines," Martin says. "But with a good mix of local and Swedish resources we got a top-of-the-line team of specialists doing their utmost for a successful start-up. For this I want to say: Thank you, everybody!"
Valmet delivery for Guangxi Sun Paper includes the chemical pulp line with annual production capacity of 800,000 tons, and the bleached mechanical pulp production line with a daily output of up to 1,800 air-dry tons, which is currently the largest in the world.


The BCTMP (bleached chemical thermomechanical pulp) production line is the largest in the world, with a daily output of up to 1,800 air-dry tons. The BHK (bleached hardwood kraft) chemical pulp production line is environmentally friendly and highly efficient, with a daily output of 2,650 air-dried tons of bleached hardwood kraft pulp.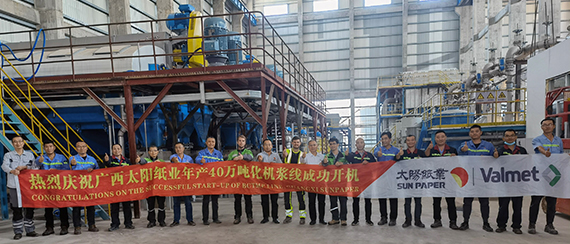 Valmet has a long-term cooperative relationship with Sun Paper, explains Wang Dong, Director of Mechanical Pulp Production of Guangxi Sun Paper: "Valmet's domestic and foreign technical experts worked well with our project team, from the start-up process of the entire project through to final successful commissioning of this BCTMP production line, as scheduled."
Dai Zhongying, Director of Chemical Pulp Production at Guangxi Sun Paper, agrees, saying: "I am very satisfied with the Valmet project team, especially the technical experts like Li Yong and Chen Jian, who are highly professional and dedicated. We are very happy with the cooperation."
"The Beihai mill gives us a solid base for our low-carbon, environmentally friendly and sustainable development. The recovery boiler and pulp line are the key links for the entire Guangxi base, including raw material supply, heat load, power generation, environmental protection etc. which form the entire circular economy."
"Valmet's chemical recovery boiler has high reduction rate, high efficiency, and meets a variety of tight environmental performance standards, such as fully burning the non-condensable gases in the pulp mill. Although the project encountered many challenges due to the pandemic, the cooperation with the Valmet team was very pleasant, and the overall start-up very successful."
Aleksi Salmirinne, Vice President of Valmet's Pulp and Energy Business Line in China, comments: "First of all, congratulations to Sun Paper's Beihai BCTMP production line and chemical pulp production line for the successful start-up. We are deeply grateful to Sun Paper for its confidence and long-term commitment to Valmet's high-performance, sustainable process technology and solutions. The professional and diligent teams and the good cooperation between the two parties have been important factors for the success of this project."
Valmet's broad scope of supply
The BCTMP line supplied by Valmet is the largest in the world. Valmet provided the main equipment of the BCTMP production line by means of design, procurement and supervision (EPS), covering high-consistency refining, high-consistency bleaching and low-consistency refining, pressure screening and other equipment, including the world's leading high-consistency refining and twin-roll washing pulper. Basic engineering, training, field service and related spare parts are also included in the delivery.
The chemical pulp line delivered by Valmet includes the major process equipment for continuous cooking, de-knotting, screening, brown stock washing, oxygen delignification, and ECF (elemental chlorine-free) three-stage bleaching.
Valmet delivered also a high-power recovery boiler for chemical recovery and energy production with enhanced environmental performance. Relevant spare parts and on-site services were also part of the delivery.
In addition, Valmet supplied Sun Beihai with a complete fine paper machine line (PM 1) from stock preparation to large roll handling system to two rewinders, as well as the complete automation system.
About Sun Paper
Sun Paper is a subsidiary of Shandong Sun Holding Group, which was founded in 1982. At present, Sun Paper has two pulp and paper mills in Shandong, with an annual output of 4 million tons of paper and containerboard and 1.3 million tons of wood pulp. The company also operates a pulp mill in Laos which has one production line with an annual output of 300,000 tons of dissolving pulp and 400,000 tons of recycled fiber based pulp. In July 2019, Sun Paper established a wholly-owned enterprise, Guangxi Sun Paper Company, with the goal of building a pulp and paper joint production plant.