Jun 20, 2022
"When we work together, we can do it!" says a happy Claus Jensen-Holm, head of the Valmet's Lime Kiln technology unit. He refers to the excellent HSE achievement at the SCA Obbola site in Sweden where Valmet delivered the new lime kiln system. The project was executed without any lost time incidents for Valmet's own employees and contractors at the site. Great work by everyone involved.
Keys to success
"Everything starts with thorough planning. You need to plan site safety carefully and then follow good safety procedures. Safety must be an integral part of everyday work at the site. For example, we always had topical safety items as part of our weekly meetings. We discussed all the observations, decided required actions based on them and then implemented them immediately," says Valmet's project manager Jørgen Jantzen.
"We also focused strongly on housekeeping and made sure sufficient barricading was in place, walkways with tripping hazards were blocked, and floor openings were blinded off," Valmet's site manager Torben Jeppesen complements.
The safe site is secured together, so seamless cooperation with the customer and contractors is a must. At the Obbola site, toolbox talks were done regularly with all contractors to increase safety awareness.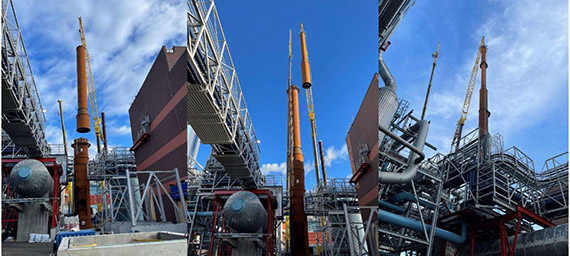 Lime kiln steel stack erection took careful plannin
The Covid-19 situation brought extra challenges to the work on the site, but good cooperation with the customer and open communication helped manage the situation.
"I want to thank our project team for this great achievement. We also got positive feedback from the SCA team. This shows it is also possible for there to be zero accidents at a project site, and that's something we always need to aim for. We want everyone to return home safely. So, follow our good HSE practices, keep safety as part of daily work on site and have open communication about safety topics with customers and contractors," Claus Jensen-Holm concludes.
Valmet delivery for SCA Obbola in a nutshell
The new lime kiln system delivered by Valmet replaces two old oil fueled lime kilns and have a daily capacity of 220 tonnes burned lime. The solution includes OptiDisc Lime Mud Filter, Flash Dryer for lime mud drying, high efficiency Rotary Cooler and a full Wood Powder Firing System for the lime kiln, including storage and grinding of wood pellets. This solution makes the lime kiln 100 percent fossil free.