Apr 8, 2021
Valmet's delivery to Bracell's new mill includes an evaporation plant and a white liquor plant. Around 500 special parts were transported in six months for the Lençóis Paulista mill.
Valmet has started the finaldelivery phase for the project works at the new Bracell mill, in Lençóis Paulista (SP-Brazil).
Valmet's delivery includes an evaporation plant and a white liquor plant, which lime kilns will be fed with biogas from biomass gasification. The evaporation plant, designed for high energy efficiency with energy recovery from weak and hot black liquor, has Valmet Tubel technology for more availability and easy washing. The new Bracell mill has been attended by more than 100 Valmet employees, who worked on the evaporation and white liquor plants.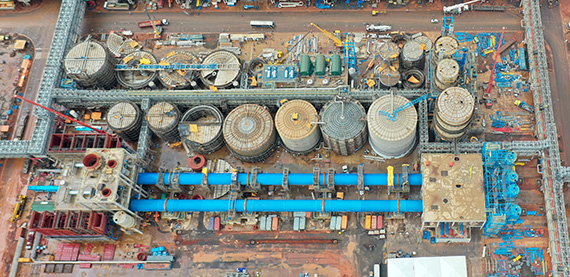 According to Valmet South America Project Manager, Fabrizio Contin, the start of operations in the two structures is expected to happen soon. "We are concluding the engineering, purchasing and civil construction phase with a current focus on electromechanical assembly. After completing all these phases, we will be able to start commissioning from April 2021. We have excellent cooperation between Bracell and Valmet teams, that involve a hundred specialists," he tells.
Transportation of equipment parts to Lençóis Paulista
Between August 2020 and February 2021, Valmet had to make a big logistic operation that transported, gradually, 500 special loads from Paranaguá Port, at Paraná state coast, to Bracell mill, in Lençóis Paulista, a total of 600 kilometers.
A lot of measures were taken by Valmet's logistic team because transportation of such large equipment needs special authorization. For Valmet' Supervisor for Planning, Logistics and Transportation Cesar Augusto Hein the planning started even before the materials and for the equipment were bought. "The transportation of special parts is a complex job and require studying already in the sales phase. It is necessary to analyze the size of the parts that will be produced, to be aware of the viability of the transport. We work with large pieces, which e.g. can be five centimeters too tall to pass on an overpass. Therefore, a detailed plan is made so that the customer receives the materials with the feasible measures and with quality and safely," he states.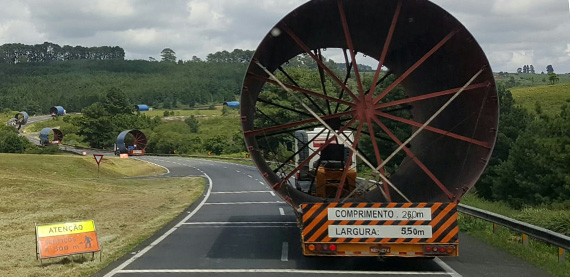 Over six months, more than 500 pieces were transported to Bracell mill in Lençóis Paulista, a route that passed through Brazilian roads 277, 116 and 476. For Hein, Valmet's detailed planning ensured the delivery of the pieces in time yet with some extra challenges. "The pandemic has intensified the complexity of transporting special parts. We had to reinvent ourselves to get the approvals to make the transport happen. Using the entire Valmet task force, with the support of the energy companies, city officials, the Federal Highway Police and many other bodies, we were able to meet customer's request and deliver the parts on time, even in an atypical year," Hein concludes.