In a modern pulp mill, the lime kiln is the only major consumer of fossil fuel – usually natural gas or fuel oil. During the oil crisis in the 1970s and 1980s, several alternatives to fossil fuel were developed to reduce operational costs. In recent years, there has been an increased focus on environmentally friendly solutions which at the same time can make pulp mills less dependent on fossil fuel. With the latest technologies and expertise, there are now several commercially proven CO2 neutral fuel alternatives. The two main alternatives are wood powder firing and biomass gasification.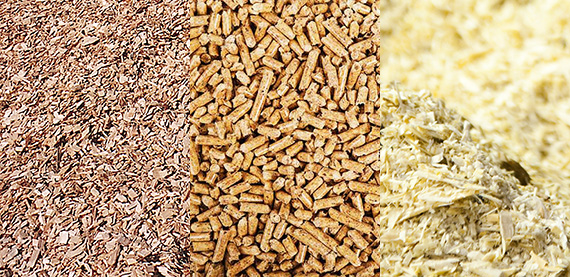 At pulp mills, methanol, turpentine and tall oil may also be available for burning in lime kilns. These work well as support fuel, but they cannot normally cover the lime kiln's fuel requirements. Valmet also has the technology to extract lignin from black liquor, which can be used as fuel.
Safe and proven wood powder firing
Typical wood-based biomass fuels used for direct fired rotary kilns range from wood chips and pellets to sawdust. Before the wood can be used as fuel in the lime kiln, it needs to go through drying and grinding.
Designing a lime kiln to operate with wood powder firing is a balancing act. As in all mill processes, safety is the natural starting point. To avoid wood accidentally catching fire, the temperature is monitored, and good housekeeping is important – especially around the grinding system. In addition to safety, moisture content and particle size is optimized for energy efficiency and kiln operation. A low-temperature belt dryer is often the preferred option for drying, because it can utilize waste heat from other mill processes, is robustly designed and is suitable for heterogenous particle size.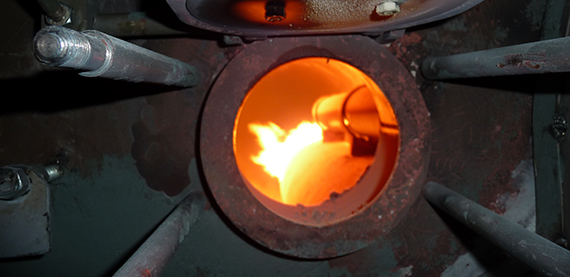 Controlling the flow of wood into the kiln is an important factor in stable kiln operation. Unstable flow will cause a variation in heat input to the burning zone, impacting product quality. The lime kiln burner needs to be flexible and able to safely and efficiently burn several different types of fuel.
Suitable solution for both old and new mills
"We have shown during the last decade that wood powder firing has become a fully commercial, proven and – most importantly – safe solution for lime kilns. Today it is possible to convert a pulp mill into a fossil-free mill and thus reduce the mill's carbon footprint and fuel costs," says Claus Jensen-Holm, Director for Lime Kiln Technology at Valmet.
Valmet has delivered several wood powder firing systems utilizing sawdust, pellets or wood chips. SCA's Munksund paper mill in Sweden utilizes pellets as a wood powder source.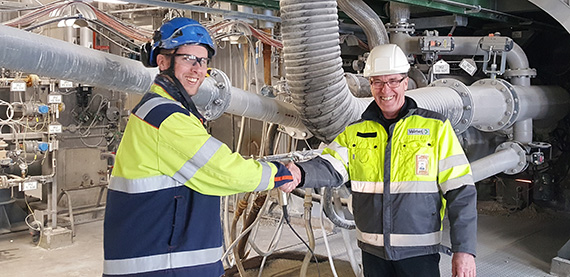 Fredrik Lind and Charles Brooks-Wind inspecting the lime kiln at SCA Munksund mill.
"Our lime kiln was 50 years old and had seen better days. To match our strategy of being fossil fuel free, we decided to build a new kiln utilizing biofuel. The new kiln was ready and in operation in January 2015. At first, we had major problems with e.g. ring formation and variations of fuel flow. After many hours of trouble shooting and process improvements, we have now taken a huge step toward the goal we set from the outset: a fossil-free kiln with great operational effectiveness and a low impact on the environment," says Fredrik Lind, Production Engineer at the SCA Munksund mill.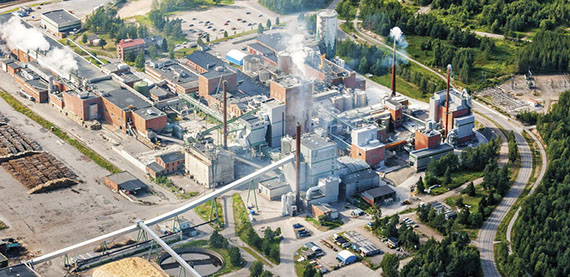 Utilizing bark in biomass gasification
Unlike wood powder firing, bark can be used as a biomass source in gasification. Biomass gasification is a combined system of biomass dryer, gasifier and lime kiln, optimized for burning the product gas. After drying, bark or other wood residue is gasified in the CFB gasifier at high temperatures using a controlled amount of air. The resulting product gas is then burned in the lime kiln burner, which is optimized for product gas.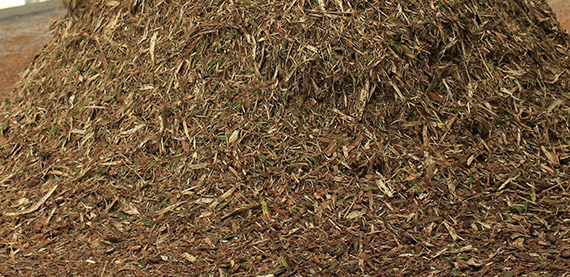 Bark can be used as a biomass source in gasification
"One of the challenges is controlling the whole process. Bark is not a uniform fuel, and it is important to understand how the process should be controlled and optimized. This is where Valmet's complete understanding of the process from the dryer, gasifier and lime kiln operation comes into its own," explains Juhani Isaksson, Business Development Manager for Gasifiers at Valmet.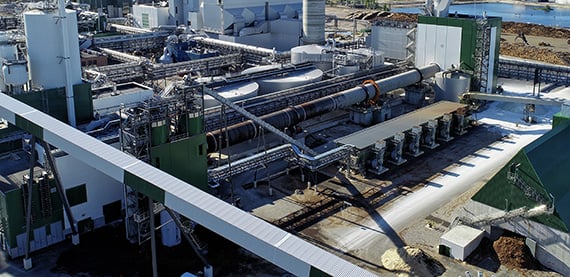 Valmet has delivered four gasifier-lime kiln solutions for pulp mills. One of the first delivered is Metsä Group's Äänekoski bioproduct mill.
"Bark-derived product gas is produced for the bioproduct mill's lime kiln. This is one example of solutions which enable the mill to be fully free of fossil fuels," says Ilkka Poikolainen, Vice President of the Äänekoski bioproduct Mill, Metsä Fibre.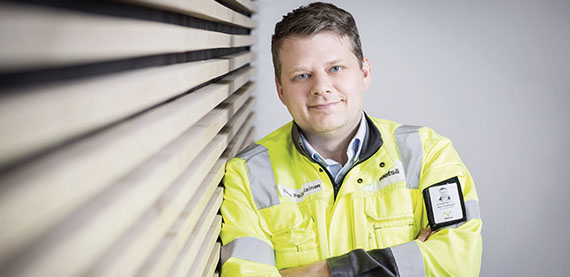 Choosing the best alternative
The driver for choosing a biomass-based solution may be the company's commitment to reducing CO2 emissions or the availability of suitable biomass as a byproduct of mill operations. In recent years, Valmet has delivered both gasification and wood powder solutions for new mills and rebuilds.
"The best solution and the business case needs to be evaluated each time, based on the available biomass, kiln size and possible bottlenecks in the process. Gasification is the right solution for mills with a large or medium-sized kiln and which have bark at their disposal, while wood powder firing is most suitable for smaller kilns," Jensen-Holm explains.
It is also possible to convert existing fossil fuel kilns to use either wood powder or gasification, but it must be acknowledged that replacing the kiln fuel may impact kiln design and operation.
The best solution and the business case needs to be evaluated each time, based on the available biomass, kiln size and possible bottlenecks in the process."
Claus Jensen-Holm, Valmet
TEXT: Lotta Forssell
PHOTOS: Antti Ratia, Valmet, Metsä Group, SCA
Article published in Forward magazine 1/2019.