Nov 20, 2023
Impressed with the results of the electromechanical technology and how well the equipment preserved product properties, Papel Aralar S.A chose again Valmet's Nonwovens Rewinder for their second wet-laid production line.
Papel Aralar and Valmet initiated their collaboration in 2018 when Aralar showed interest in Valmet's rewinders and specifically its electromechanical technology. Being comfortable with the results, Aralar decided to reach out to Valmet once again when the decision was made to invest in a second nonwovens wet-laid line.
The start-up was smooth and the production could be up and running quickly. Fabrizio Bartolini, Senior Technology Manager at Valmet and in charge of the project, is pleased with the process.
It was easy to start, tune and run in a really short time and we did not face any major obstacles. The main characteristic of Valmet's rewinders is the simplicity to adjust the machine to the different web structures, grammage and density. How quickly this was achieved was beyond our expectations, especially this being our first machine of this model."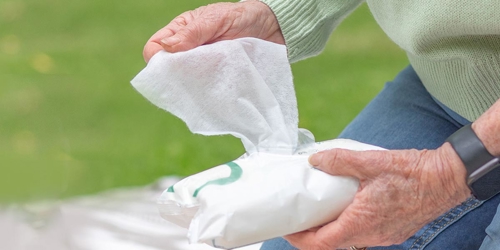 Aralar is one of these nonwovens production lines producing 100% flushable wet wipes with no chemical binders exclusively made up of cellulose fibers.
Fabrizio again, "This is a plastic free production line and with the entire nonwovens market now working towards reducing plastics these products contribute to that movement. The industry will increase its usage of natural fibers and Valmet is absolutely focused on offering equipment to support and meet the needs for a more sustainable nonwovens production." When visiting Aralar and talking to Aralar's Director Mr. Jesus Usabiaga he says:
Valmet delivered on all the performances initially guaranteed. This machine is treating the web with care and material thickness preservation in terms of density control. The characteristics of the product properties are protected. We are happy with the collaboration. The team at Valmet was very supportive in the installation and start-up process and has continuously been available to answer various questions that have arisen since".
With this project we have further confirmation that Valmet's patented electromechanical technology is extremely suitable for all nonwovens webs. The relieving approach is developed into a completely automatic "no stress" system, including finished reel removal and off-loading operations.
Explore the features of Valmet REELITE NW2 ENS and its patented electromechanical technology, extremely suitable for all nonwovens webs in this video from the Papel Aralar's plant.
Product information REELITE NW2 ENS:
Product target: Wetlaid/Drylaid Spunlaid/Mid Speed Spunlaid/High Speed
Basis Weight: Up to 300 gsm Up to 300 gsm
Drive speed up to: 1500 m/min
Max Master Roll Diam: 3500 m/min
Web Width: Up 5000 mm
Max D. Finished Reel: 1500 mm
Shaft Handling System: Man/Automatic
Slitting System: Manual/Semi-Automatic/Automatic/Simultaneous
Actuators: Electromechanical Scalability
Information about the Papel Aralar S.A.
Papel Aralar S,A, is a family business where the 4th generation is currently working. Since its beginning in 1936 it has always been sure to have the latest technology in manufacture for producing multiple products for Tissue and Nonwovens markets, making large investments to ensure that it has always been at the cutting edge. Currently, its quick expansion and rapid international consolidation in more than 40 countries has made it the leader of the Spanish market and right at the top at International level.