The modular product platform is not a new concept, but it still remains inefficiently exploited in many areas of traditional industries. In software development, modularisation is already a widely utilized method, as combining different sub-programs executing specific functions to the main program has been a common way of working for decades. While on the software side modularity is daily life, in the traditional machinery industry it still easily carries a stigma of attempting to improve only the cost-efficiency of a given product by making a simple standardization exercise. However, as this article will demonstrate, modularisation is too complex and time-consuming if the target is simply to reduce the cost. Moreover, the true benefits of a modular platform do not lie in the cost, but in versatility and sustainability.
Modularity in a nutshell
Modularity, in simple terms, is identifying standard building blocks and the interfaces between them. These building blocks are called modules. One module can be equal to one part, but typically it contains several parts which together form a feature or functionality. The basic rule in modularity is that to create different product variants one can change one of the modules and keep the neighbor modules the same. Changing the functionality of the entire modularised product typically involves changing one or several modules, depending on the nature of the requested change. As an example, extending a service temperature of a valve from 200˚C to 300˚C may be handled just by changing the seat, but in case the temperature rises up to 600˚C, then other components must be considered such as the shaft and bearings.

A versatile modular platform covers needs all the way from cryogenic applications to other service processes such as abrasive or dirty media.
Drivers behind the modularity
Creating a modular product platform is not a simple and cheap exercise, as it requires careful studies of customer needs, global engineering standards and safety regulations. One needs to collect the data from the market (different industrial segments and applications), closely follow international and national authorities and regulations, and notice the changes brought about by global megatrends. In addition, the products always bear the legacy of previous model generations, so an extensive study of the installed base and the required functionalities is essential. Although fitting all of the above-mentioned requirements into a new platform is not straightforward, from a sustainability and effectiveness perspective going modular is vital.
The driving force behind all the technological leaps has nearly always been improving efficiency, and modularity is a great tool to reach that goal – not only for a valve manufacturer but for plant owners and operators.
The driving force behind all the technological leaps has nearly always been improving efficiency, and modularity is a great tool to reach that goal – not only for a valve manufacturer but for plant owners and operators. Meeting the needs of ever-tightening regulations, and increasing efficiency and profitability targets cannot be sustainably reached without interchangeability of parts and upgradeability of construction.
Versatility to meet varying customer needs
As mentioned, one of the ideas typically associated with modularity is cost reduction. The idea of using standard parts produced in high volumes may be tempting, but it is not a good starting point for a successful modular platform. The most successful basis for a wide-ranged product platform is customer needs. Customer needs, such as targeted product functionalities, requested performance levels, and imposed process conditions, set the boundaries for the identification and categorization of modules.
One factor that makes valve modularisation a challenging and complex exercise is the variety of the processes it is used in. A valve can be installed in relatively easy water service, where the only critical performance criterion relates to valve opening and closing controlled by an automation system. Alternatively, a valve can see high temperatures, abrasive particles, or need to handle toxic media while keeping the plant operators and environment healthy and safe. For a platform that serves varying needs, finding an intelligent balance between competitiveness, performance requirements and high quality requires systematic mapping of functionalities. On the other hand, it offers plant owners the possibility to select the valves from the same product family to meet the different needs of various processes in the plant, and get the modularity benefits during service and possible upgrades.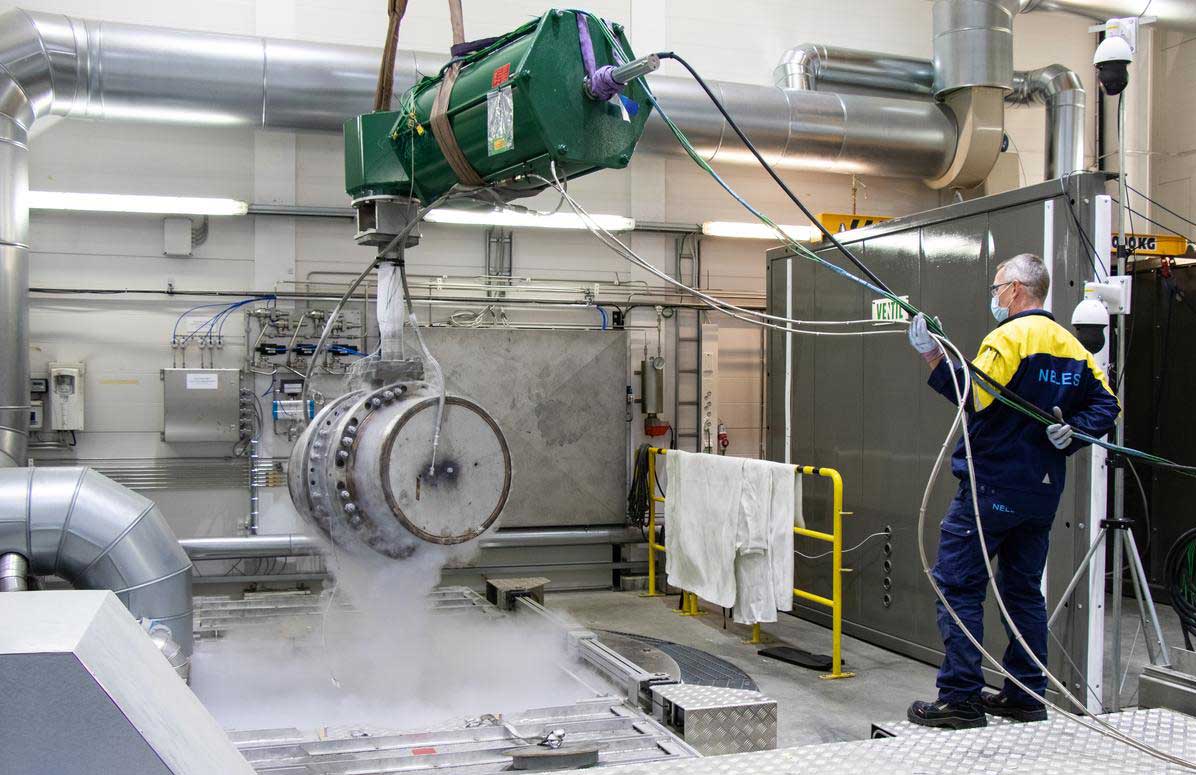 Designing a reliable valve platform involves detailed simulations with modern software and hundreds of hours of rigorous testing.
Designed for manufacturing and service
When the successful modular platform starts from customer needs, it is closely followed by design for manufacturing (DFM). DFM as a concept has also been used for decades, and the basic idea is to make the manufacturing and the assembly as simple and standard as possible. DFM may offer benefits to the manufacturer and the end-user, as long as sustainability is kept in mind and valves are not considered as disposable products.
A valve that is easy to assemble when manufactured is also easy and fast to service. Such a valve is more efficiently dismantled and faster reassembled, so it will be sooner back in the process and the plant downtime can be reduced. In DFM processes, special attention is also paid to safe product handling, assembly-friendly tolerancing of parts, and minimizing human errors during the assembly process. This benefits maintenance operation as well. With careful service and spare part strategies, the number of different spare part sets in the inventory can be reduced, and the shutdowns benefit the simplicity of valve maintenance.
Easy and cost-efficient to upgrade
Using modular products can greatly help in the sustainability agenda, as it is an investment in the future with less waste. When health, safety and environment (HSE) regulations become more stringent, the modular valve can easily be upgraded due to the interchangeability of parts.
Using modular products can greatly help in the sustainability agenda, as it is an investment in the future with less waste. When health, safety and environment (HSE) regulations become more stringent, the modular valve can easily be upgraded due to the interchangeability of parts. As an example, consider fugitive emission control. Some decades ago, the environmental regulations were not very tight, but global warming has altered attitudes, and today it is clear that emissions need to be minimized to achieve a carbon-neutral world.
Today, the most requested emission tightness class is ISO 15848-1 Class B, but in the future, the tightness requirement will most likely be ISO 15848-1 Class A, which is 10 times more demanding. For example, for a modular product, the design can be constructed to support this type of upgrade. It will be possible to simply change one or two modules, rather than the entire valve. In addition, the process efficiency improvements, such as increasing the flow rates or converting the process to handle less pure input fluid, can often be handled by simply upgrading certain critical components. Additionally, for some process critical challenges, such as noise reduction or cavitation control, the solutions may be found by changing the valve trim only. With these simple examples, it is clear that modularity extends the life cycle of an individual product, and therefore directly supports sustainability and waste reduction.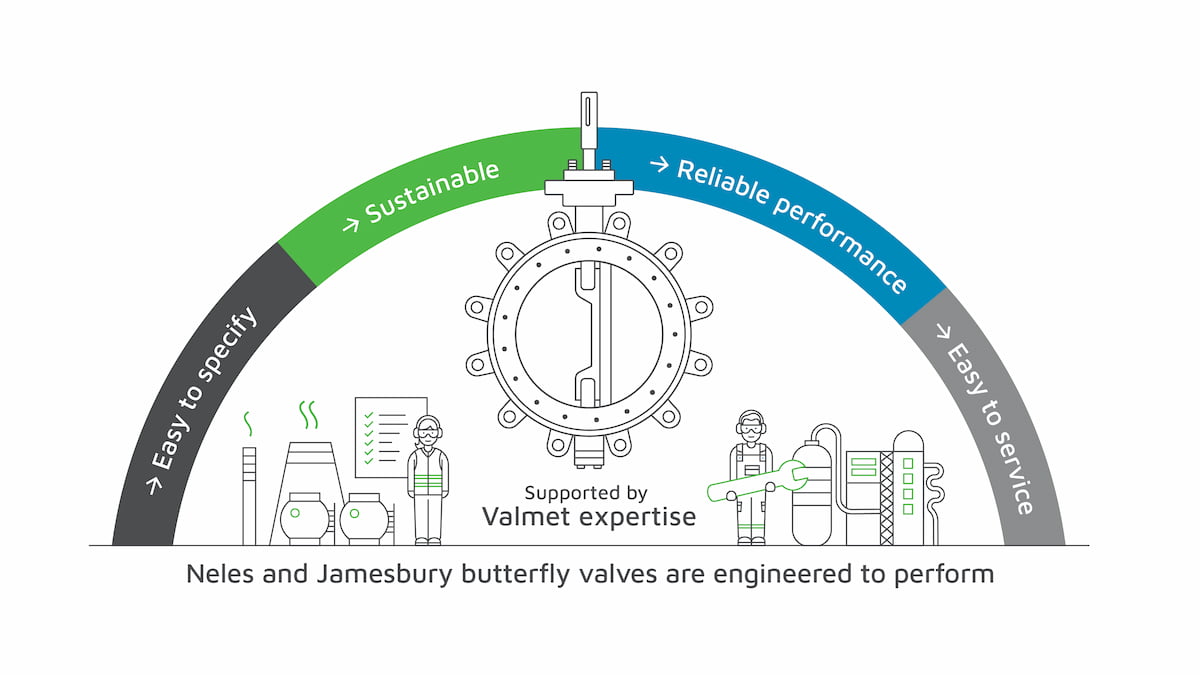 The new versatile butterfly valve product range enables easy valve configuration for an extensive range of applications in all process industries.
Leaving the door open for future needs
Cutting the emitted greenhouse gasses and converting processes to renewable raw materials will generate changes in unit processes. This will lead to unexploited areas and set new requirements for component manufacturers. Modular products are easier to tailor to fulfill new customer needs, because the main construction can remain as is, and only certain parts need to be redesigned and tested for the new functionalities. This greatly improves the successful commissioning of a product even in totally new applications. A product has a solid basis and certain field-proven functionalities that are then combined with new features that can be separately simulated with finite element analysis (FEA) and computational fluid dynamics (CFD) and tested as separate features in a laboratory.
The development cycle of a modular product is typically shorter than a non-modular one because engineering does not start from scratch but can be based on pre-defined overall design principles. This is where digitalization meets conventional product design: if one of the global valve standards increases the minimum flange thickness, for example, the change can be efficiently implemented into governing rules of the product, and the required manufacturing drawings can then be populated by a few clicks of a mouse. For new product variants, higher quality can be expected from day one, because the teething problems have already been tackled by previous versions and generations. The production procedures, supply chains and part tolerances have been proven in use in many other constructions and processes, so one-off products for niche applications can be as stable as well-established designs.
Conclusion
In today's world, the focus is turning towards sustainability and overall global profit, not just optimizing the bottom line of the next quarter. A modular valve platform that can stand the test of time and adapt to unknown future process needs is, therefore, a valuable asset.
This article was originally published as 'Future proof technology' in Hydrocarbon Engineering magazine, December 2021 issue.
The text has been updated in April 2022, due to the company name change to Valmet.