Jan 20, 2016
A refinery in South America was approaching its scheduled maintenance shutdown, which is carried out every three years of plant operation. According to the original plan, the refinery aimed to overhaul all the critical emergency valves in the plant. This entails organising cranes, preparing the logistics to transport the valves to the supplier's facility, changing all the valves' wearing parts, and finally putting them back again into operation. This time, however, the refinery decided to think twice before going forward with the plan.
The facility's high reliability targets required that every emergency shutdown (ESD) valve must be operated with an intelligent solenoid valve, which could implement partial stroke testing (PST) on a regular basis to identity any degradation in such critical emergency valves. For this shutdown, the refinery decided to take full advantage of the performance information that these intelligent valves could provide.
All the performance information was analysed in advance of the maintenance shutdown, which showed that 40% of the valves were developing a performance problem. Yet 60% of the critical valves were still operating at the same performance level as at the beginning of their lifecycle. Based on this information, the refinery decided to carry out full maintenance activities only for those valves that indicated lower performance. The rest of the valves were just double checked to confirm that they did not show signs of any wearing that would cause risk to their performance. This operation was identified to be a very good approach, as the refinery was able to reduce maintenance costs by 58% from its original method. Shutdown time was also secured, which led to improved safety since the amount of maintenance work decreased. This example provides an accurate depiction of the capabilities and benefits that an intelligent solenoid valve can provide for its end users.
Information leads to knowledge
Some people argue that knowledge can be a pain. When operational personnel are aware of a critical failure, as described in the example above, they are placed in a difficult position. They may become overly concerned with thinking about how to act when a critical safety valve is not operating. How can they arrange such quick maintenance actions? What if this failure jeopardises the entire plant's operations?
Still, others believe that information leads to knowledge; knowledge leads to understanding; and understanding leads to wisdom. Even if information received from an intelligent solenoid valve is not positive, it is the first crucial step needed to enable more reliable and safe operation in any plant.
In this particular case, it would have been very time consuming and costly to remove all critical emergency valves from the plant. as had always been the case in the past. By just carrying out full maintenance on the 40% of the valves experiencing performance degradation. The plant could ensure reliability and safety, plus return to normal operation quicker than when all of the valves were overhauled. By using the information prior to shutdown, the entire process could be planned and carried out much more efficiently.
The operating personnel also responded very proactively by choosing to re-evaluate their normal procedures of overhauling all of the valves. The information that the valves could provide helped the refinery move forward with a much smarter way of analysing, learning and improving its processes. In the end, it makes better business sense to know and react to specific problems rather than remain ignorant of them.
Using information proactively
With the diagnostics provided by the intelligent solenoid valve, the plant operators were able to identify the valves experiencing problems earlier than without such a performance test. Moreover, it was very valuable for the operators to get a better understanding of which valves were still operating as they had been since the very start of operation.
Thanks to the diagnostics information, it was possible to save considerably more time and money by not fully maintaining all of the valves, as well as to plan more carefully the maintenance needed for the 40% requiring full maintenance at an earlier phase. The information also gave the operators the capability to analyse the reason for the deteriorating performance in those valves. This enabled them to lean more about the specific application requirement, which undoubtedly leads to higher reliability and better process performance when the causes can be determined.
Valve vendors can be of tremendous help to the end user when performing such analysis work. Typically, they can help analyse if there is any room to further improve the selection and sizing of the valve. Additionally, they can call on their broad experience from other similar valve applications. Such in-depth application knowledge can make a big difference when selecting the most appropriate valves for critical tasks.
Intelligent solenoid valve analyses ESD valve performance
An intelligent solenoid valve is a product specially designed to close the ESD valve in case of a safety demand. A third party certification body certifies the intelligent solenoid valve in order to operate in particular applications. Typically, the valves have reliability figures that allow them to be operated in Safety Integrity Level (SILJ) 3 applications.
In addition to its main activity of implementing the safety action, an intelligent solenoid valve is capable of analysing the performance of an ESD valve. This is thanks to the fact that all necessary electronics and microprocessors have been built into it in order to be able to perform the PST. Therefore, the intelligent solenoid valve can use this test to identify if the ESD valve's performance has changed over its lifetime.
Using the PST, a valve is stroked only partially so it can move to a specific opening angle, such as 20%. After reaching this opening angle, the valve returns to its original position. When a valve is only moved partially, the PST can be carried out without disturbing the process. Still, the stroke is sufficient enough to identify any performance deviations over the lifetime of the valve. Typical problems that can be identified with PST include valve sticking, valve or actuator corrosion, soft material cold flow, pneumatic leakages, solenoid valve problems, and many more.
The intelligent solenoid valve is an integrated solution that fulfils end user needs, while Simultaneously simplifying installation. This leads to higher reliability, safety and cost efficiency (Figure 2).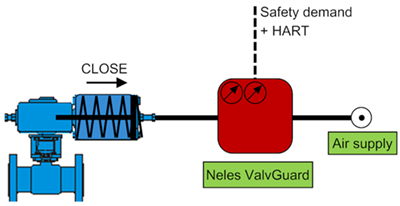 Higher reliability and safety with simplified installation
An intelligent solenoid valve can offer greater benefits to an end user as well as an EPC contractor. From an end user's point of view, the main benefit is Simplified installation, which leads to higher reliability and safety since additional components from the ESD valve can be eliminated.
When safety action, PST implementation, high pneumatic capacity and limit switches are added into the same package, the integrated solution provides extensive, but also extremely simple, installation for the critical control of the ESD valve. It is good to keep in mind that these benefits target both reliability and safety. Other advantages can also be gained when using the diagnostic information, so that predictive maintenance activities can be used.
Earlier studies have estimated that a properly functioning predictive maintenance programme can provide savings of 30 - 40% in comparison to a programme that uses reactive and preventive maintenance alone. Customer feedback has proved that running scheduled maintenance shutdowns with the help of predictive maintenance information can cut valve-related maintenance costs by up to half in the best cases. In addition, and perhaps even more importantly, the preliminary preparation of maintenance actions can ensure that the schedule is kept as planned to eliminate any risk of losing valuable production time.
Lower capital investment costs for EPCs
From an EPC contractor's point of view, the main benefits come from the capital investment. The installation alone simplifies the whole case considerably. The number of pneumatic components used is reduced to provide a lower cost solution for the EPC.
Furthermore, when considering an integrated solution where the solenoid valve and PST functionality are in the same package, the DCS/safety system I/0 number can be cut by half. I/0 card cost is one thing. but space is money. An intelligent solenoid valve provides a solution where the space can be optimised and the I/0 card amount is reduced to half when it comes to ESD valve control.
Even though it is generally believed that diagnostics do not provide many benefits to an EPC, this is not the complete truth. Diagnostics can help identify possible problems throughout the commissioning phase. That in itself is highly appreciated by EPCs when working towards a fast process plant startup.
Originally published in Hydrocarbon Engineering magazine, December 2015 issue.
Text originally published in 2015, and slightly updated in April 2022, due to the company name change to Valmet.