A few years ago, we added globe valves to its control valve portfolio, making it by far the widest on the market. For our customers, this means that they can now get all their valves from one source. What's more, single-source supply means single-source responsibility – no more shopping around is needed.
Over the past 60 years, we have supplied hundreds of thousands of valves, providing us with extensive experience and an deep knowledge of various control applications. We definitely know which control valve, material and coating best suits any given application or flow media.
Whatever the customer need or challenge, we are able to deliver a suitable standard or customization to best meet it. To ensure this, we support the customer in valve sizing and selection with our NelProf™ valve sizing software. This way, our customers get the right valve solution that features the lowest cost and optimal performance throughout its life cycle.
Ideal valves for oil & gas and power applications
Globe valves are widely used in oil refineries as well as in gas processing, petrochemical and chemical plants. "With the globe valve product line included in our offering, we can now provide almost all automated valves for oil and gas processes," points out Mika Nissinen, Vice President of Oil and Gas Business Line at the time. "We have been positively surprised by the interest shown especially by customers in the power industry, and we have received many orders from them for steam conditioning applications in power generation, among others."
Regardless of the industry sector, all customers have one thing in common: they are looking for high process uptime with no unscheduled production breaks to reach high profitability. Uptime is really the synonym for reliability and financial success. Neles™ globe valves are known for their reliability and proven performance, even in the most critical processes. They operate at extreme pressures and temperatures. They are available with a variety of seat, seal, trim and actuator options to make them ideal for a wide range of process conditions.
Simplicity equals reliability
"The fact that we offer both standard globe valves and special solutions for severe conditions makes us stand out from other suppliers. Our target in product development is always to go for the highest standards," adds Markus Hauhia, Director, Globe Valves.
Take, for example, the innovative and fundamentally simple construction of the Neles globe valves with their simple, yet very tight sealing. Our R&D team approached the solution from a different angle compared to other suppliers. First, the team came up with an idea, then simplified it and engineered the best possible solution with regard to operation. The secret lies in an ingeniously simple construction – and simplicity means reliability.
Globe valves feature uncompromised safety and meet the highest environmental standards. Thanks to the innovative stem sealing solution, emissions from the valves are very low. For applications where zero emissions are a requirement, a special bellows seal solution is available.
Intelligence brings additional benefits
Intelligent valve controllers, such as the Neles™ NDX featured in this issue, are used in various industrial applications, and they are a perfect match with the globe valves, too. Their unique diagnostics provides a solid foundation for valve performance optimization as well as for proactive and predictive maintenance.
The diagnostics features prove their value, for example, before a scheduled shutdown when you have to determine which valves need to be serviced or replaced, keeping shutdown times to a minimum. In addition to reliable globe valves, customers can count on Neles' strong support that starts with professional project execution and lasts throughout the entire product life cycle.
Refined processes
Over the past years, Valmet has expanded and developed its manufacturing and technology operations globally. Today, it has world-class valve technology centers and valve production facilities in Finland, the United States (two facilities), Germany, China, South Korea, India and Brazil. They provide research and technology development (RTD), customized engineering, as well as sales and services that support Neles' ability to engage in comprehensive and efficient cooperation with its customers. The production facilities feature modern and standardized processes following Lean principles, ensuring high-capacity and high-quality production, as well as enabling strong on-time delivery performance and shorter lead times.
Our valve RTD team is now also using innovative ANSYS software in flow and strength simulation when entering new areas that are too expensive or time-consuming to test with traditional methods. Simulations save time and help achieve the optimum valve design faster. Our testing laboratories also house the industry's most state-of-the-art cryogenic testing facilities, dedicated to testing valves intended for LNG and other low-temperature processes.
EPC companies rely on us
Valmet has cooperated closely with engineering, procurement and construction (EPC) contractors globally for several decades as their value-adding partner. Valmet's valve technology and engineering know-how has been delivered to more than 100 projects led by Korean EPC companies around the world.
One of these companies is GS Engineering & Construction, the main contractor for the expansion project of the petroleum refining and petrochemical production complex of Saudi Aramco, Saudi Arabian Oil Company, in Saudi Arabia. According to GS Engineering & Construction's Instrument Lead Engineer Jang In-Cheol, this is one of the company's biggest projects. "We need trusted partners to work with us. We have completed several successful projects globally with Valmet. They understood what we needed in this project and could provide us with the engineering support and services we needed. We know from experience that Neles provides reliableand high-quality products that contribute to our goals in efficiency and environmental aspects."
Another South Korean EPC contractor, Samsung Engineering, chose Neles' industry-leading globe valve technology for Abu Dhabi Oil Refinery Company's (TAKREER) chemical refining complex in the United Arab Emirates. "We have had good support from Neles in our past projects. To ensure smooth startups, Neles offers its wide product knowledge and application expertise, global manufacturing facilities and sourcing, full expediting and inspection support as well as a global service network and comprehensive startup support," says YunKi Sung, Vice President, Procurement Department, Samsung Engineering.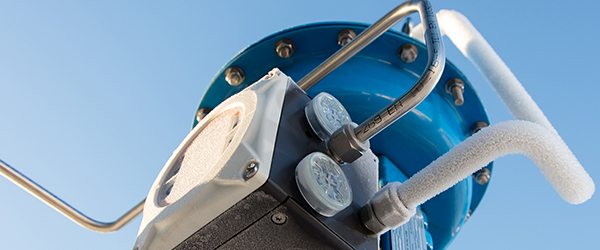 Globe valves and accessories serving the oil & gas industry
Usually about 80% of all applications can be covered with Valmet's standard GU and GB, unbalanced and balanced, globe valves. They are the workhorses of our portfolio representing the quiet majority of valves. They have a robust design, and they have been engineered for long-term performance in oil and gas industry applications. Neles' globe valves have also proven their capabilities in the severe steam service applications of power plants.
For its linear globe valves, we offer a wide variety of trim options for different applications, including general and severe processes. The Omega trim features a carefully calculated number of flow passages and turns to provide sufficient capacity and remain within critical flow velocity limits. It offers prolonged trim and valve lifetime, tackling even the toughest applications for anti-cavitation and noise reduction purposes.
Among the latest updates and new releases that deliver added value to our customers are the robust and reliable Neles NDX valve controller and the recently updated VD actuator package. The unique field reversibility of the VD spring diaphragm actuators allows for the actuator spring to be changed easily in the field without the need for any additional parts, making it a compact and efficient overall package.
TEXT: Marjaana Lehtinen
PHOTOS: Valmet and Shutterstock
Published in Results flow control customer magazine 1/2016.
Text originally published in 2016, and slightly updated in April 2022, due to the company name change to Valmet.