An industry with two sides
The minerals and metals industry is made up of a broad, versatile and complex set of sub-industries, so it is useful to break it down into distinct segments. One way to look at the industry, through the eyes of a flow control supplier, is to see it as having its two main branches:
Concentrators and minerals processing where slurries play a large role in flow control-related applications. In concentrators and minerals processing plants, the main unit processes—such as milling, hydrocyclone separation, thickening and flotation—are usually rather similar to each other regardless of the commodity in question. The level of challenge for flow control depends on the chemical composition of the slurry, pressures, temperatures and other process parameters.
The second branch covers metallurgy, chemical minerals and metals and steel, where the majority of flow control importance revolves around standard-to-demanding utilities and process-critical valves. There is naturally more complexity and variation in the requirements for flow control, depending on the commodity. Figure 1 presents the two main categories in minerals and metals.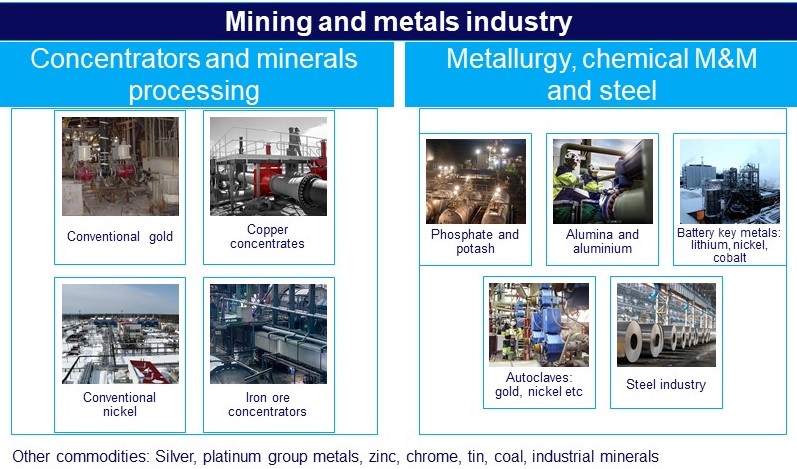 From the flow control industry's perspective, both markets are trending upwards. As ore grades are getting lower, concentrators must process more ore to achieve the same output levels of concentrate. In addition, ore chemistries are getting more complex, resulting in more advanced flow sheets, intensifying the need for high-quality flow control.
Examining the metallurgy, chemical minerals and metals and steel industries, while the reasons for a positive outlook are more diverse, one of the key trends is the global energy transition to greener alternatives. Electric vehicles, and the battery industry in general, are gaining further momentum and require metals such as copper, lithium, nickel and cobalt.
Key themes in minerals and metals and how valves fit in
Making customers successful is only possible when flow control providers understand their world, so logically customers' priorities also become the supplier's priorities. Some of the most discussed themes in minerals and metals industry today are sustainability and asset optimization.
Sustainability
The minerals and metals industry processes significant amounts of raw materials to create the various end products. Consequently, it needs heavy process equipment in large quantities, making this industry asset-heavy and energy-intensive. In turn, this means considerable usage of the world's resources. Conversely, it also puts the minerals and metals industry into a position to make a difference in achieving the world's sustainability targets. What may seem like small improvements in raw material usage or process equipment efficiency gains, can have a big positive impact to sustainability. Valves are part of this equation.
Fugitive emissions can be minimized with the right valve technology having safety and sustainability implications. In addition, a reputable flow control supplier makes sure its products are manufactured with sustainability targets set to the core of its operations. And a modern customer makes sure its supplier's sustainability agenda is not just words, but reality backed up by data, KPIs and best practices.
As industry finds ways to lower water consumption, an important aspect is to make sure related flow control equipment performs at the highest possible level.
Another key topic, under the sustainability umbrella, that minerals and metals companies focus on is process water. Producing metals requires large amounts of process water, a topic of great interest to the general public in many regions of the world. As minerals and metals industry finds ways to lower water consumption and improve water recycling, an important aspect is to make sure related flow control equipment performs at the highest possible level. In some regions of the world, sea water is desalinated into process water, another key area in which valve professionals can help with their knowledge and expertise.
When selecting valves for the plant's process-critical applications, customers are increasingly interested the lifetime of the valves, the reliability of their valve assets and which technical features assure uncompromised safety. Products' reliability and lifetime affect sustainability but also have other, more practical and economic implications.
Asset management and total cost of ownership (TCO)

The most process-critical valves show the importance of asset management. A good example is the autoclave operation.
Autoclaves are used with various commodities, most notably gold and nickel. Autoclaves are large pressure vessels, operating under high pressures, elevated temperatures and often acidic environments. The slurry flowing in the pipelines is typically erosive in nature. When selecting valves for these applications, the valve vendor and the autoclave operator together must take all of this into consideration.
Figure 2 shows autoclave critical applications and suitable offerings. To successfully equip and service the severe service flow control products around the autoclave, tag-level application expertise and a matching portfolio is required.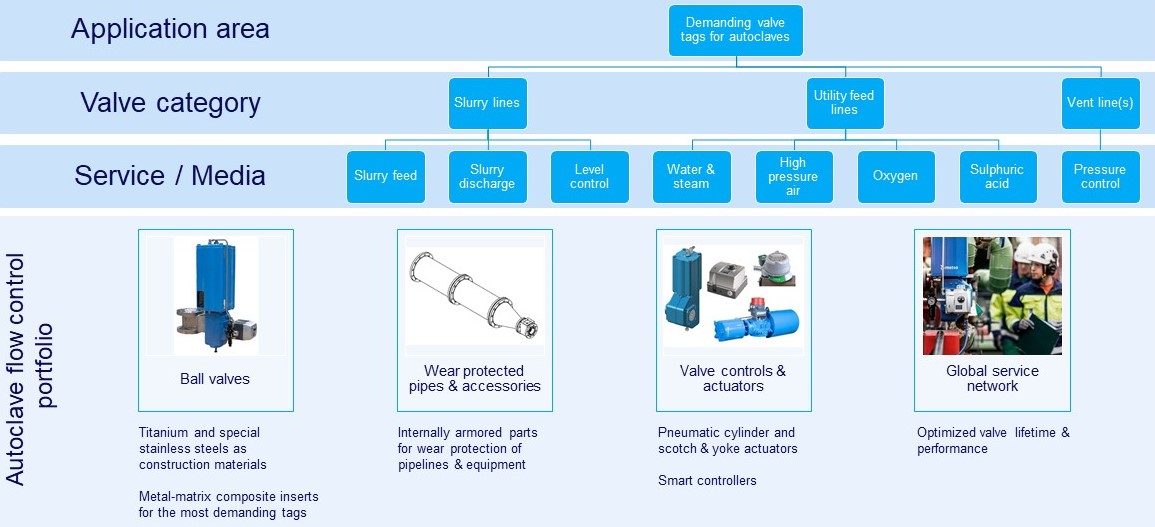 From the asset owner's perspective, two main variables should be carefully considered when selecting process-critical valves for autoclaves: materials and construction. When it comes to material selection, titanium is the industry standard for the body material of the most critical valves around autoclaves.
The trim and seat selection is an even more interesting topic: Modern manufacturing methods combined with advanced material science and metal-ceramic composite materials have been proven successful in autoclave severe service tags. The target for such metal matrix composite (MMC) material is to combine the best properties of both constituents, the metal and ceramics, into one solution. The metal alloy provides the required toughness, while the embedded ceramic particles ensure high wear resistance.
Another key element that process operators find valuable in MMC materials is that such composite materials do not require any coatings or hard-facing for the trim and seat. By removing a risk (i.e., coating failure) from the equation, autoclave operators can achieve additional performance improvement.
As to construction considerations, reliability and robustness often correlate with each other. Valve seat design is one source of complexity worth considering.
When these aspects are thoroughly considered, it has a direct positive impact on the products' total cost of ownership (Figure 3).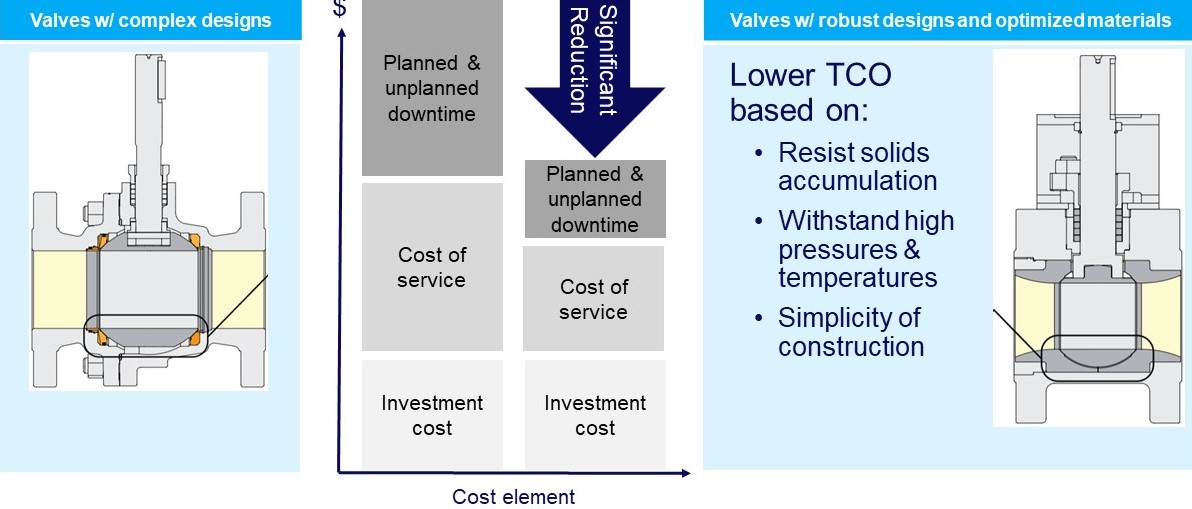 With innovation and digitalization, greater efficiencies and productivity are possible.
While tangible technology advancements in valve products are the traditional source of innovation, digitalization plays an increasingly important part in the flow control industry. Valves equipped with smart controllers are digital-ready. Gathering flow data, analyzing it and providing the results for the asset owners' benefit is business as usual. Whether the outcome is seen in increased performance, safer operation or for instance in a capability to better manage inventories, customers will find that the value is linked to lowering the total cost of ownership of its valve assets.
Mining faces an interesting and complex future of achieving its ends, especially given the world's efforts toward decarbonization. With innovation and digitalization, greater efficiencies and productivity are possible while not sacrificing the necessary rigor and reliability that the minerals and metals industry demands.
Read more:
Flow control solutions for the minerals and metals industry brochure
Flow control solutions for the steel industry brochure
Valves and pumps for mining, metals and steel industry
This article was originally published in VMA's Valve Magazine, November 2021 issue. Link to the original article.

The text has been updated in April 2022, due to the company name change to Valmet.