Jun 17, 2016
The Siemens PTA project in Rotterdam has been able to successfully fulfill even the most stringent requirements of the industry with Valmet's valves that offer unrivaled performance and cost efficiency.
Plastic bottles made from PET and polyester clothes are part of everyday life – and both are made from basic chemicals of terephthalic acid. Purified Terephthalic Acid (PTA) is produced in an oxidation process where ever-fresh air is required.
A PTA machine train consists of a steam turbine, a gear transmission compressor for ambient air, an off-gas expander and a motor generator. Caused by an exothermic reaction in the process, a large amount of steam is created, which among other things, is used to drive the turbine. Once the process is started at the rated speed of the train, steam production increases.
Quick-closing valves for demanding oxidation process
Quick-closing valves need to safely shut off the steam flow in less than one second to limit the speed upward in the case of a turbine trip. Since this is such a critical valve application, high demands are placed on all the materials and instrumentation. In addition, all installed butterfly valves are required to produce as little energy loss as possible.
An unrivaled valve option
The Neles BW series of valves comes in a nominal size from 28" to 48". The valves can be installed in pipelines with flanges according to all required industry standards. Due to their higher than industry average Cv values, valves offer significant benefits in this application. Also, our nominal sizes can often be up to 4" - 12" smaller than those of many other valves. This helps customers achieve substantial cost savings.
Sealing system for an unbeatable solution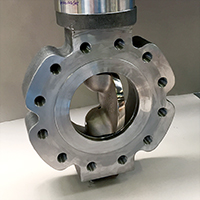 The valves are used in the main steam line to start the turbine. This is where yet another advantage of the BW series of valves comes into play. The unique sealing system allows the valve to be used even with a supercritical pressure ratio as well as in a small opening angle of approximately 10 degrees. Thanks to the sealing system, all stringent requirements as well as the operating hours of Valmet valves are among the best in the industry.
We delivered our first valves to the Siemens PTA project in Rotterdam some time ago to help the plant successfully and cost efficiently meet even the strictest requirements for a modern PTA plant.
TEXT: Martin Dreßen
PHOTOS: Valmet and Shutterstock
Published in Results flow control customer magazine 1/2016.
Text originally published in 2016, and slightly updated in April 2022, due to the company name change to Valmet.