There is a growing trend in the Chinese fine paper market toward more cost-effective and higher quality paper manufacturing. The motto of Shandong Chenming "to learn more, to be the industry leader, and to surpass oneself" also recognizes this trend, and reflects what really happened when Shouguang Meilun Paper, a subsidiary of Shandong Chenming Paper, invested in a new fine paper production line. This 11.15-meter wide paper machine is the world's largest coated fine paper line, producing around 800,000 tonnes of coated woodfree paper annually. Shouguang Meilun Paper wanted to utilize new technology to further solidify its market leadership position and selected Valmet* as a major supplier for this challenging project.
PM 6 – the new addition to a family of giants
Shouguang Meilun Paper is part of Shandong Chenming Paper Holdings Limited, one of the biggest paper producers in China. The corporate group's annual production capacity totals 4 million tonnes, its revenues exceed EUR 2 billion, and it has approximately 19,000 employees. Shandong Chenming owns the three biggest paper machines in the world, all supplied by Valmet. PM 6 is the latest addition to this family of giant machines. This gigantic line started up in June 2011 at an excellent start-up speed of 1,150 m/min. PM 6 is based on Valmet's proven OptiConcept technology from the headbox to reel. Valmet also supplied two winders. PM 6 produces double-coated high-quality art paper of 70-128 g/m2 at a design speed of 2,000 m/min.
This new papermaking line is equipped with the latest Valmet technologies, such as an OptiFormer Gap shoe and blade forming section with a hydraulic OptiFlo headbox and an OptiPress press section with two shoe press nips, along with OptiDry Twin impingement drying, which provides an advanced way to increase machine efficiency and product quality in an energy-efficient manner. The new line also includes an OptiHard calender, an OptiSizer sizing section, two OptiCoat Jet online coaters, and energy-efficient PowerDry air dryers for perfect coating results.
OptiFormer vacuum shoe gap forming technology highlights
Excellent paper quality within a wide operating window
Improved formation
Improved two-sidedness
High production capacity
Higher speed
Improved efficiency
Reduced raw material costs
Ability to use high filler content
Low retention chemical costs
Ability to produce lower basis weights
Economy of initial investment and daily operations
Quality and speed targets achieved quickly with the right technological solutions
The wet end of PM 6 features the latest OptiFormer vacuum shoe gap forming technology with an OptiFlo headbox and an OptiPress straight-through press. These technologies allow high production speeds and production efficiency ratios. End product quality is also top-class – the sheet formation of PM 6 is the best in the world, with normalized beta formation ranging from 0.3% to 0.4%. The two-sided dewatering of PM 6's forming concept produces good retention and a symmetric filler distribution in the sheet, and it also saves a lot of energy since no suction forming roll is needed.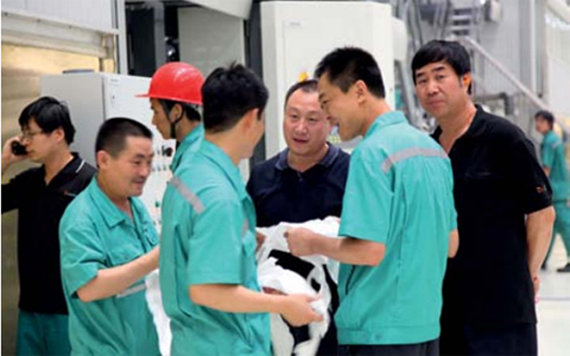 The PM 6 line started up in June 2011 at an excellent start-up speed of 1,150 m/min. People contributing to the project from left Zhang Qingzhi, Vice General Manager of Chenming group, Jia Jiyong, Production Manager, Wang Zhisheng, General Manager of Meilun Mill, Jia Shaojun, General Manager of Meilun Mill and Wang Jinkun, Project Manager, Vice General Manager of Chenming Group.
The dryer section is equipped with the unique OptiDry Twin impingement drying technology, as one of three paper machines in the world. In impingement drying, efficient drying of the paper starts right after the press, ensuring excellent runnability. This solution also gives the possibility to increase paper bulk by pressing less and still having a high dry content before the cylinder drying section. OptiDry Twin was one of the main tools for the extremely fast start-up. OptiDry Twin also enhances sustainability. Emissions are reduced while the heat source is natural gas instead of steam from the power station. While the dryer section length is reduced compared to traditional technology, remarkable savings are gained, not only in the number of dryer section machine parts but also a large amount of machine room material will be saved. In the case of PM 6, the number of cylinders was reduced by 29%. This has a positive impact on investment costs as well.
To ensure consistently uniform coating by Valmet's OptiSizer, the sheet is precalendered after the dryer section with an OptiHard SlimLine calender. OptiSizer is equipped with coating profile control to ensure excellent coating quality. The sheet is coated online at two OptiCoat Jet coaters. For perfect coating results and energy efficiency, the line is also equipped with PowerDry and PowerDry Plus air drying technology. The energy efficiency of PowerDry air drying is twice that of infrared dryers. This means 50% lower energy costs compared to infrared technology. At the end of the papermaking line, the double-coated sheet is wound up on a high-capacity OptiReel Plus reel into jumbo rolls weighing 138 tonnes each. The production line is equipped with two JR1000 E winders and a parent roll handling system. JR1000 E winding technology is the perfect choice for demanding paper grades, such as the WFC produced by PM 6.
( *Metso (Paper) until Dec. 31, 2013).