Mar 18, 2021
Clariant, a focused, sustainable and innovative Swiss specialty chemicals company, is moving closer to start-up of its commercial scale cellulosic ethanol plant in Podari in southwest Romania. Valmet is an important supplier to the project since its BioTrac biomass pretreatment system plays a key role in the operation. This represents the second BioTrac delivery to Clariant, with the first one being commissioned in 2012 at their pre-commercial plant in Straubing, Germany.
"This is the biggest large-scale production line for bioethanol that Valmet has ever delivered, signaling an important milestone in commercial-scale technology for making fossil-free products. For Valmet this is a very significant reference project and we highly appreciate the good cooperation we have had with Clariant to make this plant a reality," explains Stefan Blom, Head of Valmet Bio projects.
Despite the ongoing COVID-19 situation, the work on the construction site continues and is fully complying with all pandemic precaution regulations established by the Romanian authorities. All of Valmet's major pieces of equipment are now in place at the Podari plant and the piping and cabling of other process equipment is currently being done. It is expected that the plant will be completed and will start-up production by the end of 2021.
"It is extremely impressive to see what progress has been made on the construction site over the past months and how our project team as well as our partners have been able to keep this important construction project running despite the ongoing challenging situation due to COVID-19. My special thanks here goes also to Valmet, our esteemed partner for almost a decade", says Christian Librera, Vice President & Head of Business Line Biofuels & Derivatives at Clariant.
Valmet's Pretreatment BioTrac system, which is at the heart of the process, will process more than 250,000 tons of lignocellulosic biomass, in this case wheat and barley straw, annually. The pretreatment step is essential in cellulosic ethanol production, since it makes the cellulose accessible for enzymatic hydrolysis and fermentation.
The new full-scale commercial plant Podari plant will have an annual production capacity of 50,000 tonnes of cellulosic ethanol using Clariant's proprietary sunliquid® technology.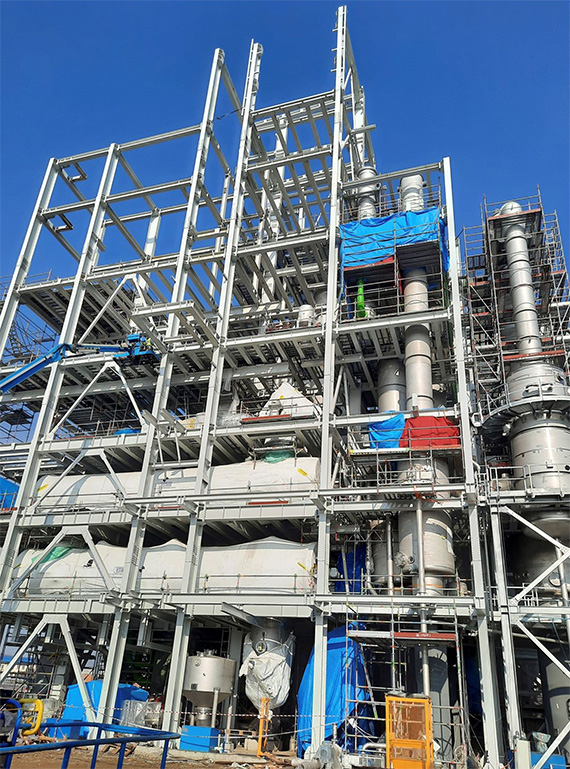 Valmet Pretreatment BioTrac is ideal for fossil fuel alternatives
Pretreatment is often the first step in biomass refining and the BioTrac system offers superb flexibility to accomplish this in terms of both the raw materials used and the process chosen. It can easily be adapted to a wide range of desired end products, including bioethanol, bio-based chemicals, bio-plastics and even bio-coal, making it ideal for companies seeking bio-based alternatives to the fossil fuels they use today.