Feb 7, 2019
Valmet DNA enables Gasum to centrally manage its network of biogas containers and the related logistics. The system extends to every single container with a smart GPS device.
In Finland, Gasum has 28 gas filling stations for natural and biogas. There are over 40 such stations in total around Finland. Biogas is a perfect match for a circular economy because it is a low-emission and renewable fuel produced from feedstock, such as biodegradable waste from households, shops and industry.
As a growing European trend, the demand for vehicles run on natural gas and biogas is increasing in all vehicle segments. The number of gas vehicles has also been rapidly growing during the past few years in Finland. Biogas transport use helps cut fuel lifecycle greenhouse gas emissions by up to 85%. In addition, biogas only generates a fraction of local emissions such as nitrogen oxide and fine particulate emissions.
Valmet DNA Integrated Operations controls container logistics
Valmet has supplied all Gasum biogas plants and filling stations in Finland and Sweden with Valmet DNA Integrated Operations, a solution for centralized data collection and container logistics management.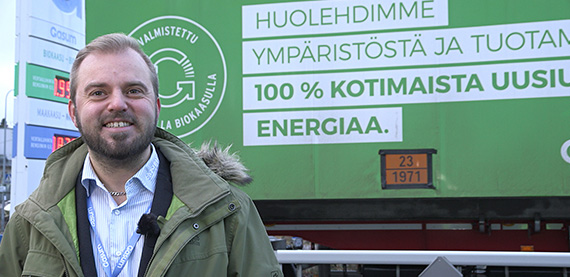 From Gasum, Jarno Jokinen (above), Production Engineer, is well-experienced in using DNA Integrated Operations. "Through the application, we track the containers' pressure data at all gas filling stations. In addition, we can predict whether the amount of gas available is sufficient. This facilitates the planning of our transportation considerably and improves our operational efficiency and security of supply."
According to Jarno, all information about the location of the container location was previously gathered manually during the startup phase. Now the business is growing, and this information is automatically updated and available based on logistics data from DNA Integrated Operations. This reduces the amount of work, eliminates any risk of manual errors and enables further business growth.
"Gasum is able to centrally manage its various biogas plants and filling stations, as well as track container logistics via GPS. Plus, with the help of this centralized solution, the company can also calculate its total biogas sales and transfer this data to its ERP system," adds Jani Hautaluoma, Director, Process Automation, Valmet.
A new container-tracking tool for drivers
Let's follow the delivery process of one container at the Malmi gas filling station.
Juho Nakari, a driver for the container transportation services company Speed Oy, drives to the gas filling station. He opens the fenced container area, prepares the container for lifting up onto the truck and then gets back into his cab. The container is moved to the truck's platform and securely attached. Then, Juho records this container delivery into DNA Integrated Operations via the iPad.
According to Juho, the system works very conveniently and speeds up his work. Jani Hautaluoma foresees a near future in which all such processes could be handled by smartphone.
From manual operation to online application
The transition from manual operation to DNA Integrated Operation went well. "Since we developed the system together with Valmet according to our specific needs, its user interface is clear and simple. It features exactly the functions we require," says Jarno. This application is used by all Gasum employees who manage the logistics of the gas containers.
Small-Scale Virtual Pipeline (SSVP) is a well-established term. It means delivering gas to customers wherever they might need it, and especially outside the reach of the existing gas distribution network, using some form of logistics other than a conventional gas pipeline. Already today, virtual pipelines extend to places where it has never before been possible to supply gas before. This is a great solution since many of new gas filling stations cannot connected to the main gas grid due to insufficient demand. The SSVP solution enables the most efficient use of gas filling stations, with containers available to an area as wide as possible.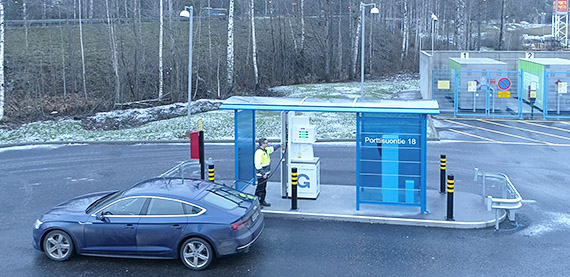 Valmet's solution brings efficiency to daily container management. Each container can be tracked using an advanced mobile tracking system developed by Yepzon. The battery life of these tracking devices lasts up to a year.
Released in the first quarter of 2019 as a joint project between Valmet and Yepzon, new Atextreme GPS software will provide even more features for tracking the gas containers. This solution will allow tracking devices to extend battery life, by putting the tool into sleep mode. It will also support even more accurate monitoring. This new GPS device will become an integral part of the overall solution, which intelligently connects all process and container information.
"It is important for us," Jarno confirms, "that all information related to gas logistics can be found within the same system, DNA Integrated Operations, enabling us to ensure operational efficiency and the security of supply. In this way, the time spent on logistics planning can be reduced and operational efficiency improves."
TEXT Soili Städter
PHOTOS Hannes Frigård
Article published in Forward magazine 1/2019.
Contact person:
Jani Hautaluoma
jani.hautaluoma(at)valmet.com