Scrubber solutions with a polished track record
If this is your case, we have good news. Valmet offers solutions for both scrubbers and LNG. For exhaust gas cleaning systems, Valmet has the track record, the capacity for high volume, and the unmatched after-sales support. For over 20 years, Valmet has been pioneering R&D work for scrubbing technology for engine exhaust gases and has been delivering successful solutions to vessels for nearly 10 years.
Valmet offers scrubbers for cruise ships and cargo vessels with a unique combination of strengths. First – our ability to customize a scrubber solution according to the specific requirements of each vessel, rather than a standardized, "select-from-catalog" product. Next, our technology is patented and reliable, based on decades of operating experience. Finally, we're the only supplier who can combine scrubber technology with automation – the best way to truly optimize operations and track emissions.
What's more, Valmet's scrubber solutions have a proven track record of returning the investment in approximately two years or less, something worth looking into.
Customizing a solution for you
Perhaps the number one reason to select Valmet is the flexibility of the solution. Valmet offers a customized solution not only in terms of system features and size but also operation.
"We listen carefully to our customers and then provide a tailor-made system for them, one that is easy to install with the limited space available on a vessel and helps the shipowner save money," says Teemu Toivonen, Product Sales Manager, Valmet.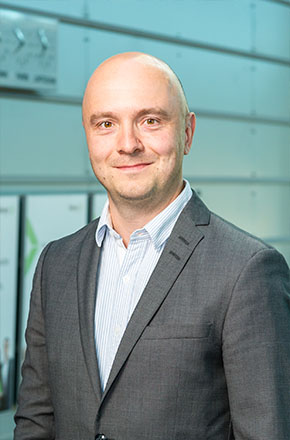 Valmet's scrubbers are always designed according to the specific vessel, rather than having to modify the vessel to fit the scrubbers. "We aim to minimize modifications in order to save costs," he says.
"Additionally, when we know the specified route and targeted performance, we can further customize and optimize the operation of our scrubber system. We offer several options that can be chosen to best suit any vessel's main routes or area of operation. In this way, we don't have to overdimension the system," Toivonen continues.
Patented technology
Valmet has decades of experience in the pulp and paper and land-based power industries. One of the patented innovations that Anssi Mäkelä, Senior Manager, Marine Scrubber Systems, has been involved with is Optifilter, a big success in pulpmaking.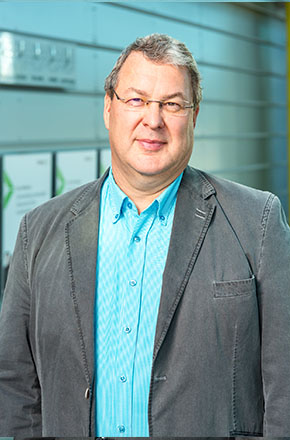 "We have now applied our patented Optifilter to wash-water filtering as part of a closed-loop system in our exhaust gas scrubbers. No additive chemicals are needed, which saves significant costs for a shipowner in the long run," explains Mäkelä. "Optifilter is one of our strengths when it comes to outstanding filtering performance, effectively removing soot and other impurities."
Another first for Valmet was to offer the market the choice of a hybrid solution. This means the scrubber system can operate in both open-loop and closed-loop modes, allowing a vessel to flexibly choose which is the best mode, depending on conditions and regional regulations along the route it sails.
There are major patents that Valmet owns and is ready to license to other reliable scrubbing system makers. One is for a multi-inlet concept that allows several engines to be connected to one common scrubber. The other is a closed-loop scrubbing process on marine vessels with caustic soda as the alkali reagent, a solution that has been proven for decades in the pulping industry.
Testing each system for top safety
Safety is always the primary concern on board ships. That's why each solution delivered must meet the strictest criteria when it comes to providing risk-fee and reliable seagoing operation.
"We know, for example, that very high-quality materials are needed, and we test all of our scrubber systems in-house for extended periods of time in demanding conditions," says Mäkelä. "Our DNV-GL certified test equipment can even be brought to the vessel for feasibility studies."
Combining scrubbing with automation
Valmet is also the only supplier to be able to offer a proven scrubber solution with a world-class automation system, one that has been in use for 40 years on seagoing vessels. Having automation and scrubber from the same supplier provides the freedom to optimize for greater energy and emission efficiency.
All scrubbers are on the same platform, enabling the complete system to have better redundancy. The Valmet DNA automation system is a way to optimize all operations and reach higher energy efficiency in real-life operation. It also allows integrated information management of tracking and reporting, thanks to the single platform.
"Further, on the subject of customizing, we are able to modify all screen displays according to the requests of the operators and chief engineer," Toivonen goes on. "This enables an enhanced human interface with the systems and also highlights the most relevant performance indicators for that particular vessel."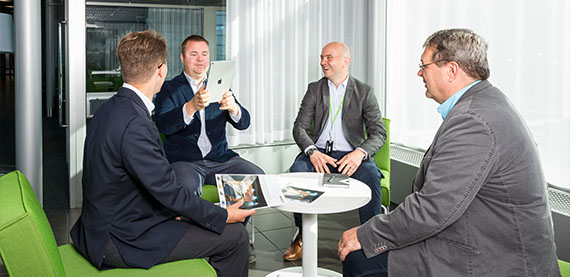 Caption: Juha Laukka, Mikko Suominen, Teemu Toivonen and Anssi Mäkelä, all of Valmet, take pride in Valmet's track record, capacity for high volume and unmatched after-sales support for exhaust gas cleaning systems.
Dedicated team around the world
According to Juha Laukka, Product Manager at Valmet, "We can provide both ends of the spectrum when it comes to scrubber system options. Our track record has been recognized by the industry: first to pioneer R&D in scrubbing, large footprint of systems delivered to cruise ships…and the fact that we have our own extensive service network. Our customers are never left alone, regardless of where they are sailing in the world."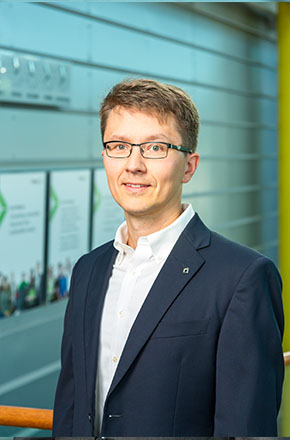 "We have a growing team dedicated to marine scrubbing systems. Everyone works in collaboration, with deep technical knowledge of both the hardware and automation. We also have full capability in Asia through our own in-house network," he continues.
Growing list of references
The list of references for Valmet is growing faster as the deadline of 2020 approaches. This year, the number of inquiries has risen more than threefold over recent years. Still, Valmet has sufficient capacity worldwide to serve cruise ships that look for a high level of system sophistication, as well as any cargo, tanker and container vessels aiming for a low-cost, low-risk approach, to comply with the looming regulations.
At present, German-based TUI Cruises are profitably sailing with Valmet's exhaust gas scrubbing systems installed on both Mein Schiff 1 and Mein Schiff 2, with additional orders currently being built for other sister vessels in the fleet.
TUI turned to Valmet for a way to lower emissions and enable the cruise company to become more environmentally sustainable. "We foresee this becoming a more lucrative competitive edge, for cruise lines to reach more passengers – since the competition for customers is very tough," says Mäkelä.
Another noteworthy reference comes from the largest-sized cargo ship rebuild of 16,000 TEU featuring two scrubbers, one dedicated for the main engine and a common one for all the auxiliary engines. This vessel is currently being delivered. Approximately two-thirds of all cargo vessels getting scrubber systems at this moment are retrofit installations.
Aim to lower emissions
In the end, return on investment is something all shipowners and operators are most interested in. "Valmet's approach gives everyone an option that enables a quick payback. In the best cases, this is less than two years," says Mäkelä. "We're happy to tell you more about our references and results."
"Valmet can also guide you in choosing between scrubbing systems or LNG, for example, since we have experience with both. We'll help you evaluate your case and decide what's right for you. With every solution, we aim to make a significant contribution to lowering emissions and making the seas clean again. This is our mission – and one we're happy to share with our customers."
For more information
Anssi Mäkelä
anssi.makela at valmet.com