Saica Paper started PM 11 in Partington, UK in 2011. Valmet's* OptiConcept paper machine is breaking world speed records from the beginning and production started 15 days earlier than originally planned.
Saica Paper UK's PM 11 produces high-performance brown containerboard in the 75-130 g/m2 range used in the manufacture of corrugated boxes. The raw material is 100% recycled paper.
Successful cooperation for excellent results
SAICA ordered its PM 11 in March 2010. A complete OptiConcept paper machine, with a wire width of 8.2 m and trim width of 7.6 m and a design speed of 1,700 m/min resulting to approx. 430,000 tonnes yearly capacity, and an approach flow system, pulpers and air system were also included in the order.
Valmet's OptiFlo headbox and OptiFormer gap former ensure sheet strength and uniformity and the complete production output is handled by a WinDrum Pro high-capacity winder.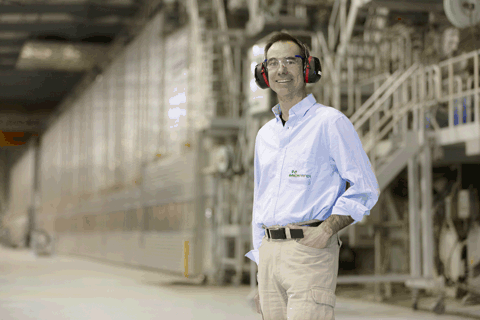 "After a lot of teamwork, and a lot of innovation, we were able to produce a 75 g/m² sheet that meets our customer needs, but most importantly at a world record speed of 1,500 m/min," says Federico Asensio, Deputy Managing Director of Saica Paper.
Paper machine maintenance outsourcing agreement
Saica Paper UK has a fairly unique maintenance agreement with Valmet that will see the teamwork continue well into the future. Saica calls the agreement "Global Service Maintenance" in which Valmet takes over the complete maintenance of the mill and covers all the suppliers' equipment involved, for instance, ABB, Siemens and Voith.
"We are quite proud of the fact that, at Saica, our innovation is not only restricted to technical aspects of papermaking – we are quite good at innovations in management as well. We wanted to take a step forward on maintenance outsourcing and consider it a global service, leaving behind the concept of 'manpower outsourcing'. Several companies were considered for their global maintenance concepts, including non-paper machine builders, and finally, Valmet provided us with a concept that satisfied all Saica's requirements where, crucially, total mill performance is the main key indicator," says Asensio.
Results of the maintenance outsourcing agreement:

Excellent performance of papermaking equipment
Productivity
Value adding maintenance practices
Taking care of the environment – locally and globally
Nature and sustainability are keywords at Saica. PM11's water and energy usage are among the lowest in the world achieved by using the newest technologies of Valmet. Localness is a key point, too. "The UK currently imports a lot of its paper, particularly performance papers for corrugated packaging, which is our specialty. On the raw material front, it exports as much as 50% of its recycled paper, which means there is an excellent source of raw material here." explains Asensio.
"We are convinced that the best environmental solution is to recycle paper as close to the source as possible and the new mill will offer the Manchester area excellent new capacity for its recoverable waste," adds Federico Asensio.