Ilpo Turunen, Senior Manager, Performance Services, believes that trust is always the basis of good results. "Strong relationship enables mutual benefits," he says.
Valmet's performance agreement is a mill-wide development program targeted at perfecting the customer's production line. Following this systematic development approach, Valmet improves and maintains the customer's competitiveness. Previously known as the cooperation agreement, operations were focused mainly on paper mills and on a much narrower scale. With the new approach, the focus has been broadened with a new and larger mill-wide perspective.
Success is always a team effort
"Valmet's performance agreement is a co-operation process in which both parties are committed to achieving common targets," says Ilpo Turunen, Senior Manager, Performance Services. The performance agreement can be seen as a tool for excellent production, efficiency and end product quality improvement, maintenance development, and cost reductions. It is based on Valmet's ability to serve as a full-scope supplier, offering tailor-made solutions for any kind of need. Every agreement is tailored to match the customer's targets and situation.
Agreements in the past used to include machine speed and production development, quality optimization, and efficiency improvements regarding maintenance and production costs. "Industry has developed and nowadays customers are more interested in cost efficiency rather than speed increase," says Turunen. In his view, the expertise of strong local actors can be capitalized on all over the world through performance agreements: "We are close to the customer, while utilizing strong internal know-how through Valmet's global network."
Targeting successful start-ups, efficiency improvements and maximum profitability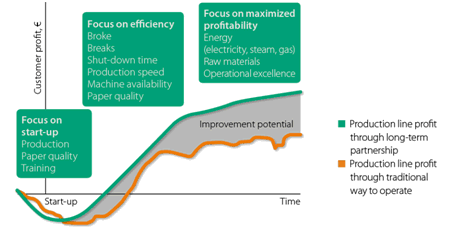 Turunen explains that customers typically need Valmet's services in three kinds of cases: successful start-up, efficiency development and maximizing profitability. In the case of start-ups, the goal is to help the customer set up new production. The goal is to achieve the defined targets related to production and paper quality. "In start-ups the purpose is to take everything out of the machine according to the design," he says.
The second case focuses on developing production lines that have been working already for several years. The amount of effort put into maintenance tends to gravitate over time. This reduces operational reliability and efficiency, and causes the performance of the machine line to gradually erode. In these cases the typical focus areas are maintenance development, personnel coaching, and improving processes through small investments. "We also help customers to solve their bottlenecks," says Marko Summanen, Valmet's Director of Agreements and Mill Improvements. The purpose is to raise efficiency by decreasing lost time and production, like reducing breaks, failures, and unexpected shut-down times. As a result, the customer's competitiveness level increases. In today's market environment some mills are changing their production from, say, paper to board. Customers can benefit from Valmet's wide benchmarking data and technical expertise as well as business know-how while penetrating into a new market.
The third case, maximizing profitability, includes both new and old machinery. The main objective is to maximize profitability and reduce the cost of each tonne produced by focusing on optimizing operations and using the latest material and energy-efficient solutions. "Many of our customers want a certain amount of production as efficiently as possible," adds Summanen.
| | | |
| --- | --- | --- |
| | | Marko Summanen is satisfied with the new performance agreement approach. "Systematic step-by-step process enables us to provide tailored and efficient solutions for every customer," says Summanen. |
The best performance needs the best team
A tailored process starts with a visit by on-site specialists who analyze the situation by using measures such as audits, surveys, condition testing, and troubleshooting. Then the results are benchmarked using Valmet's global network and large installed base. "We know what is happening within the industry so we're able to provide the latest information to our customers," explains Summanen. Benchmarking makes it possible to evaluate the key development areas and development potential and set realistic targets. This builds a foundation for long-term improvements.
Targets are reached by adopting a systematically advancing step-by-step process which includes various elements. Named contact persons (agreement manager, agreement team) ensure that goals are taken efficiently towards solutions with the help of common action plan. Process analyses and remote diagnostics are used to study the situation. Specialists, development teams, and on-site support provide first-class expertise at the mill. The process also includes training and regular contacts with the customer, in addition to service actions and preventive maintenance. The improvement process is measured using key performance indicators that are set together with the customer.
Summanen explains the nature of the Valmet performance agreement using an example from the world of sport: "We work as a new coach who has worked with top athletes all around the world. We're not simply going up to a professional runner and saying let us show you how to run. Our task is to cooperate with them and together find ways to reach the highest possible level. If you want to be the best athlete, you need to have the best team behind you. Our main purpose is to help customers to succeed."