iRoll - intelligent roll solutions for tissue making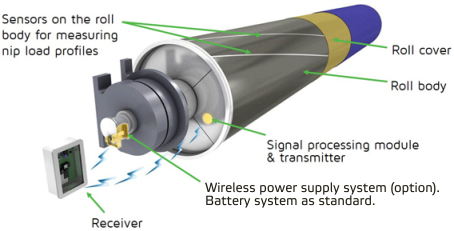 Valmet iRoll system components tool set for the control of paper and nips.
Valmet iRoll is the fastest and most sensitive on-line profile measurement tool
iRoll may be utilized on a covered roll in tissue production machines to expand the roll's primary function to include use as a transducer for sensing cross-machine nip linear load or sheet properties such as tension and parent roll hardness profile.
iRoll can be connected to automation and data collection systems. It also has advanced tools for data analysis, drawing color maps and more. With up to 200 data points in the cross-machine direction, iRoll provides high resolution profile feedback. Data from iRoll is truly online as it is updated up to 10 profiles per second.
Valmet iRoll technology improves production efficiency and product quality by assuring optimal runnability of tissue products. Tissuemaker can obtain significant cost savings by improved nip profiles, parent roll hardness profiles and tension profiles as well as printer and converter satisfaction.


From timely to condition based-monitoring
Monitoring based on iRoll nip profiles, vibrations and optimization data are some examples where roll condition information is analyzed. This provides security for our customers that technical solutions and recommended upgrades are based on their actual needs and goals.

Benefits
Measures and controls paper and board properties, not only nip properties
Removes skewness and other errors in nip load profiles
Improves sheet tension profiles and runnability of end-product
Determines correct crowning for roll covers and exact timing for roll changes
Monitors condition and tuning of nip loading equipment
Online control of web tension and roll hardness profiles, replacing unreliable thickness profile scanners
Provides full-speed online profile measurement with high CD-resolution

Implementations of iRoll
The iRoll intelligent roll system can be installed as a permanent nip load profile measurement tool, as a permanent tension profile measurement tool, roll hardness profile measurement tool or as iRoll portable service. For permanent iRoll applications, it must be used in conjunction with a roll cover.
Roll cover application tool
Find optimal iRoll positions for every tissue making process

Click the image above to explore the Valmet roll cover application tool
iRoll Press enables online nip profile measurement in press nips to assure optimal dewatering in the nip. iRoll Tension profile measurement reveals the sheet runnability characteristics at converting or winder. It can also monitor the condition of felts and wires. iRoll Reel provides parent roll hardness profile and reeling nip load measurement with high accuracy. iRoll Winder monitors the end product quality and reveals winding issues such as discontinuities in the nip loading.
Temporary nip or process analysis tool iRoll portable technology
iRoll portable provides the benefits of iRoll technology as a quick to
use, low cost service by using temporarily installed sensors. iRoll portable
measures e.g. press nip profiles or tension profiles online during production,
to enable profiling response tests and find the sources of profile issues.
iRoll portable technology can be used for:
Improving tension profile and solving runnability issues
Improving paper quality and profile related troubleshooting
Measuring nip profiles for determining proper crowns
Tuning up winding/reeling recipes
Condition tests
Improving parent and customer roll hardness profiles
Press nips, sizers, reels, winders, coaters, fabric tension profiles
Customer success stories and technical articles
keyboard_arrow_leftBACK
{{currentHeading}}
keyboard_arrow_right
{{productForm.Name}} {{"("+productForm.Size+")"}}
| | | NAME | TYPE | LANGUAGE | FILE | |
| --- | --- | --- | --- | --- | --- | --- |
| | {{file.MaterialIcon}} | {{file.Title}} | {{file.MaterialType}} | {{lang(file.Language)}} | get_app{{file.ContentSize === 0 || file.Title == null ? "" : filterSize(file.ContentSize) + " MB"}} | |