Focus Rewinder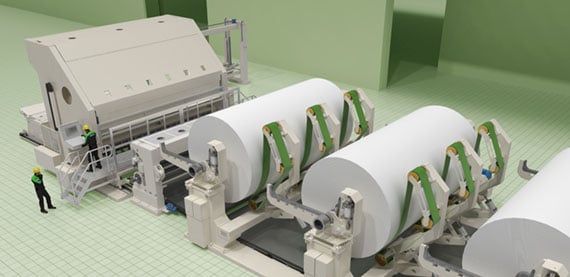 Unwinders
The Unwinder arms are designed to have maximum width of the wrapping angle on the parent roll in order to reduce the specific pressure of the belts. Also the control system contributes to keep the pressure at a minimum level during the unwinding process.
Rewinders
The "Electromechanical" relieving system is extremely effective and precise and assure perfect automatic control on roll density, especially on large diameters and heavy finished rolls. The control system and the algorithm to manage relieving actions are well proven by the wide range of applications.
Finished rolls removal
The innovative finished roll removal system removes the roll from the winding position when the target diameter is reached, using "Pulling instead of Pushing". The Electromechanical system gently positions the finished rolls on a Shuttle performing the operations related to an automatic roll change. The operations include web cross cut, loading of new cores in winding position, delivery on floor or on any handling equipment of finished rolls set.
Interested in finding out more? Learn more through the Focus rewinder brochure, or contact us!