Since the first tissue machine's successful startup on June 26, 2021, Valmet has completed the delivery and startups for 18 IntelliTissue machines and 2 DCT200 machines for APP Rudong mill by December 30, 2022. The last of these twenty machines, dubbed TM26, churned out its first jumbo roll just before the end of the year 2022. Despite the freezing weather and the rampant epidemic, Valmet and APP project teams worked closely together and accomplished the successful startups of all tissue machines of the mill's first phase of 780kt/y tissue project.
"I would like to thank both teams for their unremitting efforts to overcome the impact of the epidemic and a chain of commissioning and startup tasks for several tissue machines in a very short period of time, thus laid the solid foundation for the first stage of the company's strategic targets. APP Rudong Household Paper Phase I project was an important step towards digital, intelligent, and low-carbon tissue manufacturing. Valmet listened attentively to our needs and worked with us to develop low-energy and high-efficiency upgrading solutions. Gold Hongye Rudong base will be built to become one of the leading tissue mills in the industry, and will also become a new model for the sustainable development. Thanks to the Valmet team again for full cooperation in the final stage!" Said Peng Jiang, General Manager of APP Global Technology Center.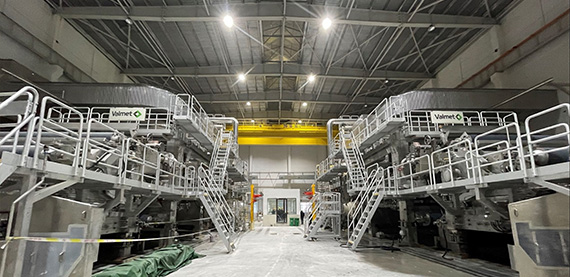 "We highly trust Valmet and recognize their product quality and project execution capability. During the implementation of the whole Phase I project, we cooperated closely and planned very well. Looking back on the journey of more than one year's project execution, all kinds of difficulties have been conquered by the must-win commitment agreed by both teams. We work together to optimize the phase I project result and further improve the quality and efficiency of all tissue production lines. "said Yubin Bi, Vice-General Manager of APP Rudong base.
Together with the APP Rudong team, Valmet have efficiently completed the supply and start-up of a total of 20 tissue machines. In December 2022, Valmet made a record of 5 successful IntelliTissue machine start-ups during one month. The tremendous efforts to achieve this success will be remembered by both teams. Thanks to the continuous joint efforts from all people involved it was a very good ending of 2022.
"APP is one of the most important and strategic partners for Valmet in China, we always have an extensive and in-depth cooperation. It was an outstanding achievement to successfully start up 12 tissue lines at APP Rudong in 2022, and it was also an important milestone in our cooperation" Said Xiangdong Zhu, President of Valmet China area.
Technical information about the delivery
All 18 IntelliTissue 1600 machines supplied by Valmet will produce high-quality tissue with a basis weight from 11.5 up to 22.0 gsm at the reel trim of 3.6 meters and the design speed of 1,600 m/min.
In addition, Valmet also supplied 2 Advantage DCT200+ tissue machines, with a width of 5.6 m, and an operating speed of 1,800 m/min.
Valmet also provided approach flow equipment, mechanical drives, steam & condensate system, lubrication system, hydraulic system, wet dust & mist removal system, machine controls, as well as all necessary training, assembly, and start-up supervision.
About APP
APP (China) is synonymous with Sinar Mas Paper (China) Investment Co., Ltd and the group of companies under its direct investment in China. By focusing on operations in the Yangtze River and Pearl River deltas since 1992, APP-China has made significant investments in establishing several state-of-the-art large pulp and paper enterprises successively, including Gold East, Ningbo Zhonghua, Ningbo Asia, Gold Huasheng, Gold Hongye, Hainan Jinhai, and Guangxi Jingui, as well as large-scale modern fast-growing forest.
Gold Hongye Paper (Nantong) Co., Ltd. is located in Rudong Yangkou Port, Economic Development Zone, Nantong City, Jiangsu Province. It is invested and established by Sinar Mas Group (APP), with a planned total investment of 45 billion yuan and an annual output of 3.96 million tons of high-grade household paper. The Phase I project was invested 10 billion yuan, planned to produce 780,000 tons of high-grade household paper and tissue towel, including 240,000 tons of jumbo roll per year, and 540,000 tons of converted household paper per year.