Georgia-Pacific is one of the biggest tissue producers in North America. However, in early 2000s as premium structured private label started to grow, the Quilted Northern brand of Georgia-Pacific came under tremendous pressure. At that time, Quilted Northern was produced with conventional 2-ply dry crepe technology and research in 2010 showed that both consumers and retailers struggled with positioning the brand – it underperformed as a premium brand and was not price competitive as a value brand.
Georgia-Pacific invented a sustainable technology for high-premium tissue quality and refreshed their brand's position.
With competitive pressure in the premium strong segment, retailers and consumers asked for differentiation relative to emerging higher quality private label products. Georgia-Pacific knew that something had to be done. Given that the company already held the number one position in the value segment, competing with themselves was not an option – instead product redesign and brand repositioning was the only alternative.
Joe Miller, Vice President of Research and Technology at Georgia-Pacific reflects back, "I remember us debating our options of where to position this product. We had the value segment on one end, and the premium or super premium on the other end. At that stage, we were right in the middle, getting pressure from both. However, we also acknowledged that there was an emerging market demand for a product with both high strength and high softness among consumers in the ultra premium segment. And that's where we saw our opportunity. Because we knew we had the technology to meet that demand."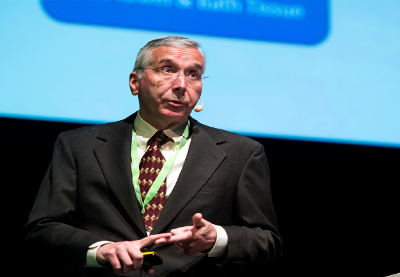 The technology was something that Georgia-Pacific had worked on since 1994 but truly defined in 2003 with the invention of eTAD - a paper making process for energy efficient technically advanced drying. It was more energy efficient than TAD and consumed less capital. It also enabled the potential for dry crepe machines to be converted to this new technology. In 2010, the full capability of the eTAD pilot facility at Georgia-Pacific's Neenah Technical Center was focused on developing a new retail bath tissue.
Meeting the needs of this strong segment required a more durable product than the soft segment. The pilot facility allowed for the creation of tissue prototypes that matched or exceeded market leaders' product performance with unique tactile properties due to higher levels of stretch. The technology had a wider range of attributes with no machine change over required and could utilize a broad range of furnishes including secondary and specialty fibers. Mr. Miller summarizes,
"We had a technology that was invented and available, we had the experimentation capability in the pilot facility, and we saw the need. We did some product design work to hit that need which resulted in the invention of an ultra soft and strong product."


Georgia-Pacific decided that a re-build of their dry crepe machines was a cost-effective way to advance the technology. A series of investments culminated in two eTAD machines, located in Crossett, Arkansas, and in Port Hudson, Louisiana. Valmet was selected to construct both these projects and full-scale commercial production was started.

Introducing the new Quilted Northern Ultra Soft & Strong
The new Quilted Northern Ultra Soft & Strong was introduced to the market in 2012. Consumers experienced that the product cleaned effectively, conformed well to the body, held up well in use and delivered an improved level of softness. Simultaneously, consumers reported differentiation in its durability because of the unique balance of strength and stretch in combination with enough softness. These product properties are a direct correlation with the unique technology invented by Georgia-Pacific. The fact is that eTAD can deliver a very high stretch product that enhances the perception of durability and conforming to the body for an improved user experience. The pilot facility had a significant role in the success of the re-launch. It gave Georgia-Pacific extensive possibilities for product development.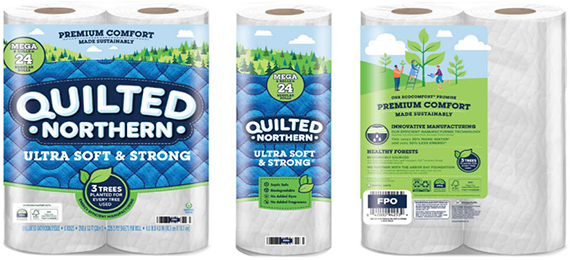 Sustainability on everyone's agenda
Georgia-Pacific, with its new Quilted Northern Ultra Soft & Strong, is constantly working on combining the essentials of high-quality products with the importance of minimizing its environmental impact. Vivek Joshi, VP/GM, Retail Tissue:
"We believe it is an increasingly important market trend and want to be a frontrunner with our process technology to be able to develop sustainable high-quality products."


The method of removing water through pressing instead of evaporating with hot air allows for about 30% savings in energy in the drying process. Equally, about 30% water savings can be achieved in this part of the manufacturing process by reusing the recovered water extracted from the sheet.
A major benefit of the eTAD technology is the capability of using alternative fibers such as recycled, straw or bamboo furnishes. As of today, eTAD does not have the same limitations in drying technology as TAD.



A smart investment for better quality products
Investing in a tissue machine plant is expensive and should not come as a surprise to anyone in this industry, especially if one wants to be a player in the top tier segments and is considering the TAD solution. That's when the eTAD technology can be a smart move. Approximately 20-25% less capital is required to manufacture the same number of tissue rolls, because buildings are smaller and the cost of equipment is less.
Tissue producers with a conventional dry-crepe machine who wish to make a shift in quality but are not able to invest in a completely new full line should explore the options of the eTAD technology. With a re-build, it is possible to utilize current wet end and dry end components.
eTAD is available for tissue makers outside North America
In 2018, Valmet and Georgia-Pacific entered into a licensing agreement enabling Valmet to sell, manufacture and install the patented Advantage eTAD technology for tissue customers outside North America.
This means that Valmet's eTAD customers now have access, not only to the patented technology, but also to knowledge and experience from the team at Georgia-Pacific. Trainings, operating conditions, clothing, chemicals etc. have already been through the testing phase. Customers are provided a 'starting kit of expertise' so the journey to be up and running in full production can be shortened.
In addition, Georgia-Pacific's pilot facility is available for Valmet's new and current customers. It's a place to test, verify and create a sense of confidence that the products will meet defined expectations. With on-site converting capabilities, customers can make final products during the same day. Joe Miller:
"When visiting the Georgia-Pacific facility for eTAD trials, we can get all the way to a finished product without having to go elsewhere, as we also have state-of-the-art converting equipment."


Jan Erikson, Vice President Tissue Mills Sales at Valmet continues, "Thanks to the collaboration with Georgia-Pacific, their proven solutions and pilot facilities you have an opportunity to really understand how to scale up from pilot to commercial production. You can also make improvements to product quality with less capital cost and less operational cost compared to TAD."

Innovation for a better future
Joe Miller reflects on the journey leading up to now, "It took some work to get to where we are today. And since our first installation, we've continued to optimize this process. By partnering with Valmet, we've learned together what we needed to do to reduce complexity. Today we are completely confident with the technology. It is also an effective way to upgrade existing machinery to produce premium products that are more highly valued by consumers."
Kurt Adams, Vice President, R&D, Georgia-Pacific, adds, "We knew we had developed a product that could contribute to sustainable tissue production in North America. As part of our environmental stewardship, we felt that making this technology available in markets where we don't supply products was important. Proposing Valmet as the preferred partner for this task was natural. Georgia-Pacific strives to work with people in the industry who deliver mutual benefits to our customers, and Valmet share that vision."
With the use of the innovative eTAD process, Georgia-Pacific was able to create and position Quilted Northern Ultra Soft & Strong as not only a premium retail tissue brand, but also a sustainable product with specific on-pack sustainability claims.

Text: Anna Boström Mora



About the technology
The recipe to reach the highest bulk and absorbency is normally to avoid pressing and blow hot air through the web. With the Advantage eTAD technology it is possible to achieve high-premium quality utilizing pressing in combination with Rush Transfer. This means significantly lower energy consumption during the drying process compared to other structured tissue processes.
The texture or structure is already done in the tissue machine at high speeds. The result will be a paper dryness up to 50% in the drying section to provide a much lower energy consumption than Through-Air Drying machines. This hybrid concept can generate much higher caliper than the conventional Dry Crepe machines by using the Rush Transfer technique.
About Georgia-Pacific
Based in Atlanta, Georgia-Pacific and its subsidiaries are among the world's leading manufacturers and marketers of bath tissue, paper towels and napkins, tableware, paper-based packaging, office papers, cellulose, specialty fibers, nonwoven fabrics, building products and related chemicals. The company operates more than 150 facilities and employs approximately 30,000 people directly and creates nearly 89,000 jobs indirectly.