A boiler rebuild or conversion can provide power producers with improved new combustion technology, for a significantly lower investment cost than for a new boiler.
Today's megatrends like the phasing out of coal, lower emissions, fuel flexibility and digitalization are creating the need to thoroughly rethink energy production processes. Sometimes the solution is right under your nose!
"Many energy producers haven't even thought about modifying their existing coal-fired boilers or decommissioned power or recovery boilers to combust other fuels. A rebuild or conversion can provide them with a boiler that enables them to meet their needs with significantly lower investment costs," says Jouni Koskinen, Senior Manager, Sales and Technology, Valmet.
Converting an existing boiler into a bubbling fluidized bed (BFB) boiler or rebuilding a circulating fluidized bed (CFB) boiler from coal to biomass firing means you obtain all the benefits of fluidized bed combustion, while reusing most of the equipment in your existing boiler. The investment cost will be significantly lower – typically 30 to 50 percent of a new boiler plant.
A boiler rebuild or conversion can enable a company to meet its needs with much lower investment costs.
"A rebuild offers a shortcut to improved conditions. It can improve your productivity, availability and efficiency. You'll be able to extend your fuel flexibility, switch to biomass firing or fulfill stricter emission requirements," Koskinen says.
Careful planning pays off
In a boiler rebuild or conversion project, planning is the most important phase. Anything forgotten or overlooked at this stage will add unnecessary time, costs and complexity later. The decisions made before the project will affect the boiler's productivity and profitability for years to come.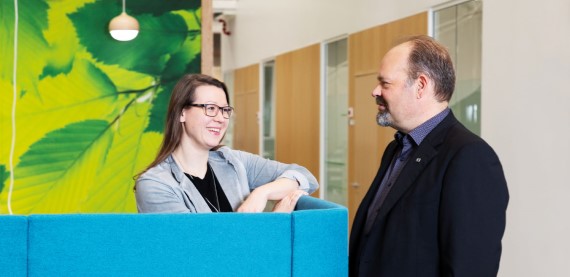 "To ensure a successful solution and keep investment costs under control, everything needs to be clearly defined, from the proposed targets to the schedule, costs, limitations and the market situation – both now and in the future," adds Elisa Mansikkamäki, Product Sales Manager, Valmet. "To develop the right concept, it is essential that Valmet knows the customer's drivers for the investment. We also highly recommend feasibility or bottleneck studies on the boiler to identify its current condition and the opportunities it offers. These studies also provide information on how to make the investment as profitable as possible with the lowest costs."
One of the key pieces of information needed for the best working concept is the available fuel for the boiler that will be rebuilt or converted. If you plan to switch from coal to biofuels, the investment involves more than boiler modifications alone. Biofuel reception, pre-handling and storage, as well as biofuel sourcing channels, also need to be built.
Additionally, a modification project will usually encounter some restrictions. For example, unlike with a new plant, you are not starting from scratch and you will need to fit both the boiler and the modifications into an existing space, which is usually tight.
Faster and shorter implementation
The time needed to complete the whole process, from the first request for a rebuild to full production, is typically between two and three years. The initial decision time will depend on several factors, including the market situation and price indications for the total investment. However, more precise time and cost calculations can only be provided after the pre-engineering phase. The project's pre-engineering and delivery time will depend on the rebuild's scope and the existing boiler and site limitations.
The implementation phase in a rebuild project is significantly shorter than for a new boiler.
"The implementation phase in a rebuild project is significantly faster and shorter than with a new boiler," Koskinen points out. "One way to minimize production losses and shorten the main shutdown is to use pre-shutdowns. These enable some tasks to be carried out before the shutdown, while the boiler is still in operation."
Valmet has rebuilt and converted more boilers into fluidized bed technology than any other supplier in the world. About 80 percent of Valmet's boiler modifications are made for boilers supplied by other manufacturers.
Text Marjaana Lehtinen and Valmet PHOTOS Tomi Aho and Hannes Frigård