With increased demands for efficiency, sustainability and a skilled workforce, how will the industrial processes be operated going forward? We explore the trends and industry 4.0 evolution that will shape the future of process control for the years to come.
Smarter use of data, sustainability, efficiency and the skills gap are some of the areas that will impact the automation industry going forward. The amount of information mill or plant operators will need to handle is increasing and tasks like process optimization are becoming more complex. At the same time, the workforce is ageing and there are fewer operators on-site. On the other hand, new technologies have enhanced optimization, making operations more efficient and sustainable.
Scalable, more reliable and secure solutions
Matti Vilkko, a professor and head of the Automation Technology and Mechanical Engineering unit at Tampere University in Finland, has worked within the industry for the past three decades. Although technology is evolving, he thinks we don't always know how to best take advantage of it.
"Industries that use automation systems have collected data over the years and now it's time to figure out what can we do with all the information available. Besides traditional automation, AI, machine learning and cloud computing are a few of the tools that are at our disposal," Vilkko notes.
According to Vilkko, software development has served the automation industry in making solutions scalable, more reliable and secure.
"The role of software has grown and will continue to do so and at the same time, computing power and data transfer have become more effective. We also have more efficient mathematical models that can be utilized better than before to optimize processes and to manage them."
Harri Mustonen, Director of Pulp and Paper Control Systems at Valmet, agrees that while the Industrial Internet, digital twins and other technologies have been in the limelight in recent years, accurate measurements and reliable controls are still the base of process automation systems.
"For example, industry 4.0. technologies have enabled better optimization of different process areas and manufacturing systems with process modelling," Mustonen explains. "But we need both traditional automation solutions, the Industrial Internet and the rest for wiser results."
A win-win situation for efficiency and the environment
As our planet heats up, sustainability and emission reduction targets will continue to be a top priority. Getting more out of your production process is a win-win situation for businesses looking to increase efficiency and protect the environment.
"For the pulp and paper industries, for example, sustainability is a driving force, starting from the product and continuing to the production processes," Mustonen says.
"When it comes to automation, the systems need to measure and manage emissions to keep them in check. The same goes for the use of raw materials, water and energy." He continues by saying that in the case of a mill, the goal is to waste less in all aspects and this trend is likely to continue.
Mills are becoming more like circular facilities where material loss is minimized, and quality issues are detected and corrected before they cause quality loss. Overall production efficiency lessens the environmental burden.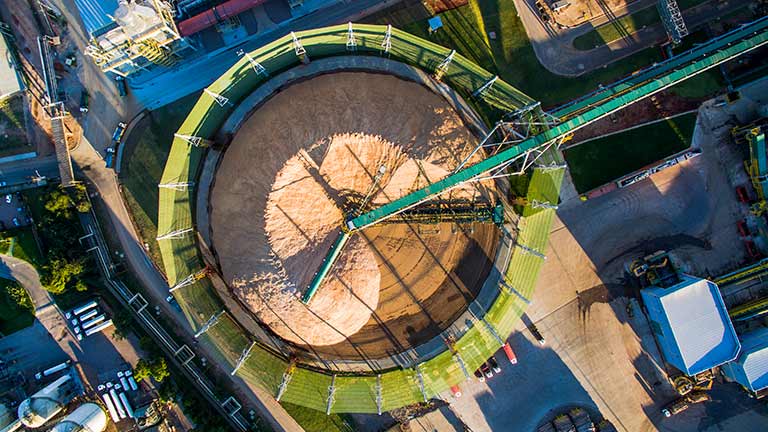 According to Vilkko, there are still many things left to be done in terms of sustainability, while simulations and digital twins are tools that will be essential for automation for years to come.
"To optimize processes, make them more efficient and reduce emissions, simulations of mills or machinery before they're built will help rein in costs."
Another aspect of the green transition is the use of renewables to decarbonize the energy sector. However, using renewable energy sources has made electricity grids more vulnerable. And the ongoing energy crisis is not helping matters.
"With solar panels and wind power facilities, electricity doesn't flow from the power plant to our homes but from these renewable energy facilities. This changes the functioning of the electrical power grid and therefore, the required automation system," Vilkko explains.
"Plants powered by fossil fuels had a steady power supply, but with renewable energy sources, the supply fluctuates according to how windy it is, for instance. In the future, automation will have a major role in helping to balance the system."
Bridging the skill gap
The need for efficiency has led to increasing automation and fewer people working on-site in mills and factories. With an ever-increasing amount of data to process, automation outstrips the capacity of human operators, as well as foresees issues and simulates scenarios. But experts tend to agree that a combination of man and machine is still the way forward.
Finding a skilled workforce to operate plants is a hot topic within several industries. To solve the skill gap, previously isolated control rooms are becoming networked and the user interface (UI) more intuitive and web-based, making remote operation possible.
"Experienced process operators are retiring, and more complex tasks need to be handled with fewer workers. For the next generation to join the workforce, the job descriptions need a facelift," Mustonen says.
In the next-generation operator environment, you can interact with the system smoothly and get the information you need quickly.
"Going forward, it will be more difficult to find the right workforce to operate a production facility in a remote location, for example. It will become the standard that you don't always need to be on-site; part of operations can be done remotely in a location that's more accessible."
text:Sini-Maria Melanen