Jun 19, 2019
A new bleaching line project for one of the world's biggest pulp producers exceeded expectations in many fronts and received a provisional approval in record time thanks to excellent project planning.
It was not an easy job — to install a new pulp bleaching line within the limited space available at Cenibra's pulp mill, located in Belo Oriente, in the state of Minas Gerais, Brazil. Cenibra is one of the world's biggest producers of bleached eucalyptus pulp producing approximately 1,200,000 ADT/year, of which 95% is exported.
From challenging targets to record-breaking result
With a capacity of 600,000 ADT/year, the new bleaching plant replaces the original plant built in 1977. The objective of this plant modernization was to reduce chemicals, energy and water consumption as well as to decrease effluent generation.
The project took only 18 months to complete—from the signing of the contract to start-up. Another important target was to minimize the production loss during the startup of the new bleaching plant that replaces the old bleaching plant.
Synergy and know-how from both the Cenibra and Valmet teams - both locally and by Finnish and Swedish engineers – and efficient and proactive action/troubleshooting during the project were rewarded with a record-breaking result — an operating line within 24 hours after the startup of the new line with 96% of its design capacity, with no production losses.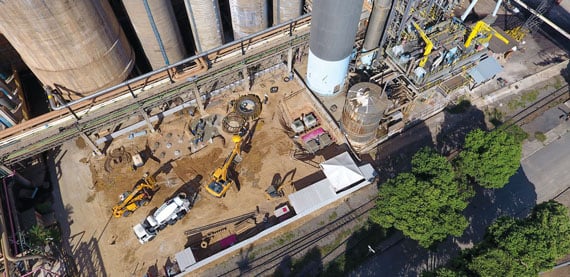 Space-efficiency seals the deal
When looking back, success does not completely remove the challenges experienced in such a complex process. "I think we all agree that the main challenge was the project layout. The new bleaching line needed to be next to the digester and the drying area. Also, it had to run simultaneously with the old line 1, still in operation at that time," remembers Julio Ribeiro, Industrial Director at Cenibra.
Agostinho Salgado Alves, Valmet Project Manager, says that one feature that helped to close the deal was the size of Valmet's equipment, a crucial factor when considering the challenge posed by the amount of space available. "We needed to use the area effectively," sums up Mr. Alves. Another key factor was the more attractive cost-benefit ratio of Valmet's offering. "Investment in this project would bring a substantial operational cost reduction in the long term," he adds.
50% reduction of in water, energy and steam consumption
One year later, the results are positive and expectations have been reached. "With almost one year in operation, the line allowed for a reduction of 50% in water, energy and steam consumption. Now we are adjusting chemical consumption, but reductions are already significant," explains Naohiro Doi, CEO at Cenibra. "We have also experienced a reduction in fiber losses as well as increased washing efficiency."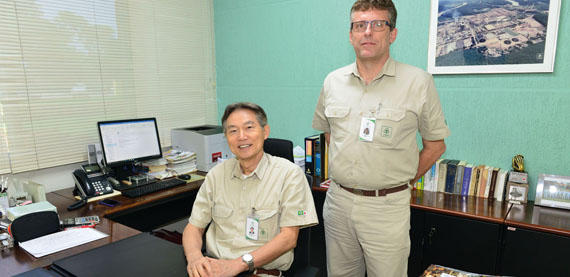 Smooth transition
The new line 3 was built at the same time as line 1 was in operation. One goal in the transition to the new bleaching line was to cause minimal impact on production. "We called this period a learning curve. In this project, that curve was almost undetectable as long as the new bleaching line reached the designed production level in less than three days," reports Mr. Alves.
"For the start-up, we had one shutdown at the old production line for 12 hours for implementing the last system connections and loading distributed control system (DCS) programs. So there were no work overload or unplanned production losses," he summarizes.
Leandro Dalvi, Production Manager at Cenibra, says that the initial plan included a 30-day learning curve. "Besides that, we have already reached our goals due to the tests carried out together with Valmet," he explains. In view of the available area, Mr. Dalvi was surprised with the final result, saying: "It was incredible. Nowadays we can expect more from the equipment as they are more modern and flexible."

The new line started operation with 96 % of its design capacity.
A steady partnership
For Flávio Marcelo Correia, Industrial Board Assessor at Cenibra, this partnership was the key for the project success, and the good references received from Valmet in other group companies also contributed in a positive way. "The expertise of Valmet professionals and the assistance of the Finnish and Swedish teams were also key points for supplying technical support with responsiveness and troubleshooting," he says.
According to José Manoel Leite Neto, Project Coordinator at Cenibra, Valmet's assistance was one of the main contributing factors for this partnership. "After start-up, Valmet along with Cenibra has followed the line performance and also given the necessary support for adjustments in a fast and assertive way," he says.
Continued cooperation on line 2
After this successful joint effort, Valmet entered into another partnership with Cenibra for modernizing bleaching line 2, which dated from 1995. For this modernization, atmospheric diffusers will be replaced with wash presses to achieve benefits similar to the last project. "Our objective is to increase the production capacity, improve processes and make the company more competitive," says Naohiro Doi, CEO at Cenibra.
For Igor Panassol, Sales Manager for the fiber line at Valmet in South America, this project shows the customer trusts Valmet's technology and delivery capability. "A great job carried out with Cenibra in the last project for the new bleaching line, as well as our excellent business relationship, was essential in this process. The customer will benefit from this project in terms of maintenance and OPEX," he states.
Article published in Forward magazine 2/2019.