Nov 29, 2019
Process control efficiency often directly correlates to improved profitability and environmental performance. An optimized process consumes less energy, water and perhaps most importantly valuable raw materials. Reducing waste and process losses also typically translates into improvements in terms of process output and mill capacity.
One of the major objectives for the modern pulp, paper and bioindustry is achieving improved efficiency in all operational areas. This includes the running of operational processes as well as executing capital projects, which are helping modernize operational mill assets in a very concrete way. This demand for efficiency stems from the global megatrends that are driving the market.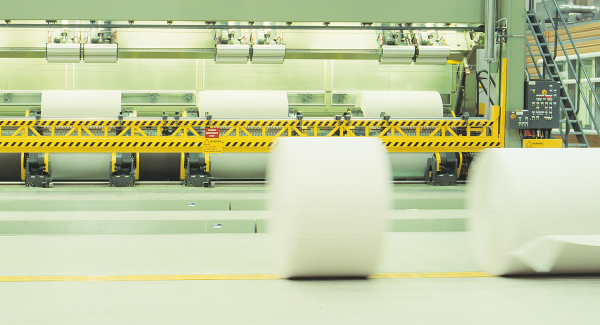 As a fundamental element in process control, automated valves, which actuate physical control functions, can play an important role in improving operational efficiency. But this is only the case if the valves are well-engineered and carefully specified utilizing relevant process data. Each valve should also be optimized by experienced flow control professionals to best perform in the applications they serve. The right valve should be able to deliver reliable and long-lasting performance in any demanding industrial service they were engineered for. When it comes to safety, reliability and availability, there is no substitute for durable quality or shortcut to improved efficiency.
How to get the most out of valves
The 3 core elements of valve efficiency:
1. Solid technology
2. Expert services
3. Advanced digitalization
Every valve in your pulp, paper or bioproduct process is important. The question is, what does it take to harness the full potential of each valve assembly to deliver the best possible process performance? There are three core elements that together enable sustainable success. Firstly, the physical products themselves must be in order from technical design and application points of view. To make the most of these products you need dedicated services that understand your process requirements and help optimize performance over the lifecycle of your mill. The third important element in this modern world is digitalization. Capturing, interpreting and utilizing the wealth of information running processes can provide is more important than ever before.
The right valve for the job
Our extensive experience and understanding of process conditions and their development phases have helped us engineer the best possible valve technologies to suit each process area and industry application. The needs of the customer and the requirements of the application in question is always the starting point for our R&D department. Through the expertise that has come over time, we have been able to standardize the majority of the industry applications, allowing us to serve them with just a few key valve technologies that deliver reliable performance in both on/off and control service. These technologies deliver reliable and optimized performance in most pulp, paper and bioproduct applications, enabling the highest possible capacity and degree of energy efficiency.
Some more demanding and process critical applications have required further, more industry-specific engineering to deliver on the requirements of some of today's pulp, paper and bioindustry applications. This includes specialized products such as capping valves used in the pulp dissolving process to deliver a reliable wood-chip feed into batch cooking regardless of 24/7 peaking pressures, temperature stress and medium contamination. Also, high-consistency pulp flow controls in the fiberline and bleaching areas have required unique and sound engineering to realize flow ports that deliver reliable performance with challenging medium hydrodynamics and material requirements.
Service based on data utilization
Advanced digital tools are the basis for modern service. When we talk about service, we are not talking just about mechanical maintenance and repairs. We are talking about delivering added value through management of installed assets, spare materials and process optimization, which are all based on our digital data analysis capabilities and expertise. The continuously growing demand for efficiency is placing new kinds of requirements on valve performance. Valve solutions are expected to perform better and include a higher degree of automation and integrated intelligence. New digital tools are needed to capture and utilize the available data to monitor installed automation assets, plan predictive maintenance, and to monitor and optimize process control performance.
Our advanced expert services utilize the captured digital data to help all parties perform better across your mill's lifecycle. This includes using formalized data exchange (management) to help EPCs in project execution, allowing for streamlined engineering processes and ultimately faster ramp up. For the end customer data-driven services ensure that the mill operations have the delivered asset -related data available early on in the hand-over and the mill has ability to stay up and running correctly for longer.
As business drivers continue to push technological development, operations in the modern industrial world are more and more based on networking with partners who have the best capabilities to integrate and utilize all the strengths of the technologies they deliver. From a technological point of view, the winners are those who can deliver true support through simple and efficient solutions locally and remotely.
Partnership and responsibility
Understanding the customer's objectives is the basis for being able to deliver results. We recognize that we need to remember that even though we sell valves, our customers are in fact buying something entirely different from us. They are buying the process control performance our valve technologies are able to deliver. This may mean for example that when we strive to achieve improved tightness, our customer is talking about minimizing fugitive emissions and ensuring resource efficiency. We may look at things a little differently, but we want to make sure that we are always working towards the same shared goals.
A big part of being a good partner is being present and available. We want to offer our help whenever and wherever it's needed. This includes everything from valve selection and sizing to installation, optimization, maintenance, replacement and beyond. We believe that we are doing our job right when we are able to deliver the three core elements of our offering; the best possible valve products, expert services based on knowhow and experience and the digital tools that bring a new level of intelligence and ease to valve operations, while simultaneously responding to the increasing awareness surrounding sustainable production and environmental performance demands.
Text by Ilpo Miettinen. For additional information on the topic, please contact ville.kahkonen@valmet.com
Text originally published in 2019, and slightly updated in April 2022, due to the company name change to Valmet. As of the 1st of April 2022, Neles is part of Valmet.