Jun 17, 2022
Climate change is forcing the world to find resource-efficient, clean and intelligent solutions to produce CO2 neutral energy. Energy producers have the power to make a difference with their choices – but also an opportunity to benefit from the situation.
Europe is leading the way. It intends to become the world's first climate neutral continent by 2050. According to the Green Deal, the European Union has set a target of cutting its emissions by at least 55 percent by 2030 from the 1990 level.
"This is speeding up decarbonization in European energy production, as well as other energy-intensive industries like steel and cement production," says Ari Kokko, Director, Technology and R&D, Valmet. "At Valmet, we're witnessing this trend through our ongoing projects and deliveries of new resource-efficient boiler plants and rebuilds all over Europe."
One of the deliveries includes a Valmet CFB Boiler and a flue gas treatment plant to a German customer that is phasing out coal. By combusting waste wood instead of hard coal, the customer will reduce CO2 emissions by 230,000 tonnes per year.
The upcoming EU directives may restrict the use of some biomass qualities such as roots and stumps, as well as co-firing waste with biomass. Resource efficiency as part of the circular economy prevents the use of good-quality wood-based biomass as a fuel, because in accordance with the cascading principle, it must be used as a raw material for something more valuable.
However, every cloud has a silver lining. What if you could make a profit with things that are usually an expense in the process? What if you could see residual waste as a resource and convert it into valuable products? And in a way that was respectful to the environment, while minimizing emissions?
"With Valmet's technology and expertise in energy, emission control and automation combined with services, energy producers can resource-efficiently decarbonize their processes and boost the circular economy," Kokko continues.
Resource efficiency plays a key role
Diminishing biomass availability is placing pressure on energy producers to move toward more demanding residue-based fuels. Excellent low-cost residues or side-products from industrial processes can be utilized in energy production. However, they can be challenging if you don't know what they require from the boiler.
"Valmet was trying to find alternative fuels for energy production long before there was any requirement to do so. We've conducted extensive combustion testing with demanding fuels since 1990 at our own R&D center in Tampere, Finland. Currently, our fuel library consists of more than 9,000 samples," Kokko points out. He continues: "It's important to remember that resource efficiency isn't just about fuels. For example, flue gas scrubbers with heat recovery provide a huge amount of additional low-grade heat. Increasing resource efficiency means producing more energy with the same amount of fuel and lower CO2 emissions. And biomass gasification can replace coal, natural gas or oil in heating on industrial sites."
What if you could make a profit with things that are usually an expense in the process?
To ensure optimal performance in energy production processes, Valmet is continually developing its Valmet DNA Automation System and Valmet Industrial Internet (VII) applications and services.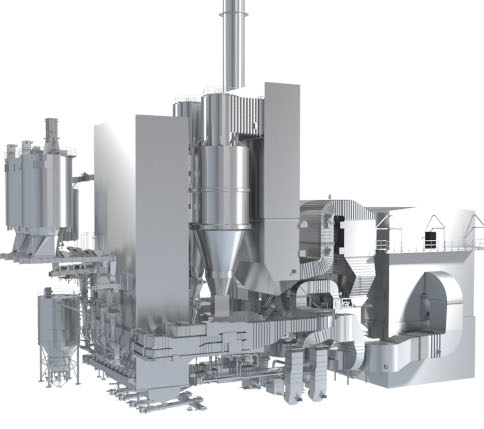 Conversions boost the circular economy
Switching to new and more sustainable fuels, achieving green energy targets and reducing reliance on fossil fuels does not always call for an investment in a completely new plant. A pulverized coal-fired boiler or grate-fired coal boiler can be converted into a biomass-fired bubbling fluidized bed (BFB) boiler. A coal-fired circulating fluidized bed (CFB) boiler can be rebuilt for biomass or multifuel firing.
"An excellent way to promote the circular economy is to reuse parts of an existing plant and convert it to run on biomass. It isn't always necessary to build a completely new plant, but existing parts can be utilized in a conversion," says Jouni Koskinen, Senior Manager, Sales and Technology, Energy Rebuilds and Conversions.
An excellent way to promote the circular economy is to reuse parts of an existing plant.
Koskinen highlights a conversion project in Poland, where a pulverized coal-fired boiler is being converted into a 157 MWth BFB boiler that will run on biomass.
Text Marjaana Lehtinen