Jun 22, 2020
Have you ever wondered what it's like to work at a project site? You now have an excellent opportunity to take a peek, as our site experts share their week at the boiler site in Onahama, Japan.
Construction work has also continued at the site during the COVID-19 situation and we have five Valmeteers working there. Typically, advisors work for long hours and during the peak construction and commissioning weeks, it is not unseen to exceed 65 hours. Working life at the site is usually quite hectic. Luckily, you get to work with amazing people, who are true professionals in their own field.
Monday​: James Lawrence, Piping Advisor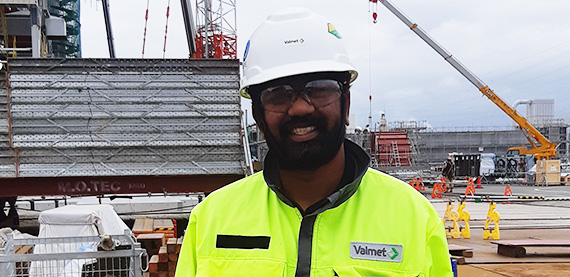 ​​There's a huge amount of proc​ess piping – more than 6,000 meters in this project. In larger boilers, the amount may exceed 20,000 meters. In process system piping, the quality demands are not as high as for pressure parts. Valmet has an advisor who specializes in piping. James Lawrence has previously worked as a Valmet piping engineer, mainly at Valmet's Chennai office in India.
"In the morning, I reported at 8 am, and the first thing I did was to resolve customers' email queries. So helping the client was the first priority. I usually go to the boiler to see the pipi​​ng progress and resolve site queries, and look for HSE issues. Sometimes, a client has difficulty in identifying delivered items, and I offer logistic support, using DMS (Valmet Delivery Management System) and going to the storage area to look for items. I usually finish at 5 pm, unless I have a conference call with Chennai.​"
Tuesday: Darwin ​​Maturan, Bag House Filter Advisor​​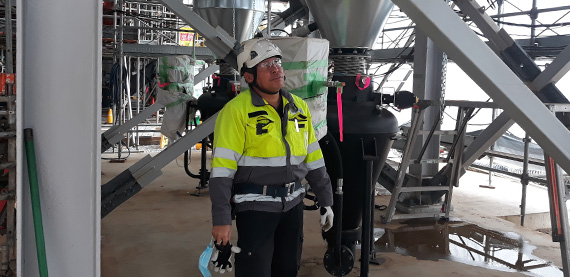 Darwin is examining the pneumatic ash transmitters to see if they are installed correctly. ​
One of the key pieces of equipment in Valmet's delivery is the bag house filter, which is used to clean flue gases. Darwin has also worked with Valmet on JFE's previous Japan project at Buzen.
"Bag house filter, BHF, is flue gas cleaning equipment. An induced draft fan creates a vacuum, and flue gas is sucked through the filter. Inside the filter fabric bag, like a vacuum cleaner, the particles are removed from the flue gas. Cleansing air is released inside the bag, and particles on the outside of the bag are collected and transferred via the piping system." ​​
​
Wednesda​​y: Makiko Izumidate, Site Assistant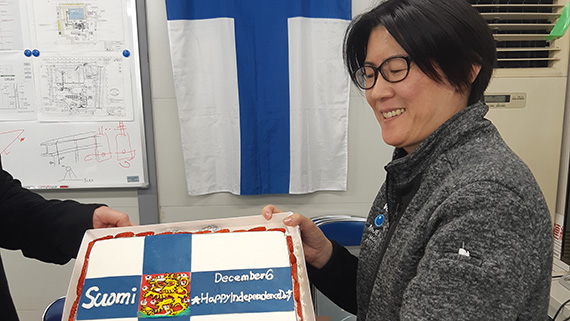 Small surprises make the day! Makiko arranged a great cake for Finnish Independence Day (6.12.)​
"As a site assistant I have various tasks. At the beginning of the projects, I checked the apartments where advisors are staying. I also needed to arrange furniture for the apartments. I support the advisors in daily issues, from doctor's visits to travel arrangements. The expenses are reported monthly to Valmet's systems and I prepare the reports."
Thursday: Stuart Ne​wstead, Quality Assurance Advisor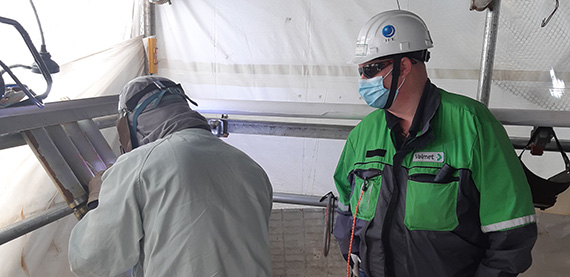 "The best thing about working at a site is that there are new challenges every day. Building relationships with a team of colleagues from different countries and the client. It's interesting to work with different country standards. It's great to learn more about different countries and cultures.
Today, we had the welder skill test for two new welders. This is to assure the competence of the welder before they go to the project. They must do one weld in a difficult position. I also inspected the buttwelds of the furnace and reviewed NDT (nondestructive testing) reports from last night. Part of my job is to deal with nonconformity reports - NCRs."
Friday: Juuso Tul​onen, Chief Advisor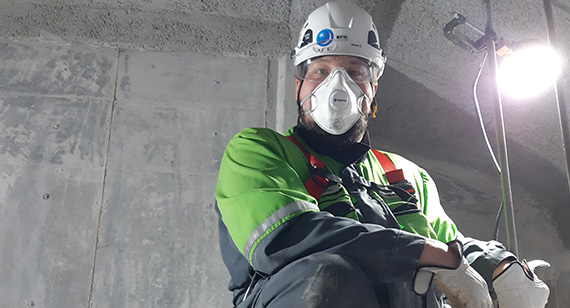 To enter a confined space, strict HSE requirements must be met. Juuso Tulonen is inside the loop-seal.​
​ "The best thing about working at a site is to be present when the work of so many people is combined to produce a functioning boiler. Thousands of working hours of hundreds of people are visible here better than anywhere else during the project. I also like that there's always something going on.
Today, the client asked me to examine the refractory works in the loop-seal to see if there were any mistakes or places for improvement. Everything looked great – the quality of the work was excellent. Friday is cleaning day, so all of us participate in cleaning our office."
Saturday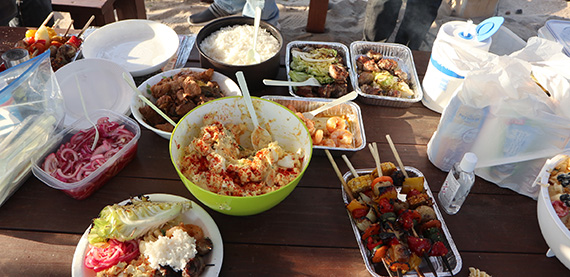 ​While the restaurants and shops were closed, recreational activities were in dire need. The advisors arrived in Japan at the beginning of January. They have had no visits home due to cancelled flights and quarantine restrictions. Luckily, there was a barbecue on Saturday for Valmet's team members at a local beach.
The advisors first cleaned the beach of all plastic, and then the barbecue could start. Each advisor prepared a dish from their native country. The menu consisted of Grilled Garlic Shrimps, Beef Yakiniku, Chakalaka, Chicken Adobo, and Chapati with Chicken Gravy – to name only a few.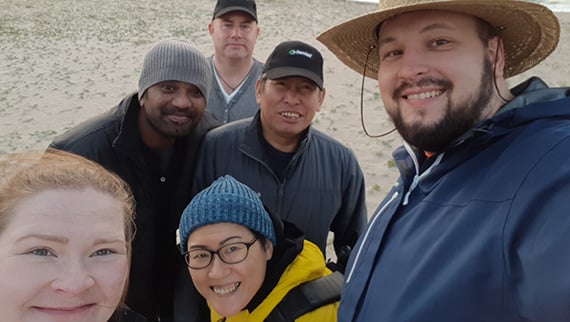 "We hope we were able to show the different sides of working at a project site. Site work is challenging and interesting, and you get to meet a lot of great people."
Text and photos: Juuso Tulonen​