Feb 22, 2022
A new boiler plant for district heat production to Seinäjoen Energia Oy's Kapernaum heat plant in Seinäjoki, Finland is taking significant steps forward in producing carbon neutral district heat.
Seinäjoen Energia chose Valmet as the boiler supplier for their important investment project to produce district heat from biofuels. The contract was signed in December 2020, and the works at the site began in September 2021. Valmet will build the new boiler plant from the foundation up, all the way from the fuel feed silo to the stack.

The core of the delivery is Valmet BFB Boiler, that utilizes bubbling fluidized bed technology and runs on a wide range of biomasses. Additionally, Valmet's delivery included an electrostatic precipitator, a flue gas condensation unit with heat recovery, and Valmet DNA Automation System for the entire plant.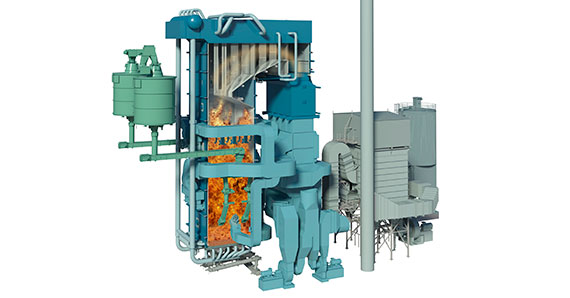 The fuel capacity of the boiler plant is 49.5 megawatts (MW). Its maximal district heat capacity is 56.5 MWth with the flue gas condensation unit.
Project installation works started according to time schedule
"We managed to complete the main lifting as scheduled in November 2021, despite facing some challenges with lay-out engineering because of a very limit spaces inside of boiler plant building and at the construction site. The global pandemic caused some issues with pressure part and scrubber delivery. Today we are proceeding forward with approximately 80 workers at the site, toward the next important milestone – hydro test of boiler by early March," summarizes Leo Kotliar, Project Manager, Heat and Power Projects, Pulp and Energy Business line, Valmet.
Upcoming important milestones and handover
Project's important next steps are around the corner. "Project's cold commissioning is planned to start in April 2022 and first firing will be done in mid-July. Start-up of the district heating and steam production is scheduled to be by the end of September 2022, just before the beginning of the next heating season. The boiler plant will be handed over to the customer and into commercial operation in November 2022," Kotliar concludes.