Oct 30, 2023
Billerud´s production facility in Skärblacka, just outside Norrköping in Östergötland, Sweden, is a world-leading manufacturer of high quality white machine glazed kraft paper. In the recent upgrade of Skärblacka´s PM10 cleaner plant, 45 % energy savings and 30 % savings in fiber loss were gained with Valmet´s cleaner technology.
Cutting our energy consumption almost to half by a cleaner rebuild with return on investment less than two years is exactly the change we are looking for.
Challenge:
With a strong focus on sustainability and climate impact, Billerud is accustomed to extend the lifecycle of their production equipment, also by relocating systems. After installing a third party´s cleaner plant from another Billerud facility to Skärblacka, they mapped challenges in the process. As the plant had not been optimized for the current application and production, a large number of cleaner units were running at a very low consistency, causing high energy consumption. Broken cascade in first and second cleaner stages reduced cleaning efficiency and risks of backflow in the mixing pump and reject from the wire pit were increasing. It was also noticed that sand was accumulating in the fibermizer, making it difficult to remove sand from the system.
During the discussion, Valmet and Billerud acknowledged that while it's feasible to fine-tune the existing plant for process improvement, the most beneficial and cost-effective approach to achieve optimal results from the cleaner plant would be rebuilding the plant. Upgrading the cleaner plant will result in energy savings, improved cleaning efficiency, and fiber savings.
Before upgrade:
The Cleaner installation consisted of 4 stages and a fibermizer. Accept from stage 1 and stage 2 went forward in the process. No pump was speed-controlled, all flows were regulated with control valves.
Valmet´s solution for the upgrade
Stages 1 and 2 were upgraded with Valmet Twister Hydrocyclone, the market leader in high cleaning efficiency and low energy consumption. One cleaner unit consist of 3 small diameter cones in one which improve debris removal. Lower cones in transparent material were also installed in order to improve visibility into the process.
The number of stages in the process were reduced from four to three, thanks to the low reject thickening of Twister. It was also possible to reduce the number of cleaner units installed. Fewer cleaner units results for easier maintenance and lower spare part cost.
The accept from stage 2 was cascaded back to stage 1 instead of going forward in the production. This helps to improve cleaning efficiency. Both stage 1 and stage 2 were equipped with speed-regulated pumps in order to save energy.
Stage 3 was removed entirely and stage 4 with fiber recovery unit was modified, and number of cleaners in this stage was reduced from 3+3 to 2+2 units. The intermediate tank for clear filtrate for dilute water to the stage was removed.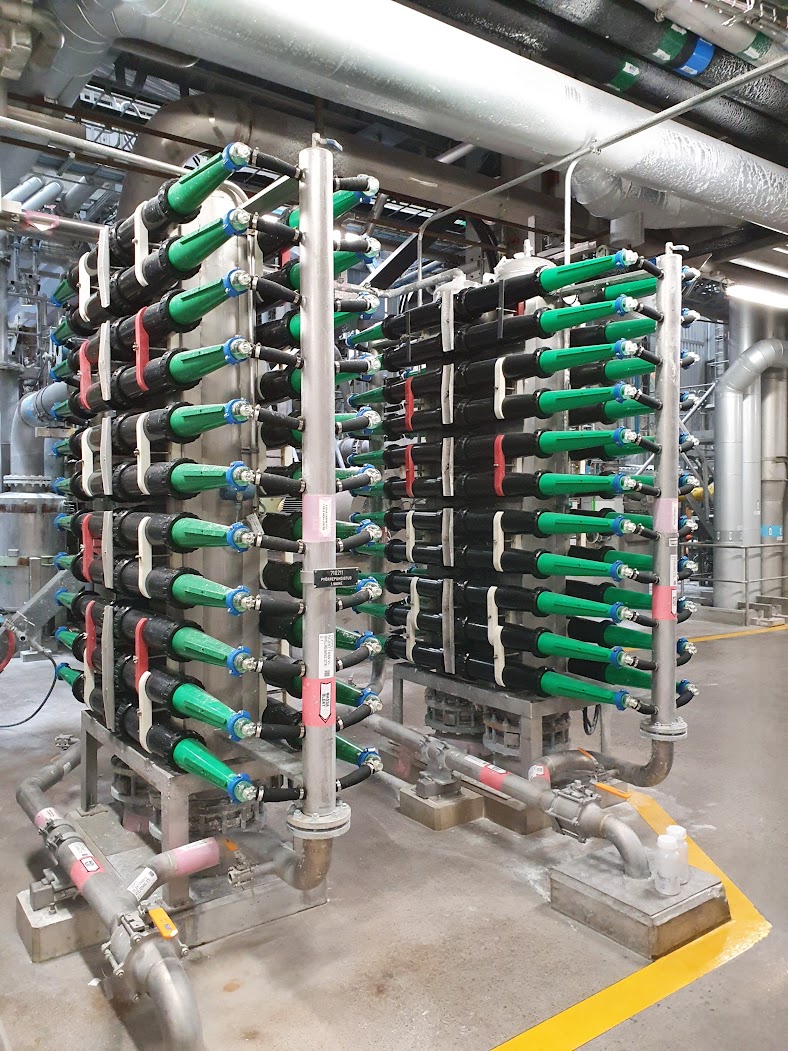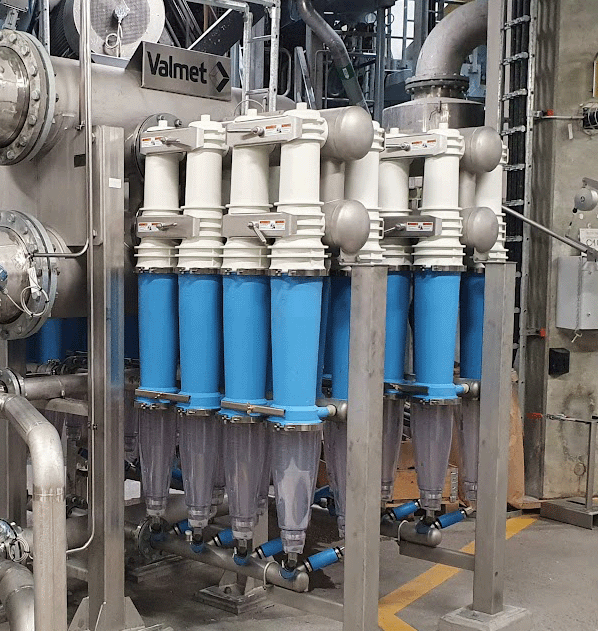 Remarkable results in energy consumption
Thanks to the cleaner plant upgrade, Billerud was able to achieve 45 % energy savings and reduce fiber losses by 30 %. In addition to the fiber value, the sewage treatment is less strained due to the optimized process.
"Collaboration with Valmet has been essential to drive change where it makes the biggest difference. And cutting our energy consumption almost to half by a cleaner rebuild with return on investment less than two years is exactly the change we are looking for. Our ambition is to continue a sustainable transition by maximizing the positive impacts along our value chain.", says Peter Jonsson, Production Manager at Billerud Skärblacka.
Achieved improvements by Valmet cleaner plant upgrade
Ÿ Flow stage 1 reduced by 40%: ~35000 à 21000 lmp
Ÿ Energy saving: ~45%: 41 kwh/adt à 22 kwh/adt
Ÿ Reduced fiber losses ~30%: ~910 kg/d à 600 kg/d