Dec 18, 2020
Chemical savings and an improved digester yield, as well as better runnability resulting in record production, are among the benefits of a continuous pulp digester optimization project at the Graphic Packaging International (GPI) West Monroe mill in Louisiana.
The goal of the optimization project, involving close collaboration between Valmet and GPI, was to tackle the mill's high degree of Kappa variability and a lower than optimum average Kappa from the mill's three kraft pulp digesters. Valmet supplied an Advanced Process Control (APC) package utilizing Model Predictive Control (MPC) techniques for all three digesters in conjunction with Valmet Kappa Analyzer (Valmet Kappa Q) and Valmet Cooking Liquor Analyzer (Valmet Alkali C).
Performance agreement resulted in continuous development of Kappa.
After commissioning the new measurements, the Valmet Continuous Cooking Optimizer start-up included base tuning and hands-on on-site operator training. This was followed by the process stabilization, data and experience collection phase to identify and maintain the digesters' optimum cooking conditions. Process performance follow-up was done remotely, with mill visits by specialists as required.
Better quality
The advanced controls provided by Valmet Continuous Cooking Optimizer reduce quality variability and stabilize the process, allowing it to be moved closer to the economic optimum compared with the baseline. The Valmet Alkali C Analyzer performs automatic online titrations based on the SCAN-N 33:94 laboratory standard to determine the alkali profile in the digester and optimize cooking chemical addition, while the online Kappa measurements provide an accurate estimate of pulp yield. With enhanced control of delignification and the alkali profile, the mill can increase pulp yield while maintaining a steady blow Kappa level.
Improved control
The alkali/wood ratio is automatically corrected based on residual alkali measurements, with changes of white liquor concentration automatically taken into account in the white liquor total flow. Measuring and controlling the amount of residual lignin in the pulp after the digester stabilizes fiberline operations, producing a consistent downstream product, with Kappa feedback control eliminating long-term process disturbances such as changes in chip quality.
In Advanced Process Control it was possible to increase the Digester- A blow Kappa by seven units.

Continuous improvement
In automatic control, it was possible to increase the Digester-A blow Kappa target by seven units. This means a higher pulp yield and increased production, especially as the mill produces unbleached pulp. The results continued to improve after the actual project because of continuous application performance management (APM). The online measurement of alkali and Kappa, combined with sophisticated optimization controls, has achieved a reduction of Kappa and residual alkali level standard deviations.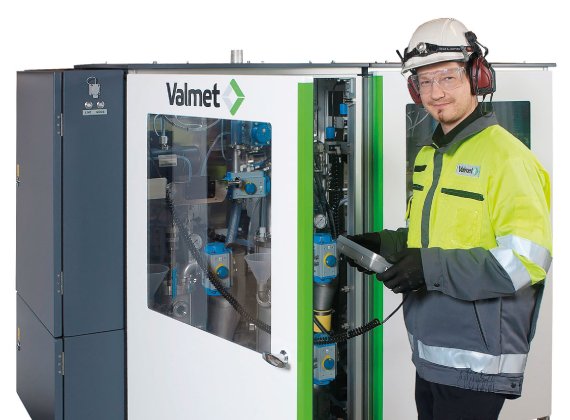 Based on an increased Kappa target, the mill can justify 20 incremental tonnes/day versus the 6 tonnes/day project goal. Other significant savings have been realized from better runnability, with the mill seeing record production figures since project implementation.
This article is based on a technical presentation prepared by Graphic Packaging International and Valmet for the TAPPI Peers Conference in St. Louis, MO, on October 28, 2019.