May 3, 2016
The Orora´s Botany mill in Sydney, Australia, has been ambitious about the performance and it has aimed to be within top board mills worldwide, in terms of tonnes per meter. The OptiConcept board making line B9, completely supplied by Valmet, started up in October 2012. With a design capacity of 400.000 tonnes per year, B9 is the largest paper machine operating in Australia.
B9 uses 100 % recycled fiber from domestic containerboard and mixed waste. B9 has a wire width of 6.25 m, a designed speed of 1600 m/min and an annual capacity of 400.000 tonnes of recycled liner and fluting. A wide range of basis weights vary presently between 90 g/m2 and 200 g/m2.
A single-tier pre-dryer section includes eight drying groups. The runnability components in two first drying groups comprised originally one Valmet Hirun Web Stabilizer 41 and four Valmet Hirun Web Stabilizer 22 blow boxes, the rest of the pre-dryer section drying groups comprising Valmet Web Stabilizer SR3 Plus blow boxes.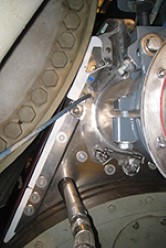 In a rebuild in September 2015 four new Valmet Hirun Web Stabilizer 4E4 blow boxes were installed in the second drying group and two new Valmet Hirun Web Stabilizer 2E5 blow boxes were installed in the third drying group. Three old hirun web stabilizer 2 blow boxes were relocated to the end of third drying group and in to the first position of fourth drying group. The relocated hirun web stabilizer 2 blow boxes were maintained and upgraded to e-model as well.
Hirun web stabilizer 2E and 4E are new versions of proven Valmet Hirun Web Stabilizer technology with considerable reduction of blow box supply air flow and thus considerable saving in fan power consumption.
The rebuilt hirun web stabilizer system was successfully started up in mid-September 2015 and its performance has met all the requirements for a stable web run, higher speeds and fewer breaks in the first group. Shortly after the rebuild B9 broke its daily production record and the machine is now regularly achieving above 11 t/m/h capability at its most common grade range.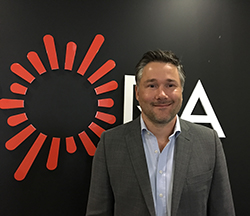 Karl Achleitner, General Manager, Operations at Botany mill, is very pleased with the results: "Sheet stability – creasing and edge lifting – in the early pre-dryer section has been a major time efficiency factor for us at high machine speeds. After the upgrade with hirun web stabilizer boxes the topic is completely resolved – we are now regularly running at 11.5 t/m/h with the sheet being completely flat and seal maintenance is a non-issue. Best investment we have done for a while…"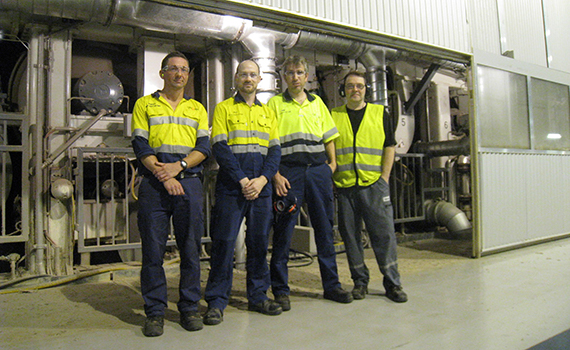 Orora project team (from left) Robert Vukasinovic (Production Manager), Felix Ammann (Development Manager), Rob van der Wielen (Senior Project Engineer) and Ralf Kotiranta (Product Specialist, Valmet) after successful rebuild and start-up.
1 earlier known as HiRun 4000
2 earlier known as HiRun 2000
3 earlier known as SymRun Plus
4 earlier known as HiRun e4000
5 earlier known as HiRun e2000