Nov 13, 2014
The Smurfit Kappa Kraftliner mill in Sweden manufactures 700,000 tonnes of kraftliner a year using virgin fiber as raw material. The mill was started up in 1962.
The Smurfit Kappa Kraftliner paper mill in Sweden was having problems with its evaporation plant. The heating surfaces had begun to crack, resulting in unplanned outages, higher costs and sometimes lower evaporation capacity. After analysis and discussions with several suppliers, Smurfit Kappa Kraftliner chose to replace the damaged heating surfaces with Valmet's TUBEL heating surfaces. But the installation of the new heating surfaces became dramatic: A 350-tonne crane collapsed, and suddenly the standard replacement job became a race against time.
The Smurfit Kappa Kraftliner mill has an annual capacity of 700,000 tonnes of kraftliner. Kraftliner is made from virgin fiber and is used to manufacture containerboard. The mill started up in 1962 and has been continually upgraded and expanded ever since. Now the time had come for the evaporation plant. Stefan Lundqvist, manager of the Chemical Recovery Plant at Smurfit Kappa Kraftliner relates the thinking at the mill:
"Our evaporation plant had been working well, but we had started having serious problems with cracks in the concentrator heating surfaces. We finally got to the point that it was no longer possible to repair the heating surface, we had to replace it instead. One option was to switch to a new heating surface of the same design, but made from a material that was more suitable for our conditions. After analysis and evaluation of our options, we chose to switch to a heating surface from Valmet."
Change of plans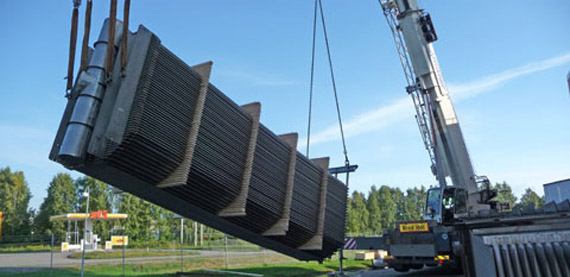 Two cranes hoist a new evaporator heating surface.
Once the choice of technology was made, the effort focused on getting the new heating surface installed as quickly as possible. First, the work at the site went according to plan, but the situation suddenly changed when a crane collapsed. Valmet's project manager Charlotta Cederström describes what happened:
"The heating surfaces are very heavy, so for this installation we were completely dependent on a big 350-tonne crane, both to get the old heating surfaces out and to install the new ones. Things got more complicated than we had planned for. We began hoisting the old heating surface, but the main hydraulic cylinder on the crane suddenly bent. Nobody was hurt, but we had to stop the work and change our plans."
"In order to minimize the time lost due to the collapsed crane we, together with the crane company, immediately started scrambling to find new parts, dismantle the crane and repair it. We also began a range of other activities intended to save time and minimize delays. It was a hectic time, but we had a very open, direct and positive dialogue with the people at Smurfit Kappa Kraftliner, and their positive attitude was a great help. Cranes do not normally collapse, so this site work became very challenging. In the end, we managed to minimize the time lost and the installation was one of our fastest, compared to others with this kind of scope. I think that the support we got through the positive dialogue we had with our customer was one of the main reasons why the people on site could perform as well as they did in this project."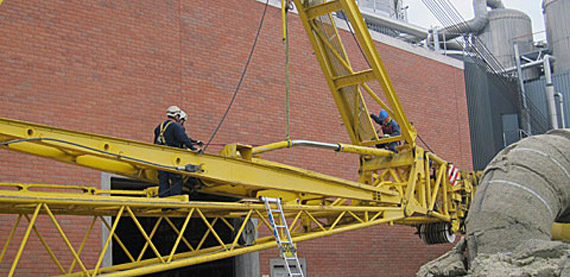 Crane personnel taking out the damaged hydraulic cylinder. It is extremely unusual that the cylinder collapses like this.
Good cooperation leads to results
Stefan Lundqvist at Smurfit Kappa Kraftliner continues the story: "Our job is to make things work well, and when we run into problems, we focus on finding ways forward. A big challenge in a case like this is to make sure things remain safe, even when the plans for the work change as much as they did here. The cooperation with Valmet worked well, and many other people acted very professionally and made outstanding contributions. All in all, the end result was very good. Despite the setbacks, we ended up with only a small delay. I should also add that our concentrator has been working very well since it was started in autumn 2013."
TUBEL for highest availability
In kraft pulp mills, black liquor is evaporated before it is burned in the recovery boiler. The evaporation takes place in large evaporator effects that are heated with steam. Anders Wernqvist from evaporator sales at Valmet, describes Valmet's experience with evaporator installations:
"To date, we have completed more than 400 big evaporation and condensate treatment projects around the world, gaining lots of experience. We have several different technologies for evaporating black liquor. In the concentrator part of the evaporation train, we usually recommend our TUBEL evaporators. They feature a design where the black liquor is evaporated on the outside of hot tubes. The tubes are robust and stable mechanical components, meaning the evaporation effects last for a very long time. Another big advantage is that the heating surface can be easily washed clean during operation. This ensures a high evaporation capacity and avoids the costs of hydroblasting.
The installation at Smurfit Kappa Kraftliner also made it possible for our customer to lower their steam consumption when their leaking heating surfaces were exchanged for our tube-based technology. I'm really happy about the very good experiences our customers have had with the TUBEL technology, both from upgrades of existing plants and in new plants."