Customer case:
Valmet Cooking Liquor Measurement for Kraft Pulping - Shin Tokai Paper, Japan
Reliable alkalinity level process measurements in the impregnation, cooking and washing steps of the chemical pulping process are needed for successful implementation of optimized process control. Previously competitor's conductivity measurement had been applied but constant malfunctioning occurred and demanding process conditions required more durable quality sensors.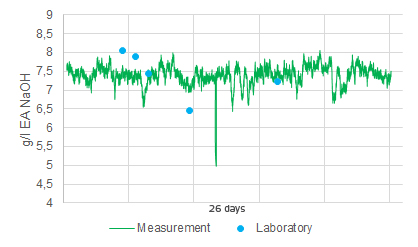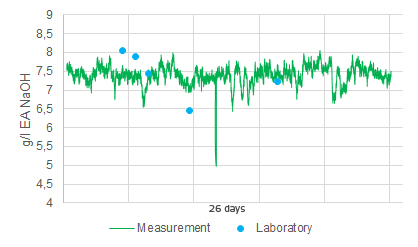 Our earlier installed base with toroidal sensors was not functioning reliably but after installing the Valmet Cooking Liquor Measurement our digester wash circulation measurement has been working with little maintenance without any problems.

Summary
Location

Shin Tokai Paper, Japan

Solution

Valmet Cooking Liquor Measurement

Valmet Cooking Liquor Measurement for effective alkali based on conductivity.
The measurement was installed in a continuous digester wash circulation.
Continuous alkali measurement provides operators the tools to react to alkali level changes in the continuous cooking process.
Lifetime is 5 to 10 times longer, compared to typical conductivity sensor

Results

The Valmet Cooking Liquor Measurement with the standard recipe together with correct calibration reacted rapidly to process changes and an excellent correlation with daily laboratory measurements was achieved.
After successful trial period the measurement can be utilized with own process control to reach additional cost savings and quality improvements. In the near future we will install the measurement to all digester circulations.

Key words

Kraft pulp, Japan, Automation