Customer case:
Measuring chip moisture faster with accuracy
Sun Paper buys wood chips by the truck load for paper production in its alkaline peroxide mechanical pulp (APMP) line at its mill in Yanzhou city, Shandong province. As chips are bought by dry weight, the moisture content of each truck load is critical to the purchasing settlement. Since June 2019, the moisture measurements have been performed by the Valmet MR Moisture Analyzer (Valmet MR).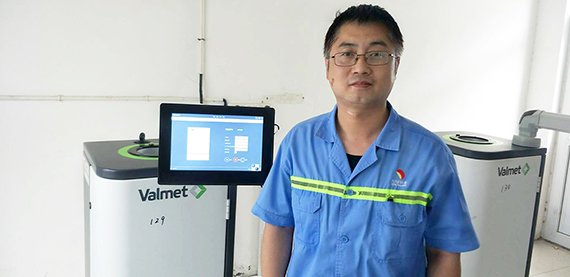 Valmet's technology is very advanced, and their service is very professional. Cooperation with Valmet has been a very nice experience. The measurement results are very accurate and reliable, helping to increase our work efficiency, and fully match our requirements for chip moisture measurement.
Summary
| | |
| --- | --- |
| Location | Yanzhou city, Shandong province, China |
| Challenge | With an average of 150 trucks a day and at peak times up to 400, the traditional laboratory measurement was tedious, time-consuming, and prone to operator error. |
| Solution | Valmet MR Moisture Analyzer (Valmet MR) is a unique device that has set a new standard for efficient moisture analysis. Using Magnetic Resonance (MR) technology it measures water content by measuring hydrogen atoms from free water molecules. |
| Results | Valmet MR helps to increase measurement capacity and speed, lower the safety risk, and decrease human error with chip moisture result data uploaded to the mill system in real-time. |
| Keywords | Chip moisture, Pulp, Automation, China |