Customer case:
Valmet Fiber Furnish Analyzer, an Indonesian first!
PT Surya Pamenang located in the outskirts of Kediri, East Java recently invested in a Valmet Fiber Furnish Analyzer (Valmet MAP Q) to further improve its coated folding boxboard sold in both domestic and export markets. This is an Indonesian first, since it is the first Valmet MAP Q installed in the country. The analyzer included Freeness and Fiber Imaging modules plus 7 samplers installed in the mill's stock preparation department. Earlier, stock preparation was mostly controlled only by a few daily Freeness measurements taken as a hand sample and the role of fiber properties was a new concept for the mill's management of product quality. The Valmet MAP Q analyzer incorporates new fiber imaging technology which provides micro-scale details from fiber dimensional properties to shives and their size categories. Monitoring incoming pulp quality and subsequent fiber development during refining provides the opportunity for better control of stock preparation.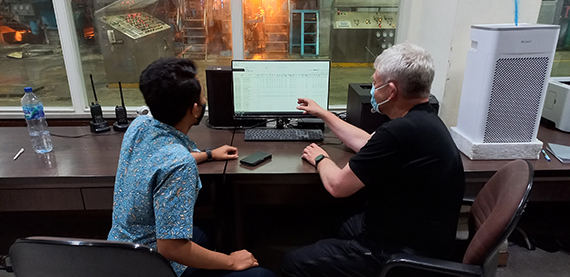 Pulp quality management has reached a new dimension with fiber measurements. With the help of fiber measurements, it is possible to monitor not only Freeness measurement, but also its quality.
Summary
| | |
| --- | --- |
| Location | Kediri, East Java, Indonesia |
| Challenge | The customer wanted to further improve the coated folding boxboard sold in both domestic and export markets by better monitoring of incoming pulp quality and control of refining levels. |
| Solution | Valmet Fiber Furnish Analyzer (Valmet MAP Q) with Freeness and Fiber Imaging modules plus 7 samplers installed in stock preparation department and a preventive maintenance contract including regular and advance semi-annual maintenance visits by a local and remote experts. |
| Results | Monitoring incoming pulp quality and subsequent fiber development during refining provides the opportunity for better control of stock preparation. |
| Keywords | Fiber Furnish Analyzer, Stock Preparation, Automation, Indonesia |