Valmet signs an agreement with Sponda Ltd on the renting of a new office building to be designed and constructed in Tikkurila, Vantaa
Valmet Oyj's press release on May 9, 2022 at 10:00 a.m. EEST
Valmet has signed an agreement with the property investment company Sponda Ltd on the renting of a new office building that will be designed and constructed in Tikkurila, Vantaa in Finland. The office building will be located in the immediate vicinity of the Tikkurila station at the address Lauri Korpisen katu 9. Valmet's rented floor area in the building will be approximately 13,000 floor square meters. Construction of the development project is scheduled to start this year, and the work is estimated to be completed by the end of 2024. More than 700 people from Valmet's Järvenpää and Hakkila locations will move into the building.
"I am glad that we will now be able to quickly move forward with the project. The new office building is a major investment in our personnel, and it will serve the development of our operations in an important way far into the future. Modern, well-functioning and comfortable premises enable efficient collaboration and support the well-being of our personnel. Being located in the Capital Region and having excellent traffic connections will also improve Valmet's attractiveness as an employer", says Markus Laitila, head of Valmet's Järvenpää location.
Excellent location and varied facilities and services
The office building's location in the immediate vicinity of the Dixi shopping center and the Tikkurila train station makes the varied services of the shopping center and excellent public transport connections, e.g. to the airport, available to those working in the building.
In the design of the building, attention will be paid to the flexible use of the premises, appropriate lighting in the workstation areas, and the energy-efficiency of the building. A high-class environmental certificate will be sought for the property. Particular attention will also be paid to the building's carbon footprint during its life cycle. This will include solutions that improve the building's energy efficiency and the production of renewable energy, among other things.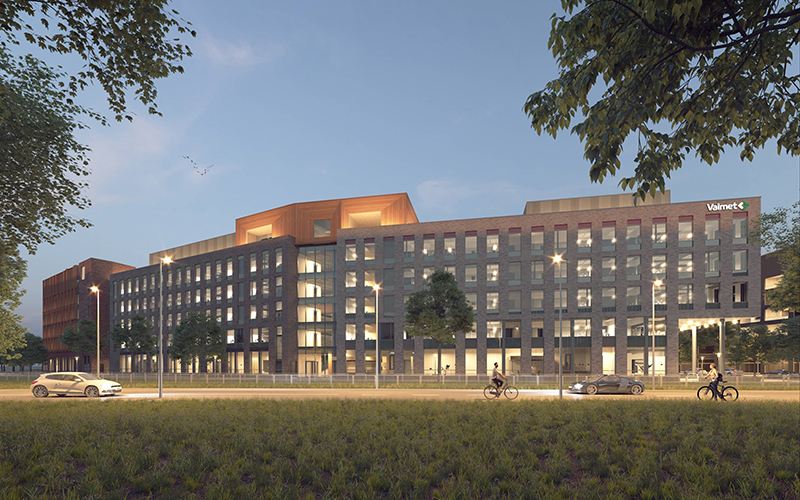 VALMET
Corporate Communications
Additional information:
Markus Laitila, head of Valmet Järvenpää location, tel. +358 40 575 1204
Valmet is a leading global developer and supplier of process technologies, automation and services for the pulp, paper and energy industries. With our automation systems and flow control solutions we serve an even wider base of process industries.
We aim to become the global champion in serving our customers. Our 17,000 professionals work close to our customers and are committed to improving our customers' performance – every day.
The company has over 220 years of industrial history and a strong track record in continuous improvement and renewal. In 2022, a major milestone was achieved when the flow control company Neles was merged into Valmet. The combined company's net sales in 2021 was approximately EUR 4.5 billion based on the respective company figures.
Valmet's shares are listed on the Nasdaq Helsinki and the head office is in Espoo, Finland.
Follow us on valmet.com | Twitter | Twitter (IR) | LinkedIn | Facebook | YouTube | Instagram |