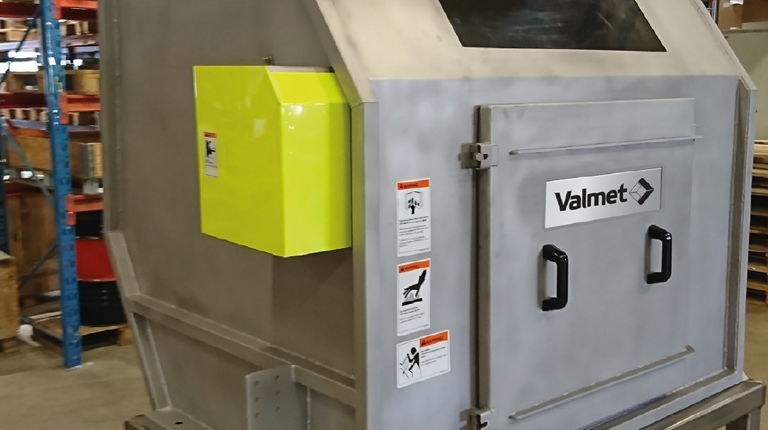 Valmet introduces versatile new solution for fiber recovery and pulp thickening
Valmet Oyj's trade press release on November 12, 2019 at 1:00 p.m. EET

Valmet announces the launch of Valmet Pressure-fed Bow Screen, a versatile new addition to its stock preparation offering. The solution reinvents the traditional bow screen with a new, user-friendly design and improved nozzle arrangement enabling higher capacity and greater runnability than before.
Working to maximize the effectiveness of fiber recovery and pulp thickening processes, Valmet Pressure-fed Bow Screen is ideal for tissue making applications. Other primary applications of the equipment include shower water protection filtration, police filtration, felt hair removal and deinking stock washing.
"A primary driving force behind the new design was our goal to provide a better, safer user experience for our operators at the mill level," explains Tony Bjorkenius, Business Manager, Disc Filters, Services, Valmet. "The equipment is engineered to provide better accessibility than ever before, with the focus on service, maintenance and everyday use."
Valmet Pressure-fed Bow Screen is the company's first new product that specifically leverages the technology, engineering and expertise gained from the acquired company GL&V. The product launch reinforces Valmet's services approach "Shared Journey Forward", a set of commitments that promises customers solutions built on their unique needs, safety, trust and accessibility.
For further information, please contact:
Tony Bjorkenius, Business Manager, Disc Filters, Services, Stock Preparation, Valmet, tel. +46 8 522 444 56, tony.bjorkenius@valmet.com
VALMET
Corporate Communications
Valmet is the leading global developer and supplier of process technologies, automation and services for the pulp, paper and energy industries. We aim to become the global champion in serving our customers.
Valmet's strong technology offering includes pulp mills, tissue, board and paper production lines, as well as power plants for bioenergy production. Our advanced services and automation solutions improve the reliability and performance of our customers' processes and enhance the effective utilization of raw materials and energy.
Valmet's net sales in 2018 were approximately EUR 3.3 billion. Our more than 13,000 professionals around the world work close to our customers and are committed to moving our customers' performance forward - every day. Valmet's head office is in Espoo, Finland and its shares are listed on the Nasdaq Helsinki.
Read more www.valmet.com, www.twitter.com/valmetglobal