Valmet awarded for its growth by Kasvu Open in Finland
Valmet has received an award for its business growth, which has had a significant impact for the Finnish society. The award was given by Kasvu Open, a sparring programme for Finnish growth companies. The jury emphasized especially Valmet's strong growth performance as well as company's impact on Finnish supplier network and sustainability.
Jari Vähäpesola, President of Valmet's Paper business line, accepted the award at Kasvu Open Carnival, a growth company event on October 23, 2019.
"Valmet is the leading global developer and supplier of process technologies, automation and services for the pulp, paper and energy industries. We have managed to more than double our orders received in Paper business line compared to the year 2013, when Valmet was demerged to be an independent stock listed company. Customers around the world trust Valmet, and we have been able to develop technologies, which have proven to be very competitive in the global markets. At the same time, we have employed a significant amount of suppliers, who have done an excellent cooperation with us to make this growth happen," Vähäpesola says.
Valmet employs close to 5,000 people in Finland. Its Paper business line supplies board, tissue and paper machinery and equipment and machine rebuilds globally. A major part of Valmet's paper technology production is in Finland, and Valmet's business growth has had a positive impact on Finnish supplier network.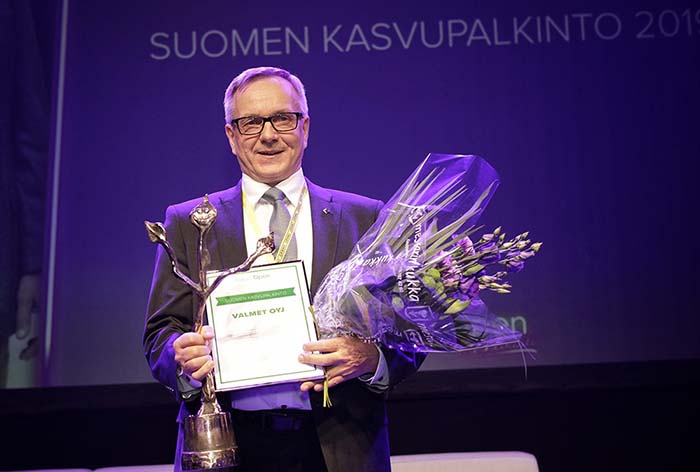 Image: Tero Takalo-Eskola
Information about Kasvu Open's Growth Award
Kasvu Open's annual Finland's Growth Award is given to a company, that has made courageous decisions on export, new jobs, enhancing innovations, and has also improved Finland's economy in an exceptional way.