Feb 27, 2023
Valmet has signed a Value Added Reseller (VAR) Agreement about Valmet DNA Automation Systems with Naizak Global Engineering Systems for power, water, wastewater, oil, gas and other process industries in Saudi Arabia and Bahrain. The agreement was signed during the iktva 2023 Forum & Exhibition organized by Aramco in Dhahran, Saudi Arabia, on February 1, 2023.
"We believe that this long-term cooperation will facilitate the mutual success of Naizak and Valmet in achieving greater presence mainly in the power and water sector in the region and eventually in the other sectors, too. We plan to set up a Main Automation Contractor (MAC) team which will compete in the market with major distributed control system vendors," says Tamer M. Abdallah, General Manager, Naizak Global Engineering Systems.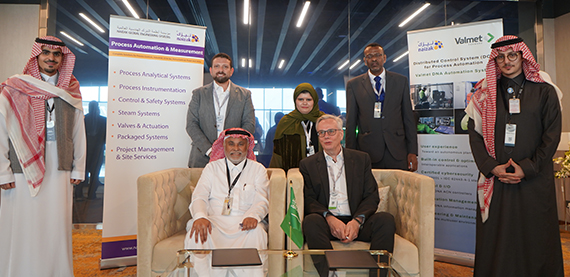 The new VAR agreement was signed in the presence of Mr. Musaad Al Abdulkarim (left), Naizak's CEO Mr. Khalid Al Abdulkarim, Valmet's Kari Heikkilä and Mr. Abdullah Alhazmi SWCC, together with Mr. Tamer Abdallah (pictured left in the backrow), Ms. Noora Al Abdulkarim and Mr. Esam Khudr.


"Naizak has strong market presence and good customer relationships in Saudi Arabia and Bahrain which both represent a new market area for Valmet's automation systems. We have identified opportunities in terms of revamp and greenfield projects especially in power generation and water desalination," says Kari Heikkilä, Senior Sales Manager, Automation Systems business line, Valmet. "Naizak's good reputation is built on professionals committed to exceeding each client's expectations."
Information about the new VAR partner
Naizak Global Engineering Systems is an engineering & IT conglomerate providing specialized services to the oil & gas, petrochemical, electrical, power and IT companies. Established in 1998, it has a wide coverage in the Middle East, Asia and Europe with help of its partner companies. Naizak maintains a network of offices in Bahrain, Saudi Arabia and the United Arab Emirates.
The company's Process Automation & Measurement division has gained recognition through its timely and successful completion of instrumentation & control, process analytical systems design & engineering, supply, installation and commissioning projects in various industries.
For further information, please contact
Kari Heikkilä, Senior Sales Manager, Automation Systems business line, Valmet, kari.s.heikkila(at)valmet.com, +43 66 4963 7414