Rely on a Legacy of Trust: Your partner for OEM drawings and expertise

Webinar Date: Thursday, September 28th, 1pm EDT, 45 minutes + Q&A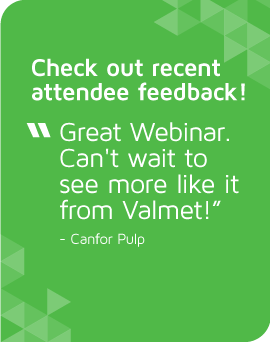 Webinar Description
Did you know that Valmet in North America has over 7.3 million pieces of OEM material and documentation to help better service your equipment? Considering this, and increased interest in online and E-Commerce platforms, we will be sharing the benefits of the Valmet Customer Portal (VCP) and the eStore. The VCP is a personalized collaborative workspace that gives easy access to all of our digital services, including the eStore. The eStore system provides access and authentication of parts and services of OEM equipment. Customers can search and verify needed spare parts by using their machine parts lists (bill of materials) and illustrations (assembly drawing) with hot pointing capability.
During this webinar training, you will learn:
How OEM legacy knowledge can help simplify your processes
The benefits and capabilities of the VCP and eStore
Tutorials on using each platform
[NOTE: The webinar will be in the English language. This webinar is only offered to pulp, paper, board and tissue producers, P&P industry consultants and university faculty and students. Use your company or university domain email address when registering. Products and services mentioned in this presentation may not be available in all regions.]


VALMET PRESENTERS



Kelly Kurzynski
NA eStore Manager and Valmet Customer
Portal Lead

Kelly joined Valmet in 2012 as a member of the Intellectual Property and Research (IPR) Group, based in Beloit, WI. Five years later, she shifted gears to focus on eStore development, which was eventually launched for Valmet's customers in early 2019. Since its inception, Kelly has played an instrumental role in various aspects of eStore, including Research & Development, Marketing, Creation, and Training. Her dedication and expertise in the product led to her appointment as Product Manager of eStore in 2023.




Stephen Huckaba
IT Service Delivery Manager
COF IT Operations North America US

Having worked for Sunds Defibrator in the late nineties, Stephen became a member of Valmet in 2000, and has since been an integral part of numerous IT programs throughout his career. In 2016, he shifted his focus to collaborate with the global salesforce team, where he has played an active role in several key initiatives such as Contact Center, Valmet Customer Portal, and M-Files (document storage application).

We listened to all of the great feedback we received on enhancing our webinar program for 2023 and will now be offering Certificates of Attendance. In order to receive a Certificate, you must attend the webinar up until the Q&A portion.