Roll Maintenance School
Dates: October 23-27, 2023 - Augusta, GA
Who Should Attend?
This class is designed for mill maintenance and operations personnel. Also, this is an ideal opportunity for anyone needing to increase their knowledge of rolls and roll maintenance.
Learning Results
Have a better understanding of roll configurations and designs
Understand important repair procedures for different roll types.
Have full knowledge of predictive/preventive maintenance task identification and procedures.
Better understand how roll reliability impacts machine reliability
Learn about new products designed to improve efficiency and runnability.
Roll Maintenance School was established in 1990 and has benefited maintenance and operational personnel. This unique offering provides interactive classroom instruction conducted by experienced adult educators involving classroom problem-solving exercises.
Hotel Accommodations
Augusta Marriott at the Convention Center
2 Tenth Street
Augusta, GA 30901
USA

To book your hotel reservations please use the below link:
Hotel Accommodations Online Booking Link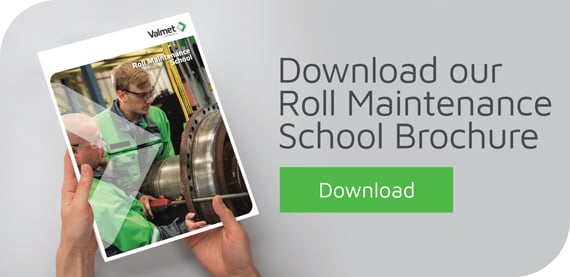 Registration is now closed. The class is filled to capacity.
Event Details
Start Date: Monday, October 23, 2023
End Date: Friday, October 27, 2023
Last Day to Book: Friday, October 6, 2023
Cost
$2,295/person (USD)/$2,985 person (CAD).
Each additional person attending the class (same date / location) is $2,105 USD or $2,750 CAD.
Please note that fees may apply if the registration is cancelled within 10 days of the class.
Payment Information
Please note the following:
For those US customers choosing credit card payment, a Valmet representative will contact you for credit card information.
US Customers
If paying via check, please make check payable to the following address:
Valmet, Inc.
25 Beloit Street
Aiken, SC 29805
Canadian Customers
If paying via check, please make check payable to the following address:
Valmet, Ltd.
4900 Thimens boul.
Ville St. Laurent, QC
H4R 2B2
Note: This class will be offered on a "first come, first-served" basis. Seats are limited.
For any questions, please contact Emily Howard:
Phone: +1 803-293-2114
eMail: emily.howard@valmet.com