Professor Fredrik Hacklin urges companies to forget their traditional innovation patterns and take the leap towards more experimental business models. Hacklin took the stage and shared his views on business models of the future at Valmet Customer Days 2018 in Vienna.
Many industries in the West have reached the point where their core businesses are operating in rather mature markets. To increase value capture, companies have to go further in exploring alternative opportunities.
"The most profitable companies are not only excellent at continuously improving their core business, they also never stop exploring new opportunities for creating and capturing value," explains Fredrik Hacklin, Professor of Entrepreneurship at Vlerick Business School, and ­Managing Director of Corporate Innovation Lab.
Successful B2B firms provide a strong showcase in the way they are gradually shifting away from manufacturing products and providing maintenance services towards more complex and experimental business models. "Instead of just developing new products within their expertise, they are building new business models beyond their industry," he says.
Hacklin offers the example of Rolls-Royce and its "Power-by-the-Hour" approach to engine maintenance management of aircraft, where the company offers a complete engine and accessory replacement service on a cost-per-flying-hour basis. The operator pays only for engines that perform well.
Forget your industry!
Amidst this process of continuous structural change, the boundaries between industries are gradually disappearing, as a lot of competition is now emerging from across industries. There is a new normal in business life: players from other fields are entering with new ideas to disrupt the market of well-established traditional industries.
Hacklin encourages companies to investigate alternative business models and put them into a new context. "What if your company were to apply a business model from the hotel industry, such as Marriott, logistics companies such as DHL, or coffee makers like Nespresso?" he asks.
At the same time, he suggests that companies could consider applying their competence and new business models in other industrial sectors as well – while keeping in mind that they need to carefully consider which businesses they choose.
"Turning a product business into a software business is trendy, but it is not necessarily a good idea for the majority of firms. Digital business model innovation needs to be linked to key strategic questions, not tools," says Hacklin.
When developing scalable digital services and turning a B2B business into a platform game, there is a risk involved in inviting new, hungry players with an appetite for expansion.
"The competition is no longer just inside the industry, as players like software companies could enter and claim a significant stake of the market," he warns.
"Companies have to consider carefully if they are ready for this type of competition. Do they know who they'll be facing on the other side of the table? And how can they ensure and protect their underlying traditional competitiveness?"
"In the end, in tapping into attractive alternative business models and digital opportunities, companies need to resist the temptation to sacrifice their core offering – physical products, production processes, close customer relations and industry expertise," Hacklin reminds us.
Fredrik Hacklin, Professor of Entrepreneurship at Vlerick Business School, and Managing Director of Corporate Innovation Lab
Rapid prototyping with customers
In the digital era, the software industry has turned the traditional innovation process upside down. Instead of developing new products internally and then launching them on the market, companies are developing applications together with their customers.
When companies develop their products and services, says Hacklin, they should creatively find a way to involve customers as early as possible in the process. The aim is to launch the first version quickly and then update it constantly in cooperation with clients. The process can be called rapid prototyping, or the lean start-up method applied to business-to-business commerce.
"Developing digital business should be a means to an end. The first stage is to fully understand the customer's challenge, and then to figure out how to apply a technology or digital solution to address the issue," Hacklin emphasizes.
"When all this is done well, the customer might actually be willing to pay more for the products and services. The sales organization of the company could serve as a starting point here.
"In doing this, we can't be afraid of experimenting with new organizational models. For example, we can engage our customers by opening up and reorganizing our R&D capabilities and innovation labs towards a wider public, creating joint platforms, or even inviting companies from other fields into the process. Experiment yourself – there are no limits," he says.
Learning from start-up companies
Another way to foster new business ideas and technologies is to cooperate with start-up companies. They can offer valuable leverage in the launch of new ecosystems.
"There has been a clear shift in mindset in corporate ventures. Instead of the traditional financial rationale, corporations are now looking to start-ups as a window for learning and acquiring new technologies. Through tapping into the start-up ecosystem, corporates can acquire a more dynamic and entrepreneurial vibe even for their own organizations," says Hacklin.
Also, from the perspective of the start-ups, the conversation is moving beyond capital. Big corporations represent attractive partners because they are good at scaling up their businesses and mass production processes. They also have access to supply chains and customers.
"Start-ups want to benefit from the know-how and access to customers that large companies have. But many partnerships suffer because the corporate parent simply does not have enough time for sparring and working together with the start-up," he notes.
"The parent company should facilitate knowledge transfer by, for instance, sending their most skilled engineers to work at the start-up, or even inviting the start-up team to spend more time inside the corporation as well. In other words, they should focus less on the financial capital investment, but much more on transferring experience and developing talent," states Hacklin.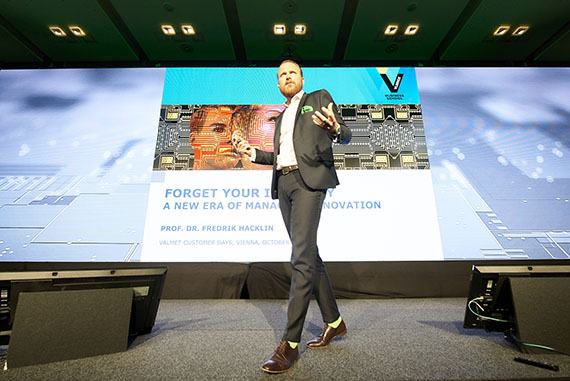 Digital business model innovation needs to be linked to key strategic questions, not tools," says Fredrik Hacklin.
Breaking organizational silos
A crucial condition for success in the new business landscape is the ability to dismantle organizational silos and find new ways of working internally. "As our world is very much in transition, we have to find an organizational structure that is capable of responding to rapid changes," explains Hacklin.
"The question is how to establish cross-functional teams – how to set up new organizational units or corporate labs. Here again, don't be afraid of experimenting with new structural set-ups," he urges us.
A happy customer should be the main reason for the mission. "As we move downstream in the value chain with our offering, companies are getting closer to their customers, which enables increased profit margins. The closer we get, the higher the potential gain," he concludes."
Fredrik

Hacklin

, Professor

of Entrepreneurship at

Vlerick

Business School, and

Managing

Direc

tor of Corporate Innovation Lab