In March 2018, PM 38 started producing fine paper a month ahead of schedule at the Yanzhou paper mill in Shandong province, China. PM 38 was a Valmet relocation project for Shandong Sun Paper Industry of a papermaking line Valmet had originally supplied to Stora Enso's Suzhou mill in 1996.
"The PM 38 investment was a strategic decision for Sun Paper. We wanted to have a wider product portfolio and improved product differentiation. The whole project has a large output, while the investment is small compared with a totally new line," says Mr. Wu Wenchun, Production Director, Sun Paper. The relocated machine has a trim width of 3.8 m and a design speed of 1,000 m/min with the flexibility to change grades according to market demand, thus maximizing economic benefits.
Excellent project execution
Valmet was able to offer a unique full-scale delivery scope, combining process technology, equipment, automation, field service and site service manpower. In addition to the actual machine, the scope of the relocation included the rebuilding of the ropeless tail threading dryer section, winder control and automation systems upgrades, a calender tail threading rebuild, as well as line improvement and site service.
Wu Wenchun was impressed by the project's execution. "With more than 600 containers of components and cast iron, and hundreds of relocated items, it started the right way from the very beginning. Valmet's professional and committed team made it possible for us to complete this project ahead of schedule! We highly appreciated their timely support and first-class service," he says.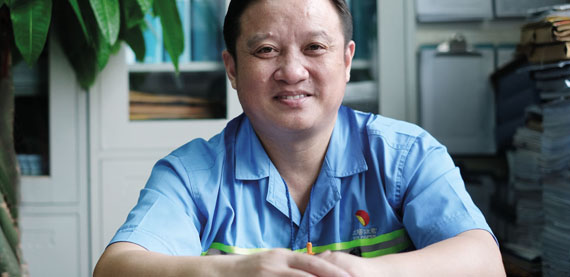 Better runnability and performance with advanced automation
PM 38 has been one of Sun Paper's most successful projects. Within a week of startup, the paper machine and two winders were in normal production and producing saleable first-class paper. PM 38 is equipped with Valmet DNA for process and machine controls and a Valmet IQ Quality Control System with a Valmet IQ Induction profiler to improve caliper control.
"Automation systems are the brain and heart of the machine. Valmet has a single platform for the different types of control, with a friendly and consistent user interface. The CD Caliper improvement rate is 82 percent with IQ induction, which also helps us to improve product quality. We believe that the advanced technology and solutions Valmet provides give us better machine runnability and operational performance," says Wu Wenchun.
"Within a week of startup, the paper machine was producing saleable first-class paper."
A wise decision
"The results of the project show that our decision to choose Valmet as our partner was very wise. Valmet provided process know-how and professional experts with a rich experience of machine relocation and system upgrades. These proved the foundation of this project's success. Based on our previous experience with PM 19 and PM 23, Valmet is a trusted supplier. It's all strong evidence of how well Sun Paper and Valmet work and move forward together," concludes Wu Wenchun.
TEXT Nigel Farrand
Article published in Forward magazine 2/2019.