A fundamental cornerstone of automated quality control in paper making is moisture control. Valmet has worked with paper makers for decades developing and perfecting measurement technology and automated control systems to keep moisture levels on target. The improved profitability and sustainability that paper makers benefit from by using Valmet's automation solutions are now also available for the corrugator industry.
Understanding the source of productivity issues
The corrugating process is typically controlled with temperature. This is absolutely necessary for flute forming and bonding, yet as corrugators all over the world see first-hand, warping, poor bonding and other issues still regularly occur.
Valmet's experience from paper machine processes has shown that temperature measurements alone are not sufficient to control wood fiber-based processes. In particular, it is primarily moisture, not temperature, that changes the dimensions.
Wood fibers swell and shrink with moisture content. This is the source of warping in corrugated board. Uneven moisture across the board leads to different rates of contraction, creating tension and stress in the board layers that cause bending.
It is not uncommon to measure no change in temperature, yet once you add moisture to the picture, the root cause of quality issues seen on stacker minutes later is clear.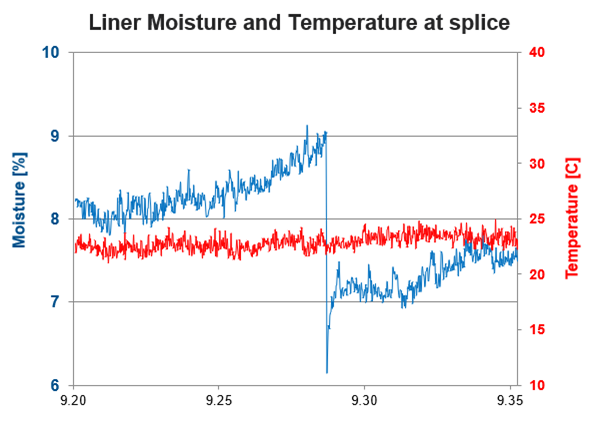 Through extensive testing and development, Valmet has also established there is a measurable correlation between moisture change and warping. They line up almost perfectly as curl occurs in paper production.
"Today, very few companies have the technology to accurately and reliably measure moisture in wood-based fibers," says Aki Leiniäinen, Technical Sales Manager at Valmet Automation. "Even fewer have the know-how to use the measurements in control algorithms. Valmet has applied both advanced moisture measurement technology and world-leading know-how for corrugators in a complete moisture management solution."
Measuring is knowing
Measuring moisture in fiber-based webs is a tricky business. To achieve a high degree of accuracy and reliability, specialized sensor technology is required. Once the correct values are captured, extensive know-how is needed to interpret their meaning.
In the Valmet IQ Multipoint Moisture Measurement System, sensors are positioned after pre-heaters and before glue caps on each paper in single facers and each layer before the glue machine. Additional measurement location is after the double facer measuring the final moisture of the combined board allowing the control of post-warp together with online warp measurement. This ensures there are moisture and temperature measurements for every layer of the board.
With real-time measurement data, the Valmet system automatically controls the pre-heaters to keep both temperature and moisture in target ranges with speed changes and splicing.
Benefits of moisture control
Moisture and temperature profiles of paper reels are normally good when they come off the paper machine. There is stable moisture through the reel with a smooth temperature curve from outside to inside. The profile changes, though, from everything that happens to the reel afterwards, from transport and storage.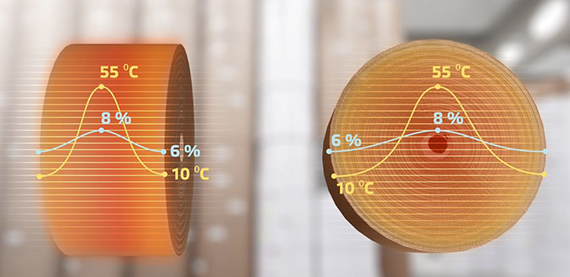 Without moisture control, the problems that arise from reel-to-reel and layer-to-layer moisture variation were not detectable until the corrugated board is already made. Now, with Valmet's predictive controls, moisture and temperature differences that caused warping and delamination in the final product are eliminated. Corrugator production is far more sustainable as waste is dramatically reduced.
Paper moisture also effects how glue penetrates the fibers. Once moisture control is in place, there is no need to add extra glue for any other purpose than bonding. Corrugators can consistently use the minimum amount of glue required for bonding, reducing glue and energy consumption and further reducing moisture variation after corrugator causing post-warp and wash boarding.
Advanced technology custom-made for corrugators
The Valmet IQ Multipoint Moisture Measurement is an advanced solution utilizing infrared technology to measure moisture in up to nine locations simultaneously. Multi-wavelength signal detection with sophisticated, high-efficiency optics provides accurate moisture readings in a wide range of installation positions.
The moisture measurement probes are extremely compact, specially designed to fit into the very tight and harsh environments of corrugator machines. No electronics are in the sensor head, and a special air purge design keeps sensor heads clean.

Moisture measurement is part of a complete quality control system (QCS) Valmet has developed together with corrugated board manufacturers. The QCS combines precise online moisture, temperature and warp measurements with multivariable predictive algorithms. Multivariable controls combined with state-of-art water spray systems keep the process stable despite raw material changes and other disturbances.
Automated controls for optimum performance
While accurate, reliable measurements are the foundation of moisture close-loop control, automation requires deep insights into fiber and water behavior. Valmet's decades of experience in this area are captured by Model Predictive Control, the brains of Valmet IQ Quality Control System.
All the control intelligence is performed in Valmet DNA automation system. Instantaneous measurement combined with predictive analysis enables real-time response to varying moisture and temperature. When the machine direction close-loop moisture and temperature controls are on, there is practically no variation.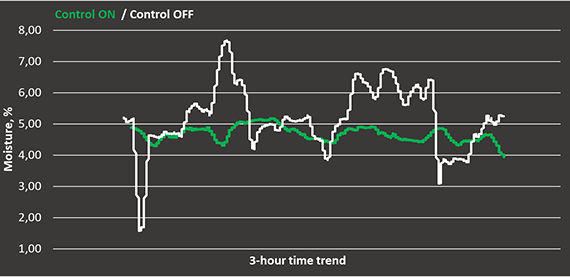 All grades have their own moisture and temperature targets that are stored in the database. The targets are developed together with the customer, leveraging Valmet's experience. Each target depends not only on the raw materials, but also the machine type and overall process, including storage which are specific to each production plant.
Online data for real results and continuous improvement
With 90 years of history producing corrugated board and packaging, Adara Pakkaus Oy wondered if they could do better. "We did not want to fly blind anymore," says Petteri Rekimies, Production Director at Adara with over 20 years of experience from corrugated industry. "There's no question that moisture and temperature vary in raw materials after logistics, and also during the drying and re-wetting cycles in the corrugator."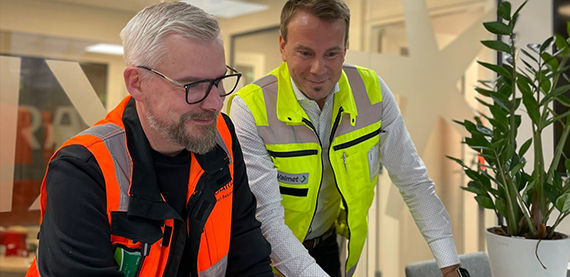 Mikko Järvinen, Development Manager at Adara adds, "Overall, we needed real, measured online data to see what happens during production to enable optimization and root cause analyses."
"Reaction time to raw material changes during production is very quick with online measurements and control," continues Järvinen. "It is much better compared to when operators needed to wait until they see the sheets at the stacker to make corrections. That is too late when the machine is already full of unwanted quality."
Their investment in Valmet QCS paid off already after a short period. "Our waste level is now the lowest it has ever been," says Rekimies. "We also know we can still improve thanks to the real, measured data we have from the process. Experience from paper industry has shown that temperature only is not enough to control the process and continuously improve productivity and profitability."
With the collected data, Adara eliminates assumptions. When decisions are based on measurements from production, concrete actions can be taken to better serve their own converting and ensure end customers get predictable box quality.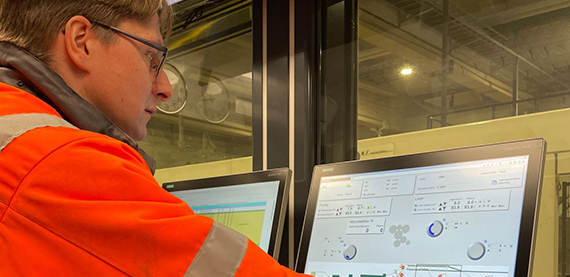 "Our main operators have nowadays much more time to use on other important tasks besides monitoring the quality changes in splices since the Valmet system keeps conditions stable automatically. Online moisture and temperature data available throughout the process also allows operators to be proactive in other areas that were not possible before," says Rekimies.