Valmet actively interacts with its stakeholders to share information on the company's offering and operations and to exchange views on market expectations. In order to facilitate discussion and collect stakeholder views around sustainability topics, we have established an online brainstorming tool.
520 external stakeholders and Valmet employees have participated in the brainstorming tool so far. The feedback received through the tool indicates that Valmet's main stakeholders such as customers, investors, suppliers and own personnel, confirm Valmet's current view on what's important with regard to the company's sustainability performance.
The most important topics concern safety, sustainable solutions, ethical behavior and employee wellbeing. All stakeholders share the view that safety is important in all respects: product safety and the safety of Valmet's personnel and subcontractors are chosen as top topics. Valmet's offering is considered important especially with regard to understanding customer's sustainability needs and innovations supporting more sustainable operations.
The high importance of topics such as compliance with the company code of conduct, respecting human rights and anti-corruption work indicate that our stakeholders emphasize ethical behavior in all operations including the full supply chain. Employee well-being and good leadership come up both in internal and external responses. Training and development of employees as well as talent management also appear in the top selections.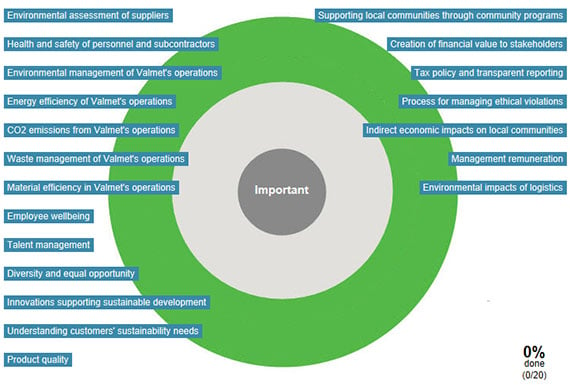 Image: The survey introduces 20 randomly selected topics that can be considered material for Valmet's sustainability performance. Each respondent is also encouraged to suggest his or her own topics and development ideas.