No coating process can be optimized without the right coater blades. Shandong Huatai PM 8 provides an excellent example of this fact.
The coated fine paper production line of Shandong Huatai Paper Co. Ltd. started up successfully in Dong Ying City, Shandong Province, China, in January 2011. The 8.1-m-wide PM 8, supplied by Valmet*, has an annual production capacity of almost 700,000 tonnes of coated and uncoated fine paper in the 80 to 200 g/m2 basis weight range. The machine's design speed is 1,800 m/min and the coater's 2,000 m/min.
Perfect coater blade performance
Valmet has been supplying doctor and coater blades for the whole production line since the start-up of PM 8, as well as providing technological know-how and specialist assistance.
The performance of the blades on PM 8 has been very good. Coating weight profiles and paper smoothness, for example, have both been stable. Compared to the previous tested supplier's blades, the blade lifetime is at least four hours longer and roughness has decreased a lot.
To ensure good coater performance, Valmet delivered different blade types for the four coating heads of PM 8. The first and second coating head are equipped with Valmet's SteelCote, a traditional steel blade made of tempered blue steel. The third and fourth coating head have Valmet Coater Blade nC** carbide blades.
Valmet Coater Blade nC is based on a nanoscale powder sprayed with the newest technology available. A superior microstructure, improved wear resistance, and low tendency for microscale cracking give it a remarkably long lifetime. This nanocarbide blade also provides excellent coating application, even when worn. Thanks to its long lifetime, it delivers long production runs between blade changes, saves downtime, and trims blade inventories.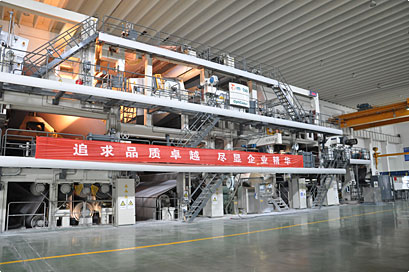 Multiple benefits
"Valmet's technology is reliable. We could really feel the Valmet service team's sincere and enterprising spirit in their daily communication and cooperation with our staff," says PM 8 General Production Manager Chai Junming.
After the start-up period and optimization of coater running parameters, Valmet's coater blades have proved their longevity, improved machine runnability, reduced downtime, and increased production.
Cooperation with Valmet has enabled the mill to considerably reduce its consumption of coater blades and energy, as well as lower its blade-related maintenance costs. No wonder that the mill and Valmet continue to work together on the development of coating and coater blade services.
Shandong Huatai Paper is a subsidiary of the Huatai Group of companies. With an annual production capacity of 1.5 million tonnes of newsprint and 0.7 million tonnes of coated paper, Huatai is the biggest manufacturer of high-grade newsprint in the world as well as a major coated paper producer.
*Metso (Paper) until Dec. 31, 2013
**earlier known as PermaCote nC