Valmet's Investor relations received an award for 'Best use of multimedia for IR' in Europe at the IR Magazine Awards 2017 for the innovative use of videos in IR communications. Other nominees in the category were Banco Santander (Spain), REN – Redes Energéticas Nacionais (Portugal) and Garanti Bank (Turkey). The winner was chosen by a panel of judges that included representatives from IR Magazine, Allianz Global Investors, Aviva Investors, Amundi and the former Head of IR at Diageo. Valmet was also shortlisted in the category for 'Best IR Website' with six other companies, of which Hays (UK) was awarded the trophy.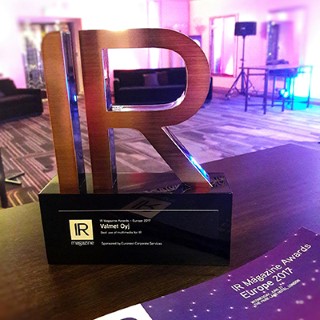 IR Magazine is the major global publication specializing in investor relations. In addition to producing news and research reports, IR Magazine provides education to IR professionals by hosting conferences and webinars. The IR Magazine Awards have been the hallmark of IR excellence and best practice for over 20 years.
Earlier in the spring, Valmet's IR won the best investor website award in Finnish large cap companies in a competition organized by the Finnish Foundation for Share Promotion and the Finnish Society of Financial Analysts. "For us, the investor website and IR Video gallery are important means of investor communications, and we are very flattered by the recognitions they have received. We are far from done, however. We want to keep our position in the forefront of the European listed companies by constantly developing the site and coming up with new ideas for IR videos," says Calle Loikkanen, Director, Investor Relations.
Visit the award-winning IR Video Gallery and Investor webpage.