Photo by Zwickauer Energieversorgung GmbH
"Starting shows strength, completing requires power" - with this motto Zwickau Süd GmbH & Co. KG officially inaugurated its biomass power plant on 3rd of September 2014.
The plant was taken over in early 2014 and now it has been officially inaugurated and as per contract. A big compliment came from CEE Representative Thorsten Labrenz: "The schedule was observed, and it came in on budget. In power plant building, these are two totally decisive parameters, which you cannot otherwise recapture over a life span of 20 years."
The new power plant is owned and operated by HKW Zwickau Süd together with ZEV Zwickau Energieversorgung as co-partner and distributor of power and long-distance heating. The project was invested by CEE (CEE Holding GmbH & Co. KGaA (Hamburg)), having a shareholding of 60 per cent, and Zwickau Energieversorgung GmbH (ZEV), which is responsible for the power supply for the city of Zwickau, with a 40 per cent stake. The project developer was Seeger Engineering AG (Owner's Engineer) and Valmet as general contractor was responsible for production and design.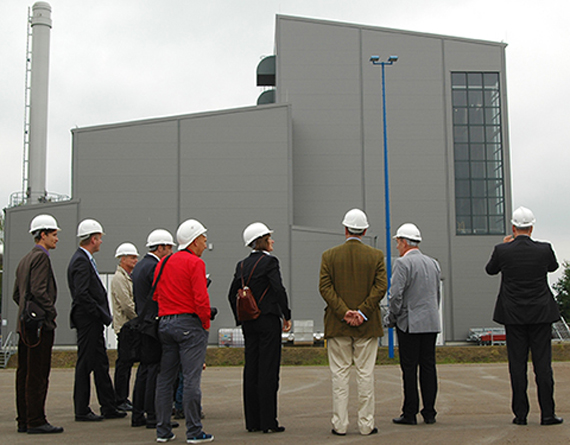 Photo by Zwickauer Energieversorgung GmbH
The reasons why the German company decided in favor of a Finnish vendor were explained by Thorsten Labrenz, Investment Director of Biomass at CEE and co-partner of the combined heat and power plant: "We wanted a general contractor that can build a complete power station and that is also large enough to guarantee creditworthiness."
Moreover, there is a strategic reason for the investor CEE to participate in a biomass power plant. They wanted to supplement the already existing portfolio of sustainable power sources, namely volatile wind and solar energy with base load-enabled energy production types like biomass. Wood has the advantage that it can be stored. With biomass, therefore, the exact quantity of power and heat that is required at any specific time can be generated, irrespective of weather conditions and depending on demand. For a project to be financially successful, several factors must be coordinated simultaneously and on a long-term basis.
What distinguishes Valmet as a local and global general contractor for biomass combined heat and power plants?
Valmet's business model is characterized by local power solutions, i.e. energy that is produced in the vicinity of the end-user. A decentralized power supply with the maximum possible number of local renewable raw materials makes the production of electricity and heat in a single power station more economical. Moreover, this process offers considerable ecological advantages: the energy existing in the combustible material can be utilized in the best possible manner, which in turn reduces the emission of air pollutants in relation to the extracted energy.
Another important advantage is the almost year-round, weather-independent, 24/7 product of renewable energy. Olli Taimisto, Director Project Development, Valmet explains: "Our plants are built to a large extent on a modular form, and are based on tried and tested and standardized components that can be delivered and built very quickly. We offer our customers an extensive life cycle and repair service upon request."
Modularizing enables short construction period
The Valmet biomass power plants can use the patented BioGrate as well as a stationary fluidized bed (BFB) as combustion technology. Both were designed for the efficient combustion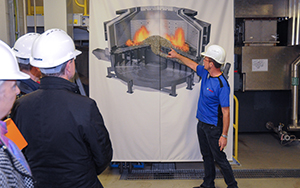 of moist wood fuels with a high combustion efficiency and low NOx and CO2 emissions.
Photo by Zwickauer Energieversorgung GmbH
The big strength of Valmet is the prefabrication principle. All components of the power station are prefabricated in Finland and assembled into finished modules at the relevant locations. This enables the building of the combined heat and power plant in an incomparably short period, which in turn leads to very low costs.
Strong references in Germany
Valmet has eight reference buildings in Germany alone. The biomass power plant existing in Leipzig is an example of a product designed for industrial customers. The essential thing is the clever exploitation of steam and therefore heat which is delivered to Porsche in Leipzig as energy for heating their painting lines.
The eight biomass power plants built by Valmet in Germany are almost identical in structure. What is new in Zwickau is the electrical grate firing drive, which simplifies the operation of the plant as compared to the existing hydraulic grate firing drive. The electrical drive in this form was introduced onto the market two years ago, and according to experience gathered thus far, it requires less frequent maintenance and has already become a standard product of Valmet.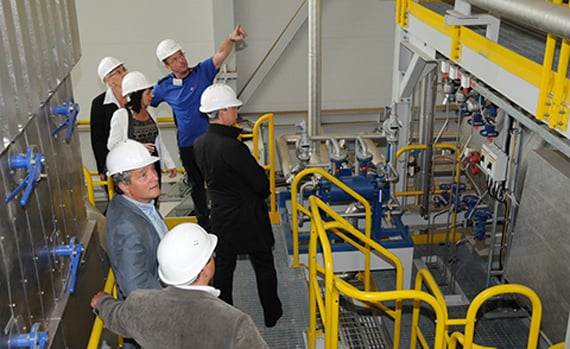 Photo by Zwickauer Energieversorgung GmbH
Information about the plant
Today, the company is managed by two managers Thorsten Labrenz, who brings finance expertise from CEE, and Mike Müller, who brings energy and biomass expertise as the procurer of the Zwickau Energieversorgung (ZEV) GmbH – the biggest and only customer of HKW Zwickau Süd. Power is fed directly into its network. Regenerative energy is fed to the heat power plant by approximately 12,000 of the total 24,000 households/customers (private households and KMU) in Zwickau that are connected to remote heat. The fact that the company is making healthy profits is a source of pride for the management and partners. However, this is also unequivocally a result of feeding into the long-distance heating. Besides the managers mentioned above, Volker Schneider, Manager of ZEV, whose customers benefited from paying energy costs a good 13 per cent lower from 1st January

HKW delivers 75 million kilowatt hours of heat and 35 million kilowatt hours of power from renewable energy sources by consuming 65,000 tons of wood waste from landscape maintenance and forests each year. Mike Müller uses a metaphor to illustrate the quantity: this corresponds to approximately 52 football fields stacked with wood 1 meter high. The ecological advantage to the company is illustrated by Dr. Pia Findeiß, the mayor of Zwickau: "It is a lot more than just building a power plant. We save 51,000 tons of CO2 by using biomass."

Bosch Energy and Building Solution GmbH is routinely responsible for the continuous operation and 24/7 maintenance with the help of seven employees in total. In the control room, one employee takes responsibility while a second is on stand-by. "The plant is serviced continuously, zero-error tolerance is the maxim – like in the automobile industry," explains Gottfried Oehler from Bosch Energy and Building Solution GmbH, and he is proud of the steam turbine which ultimately produces the energy, working at a speed of 11,000 rotations per minute, and accounts for a large portion of the investment. "We have all acted in concert and as a result we have a plant here which will run for at least 20 years. To have a general contractor for the technology was therefore crucial. For the operation of the plant, it is also important to have a wood supplier who guarantees quality as well as continuous preventive maintenance. Half-yearly maintenance results in less time spent on servicing and lower costs. I would never have imagined that seven employees are enough for a plant like this, but it suits us," says Oehler.