South Africa is a very beautiful country, with great weather, fantastic wildlife and friendly people. But unfortunately also a high crime rate. What does an individual or a business do to help fight this?
Based on the fact that Valmet's sponsorships and donations focus on science, research, education, environmental protection, nature conservation and youth activities, Valmet's team in South Africa decided to look at its local community, see what is being done close to them, and then give their support.
Supporting a nearby children's home
25 kilometers from Valmet's office in Mount Edgecomp, South Africa, Valmet's team found a group of people who, relying on donations to supplement the small Government grant received per child, run a "safe home" for children who may have come from broken homes, been abused or abandoned and as a result have discipline issues, have rejected authority or lack the correct social skills to deal with situations because their basic human rights have been violated in some way. Left alone these children more often turn to drugs and a life of crime.
This home gives them a chance, with the right counselling, discipline, routine and care, to learn responsibility and develop skills and values. There have been many success stories of these young boys and girls going on to become leading business persons in their careers!
A practical solution to an everyday challenge
The "safe home" is an old monastery that has been converted into a hostel. The rooms are very basic, the furnishing very sparse and the building in much need of repair. With this in mind, the Valmet team decided to start their involvement with a very practical solution – putting together a toolkit for the building maintenance.
There was some raiding of the employees' home garages, visits to hardware stores, dusting off of tools that we forgot we actually have and some contribution directly from Valmet.
Although the items were primarily meant for the much needed maintenance on the building, they would also give the children a chance to learn to use these tools, up skill them in woodwork and maintenance – a skill they could use in the future.
Successful "hand-over"
Valmet's employees put all the tools together and set off for a "hand over". The team was very warmly welcomed by the staff, management and the children. The visit also enabled the team to assess where they could possibly be involved in future - to continue to be a small part of the solution, changing these children's lives and moving them forward!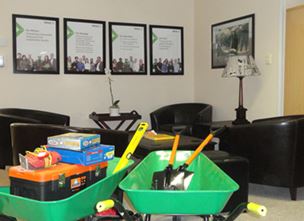 Image: The items ready to leave the office