Valmet offers customized solutions to improve the reliability and performance of your screening process. We ensure the competitiveness of your screening system by reducing screening costs per tonne produced through cost savings (in materials, energy and maintenance) and by improving screening efficiency. Well-screened stock means better runnability of the paper machine and improved end-product quality.
Depending on your needs, screening improvement may involve a combination of know-how, services and products from Valmet's service, improvement and upgrade offerings.
The improvement process starts with an analysis of the present condition of the screening process and identification of possible problem areas. This analysis draws on Valmet's process and machinery know-how and analytical services. Valmet then formulates an optimal solution based on the analysis findings and screening targets set with the customer.
From refiner segments and screen baskets to grinding surfaces, Valmet con provide long consumable lifetimes at the lowest total cost. Our consumable agreements are tailored for each production line.
Valmet offers unique, state-of-the-art process solutions for all screen applications. By choosing Valmet as your screening technology supplier, you will receive the benefits of Valmet's in-depth knowledge of the industry, as your partner in optimizing your fiber and paper lines.
Benefits of optimizing a screening process include:
Maximum process performance
Better process availability
Lower screening costs per ton
Stable end-product quality
Valmet manufactures high-quality screen baskets for most screen makes and models to fit all process positions. Through continuous coating development, we can also provide special coatings that guarantee the longest lifetime of screen baskets on the market.
Chemical pulping
Valmet Screen Basket H1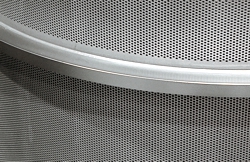 Valmet Screen Basket H1 provide a durable and high capacity solution for screening. While wedge-wire baskets are used for very fine screening, the robustness of drilled screen make them well suited for machine screens and pre-screening stages to protect fine screens from large and hard impurities. The open area of Valmet Screen Basket H1 is five to ten times larger compared to slotted baskets providing high capacity. The traditional flat surface enables good separation of coarse fibers and gives an extremely good lifetime. By contouring the surface of the Screen Basket H1 using the NWP profile, the screening capacity can be increased. Valmet Screen Basket H1 is suitable for knotting of chemical pulp, coarse screening of RCF and machine screening.
Valmet Screen Basket NC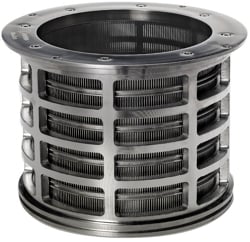 Valmet Screen Basket NC is an effective way to save on screening costs. Thanks to the innovative design enabling the replacement of the screening panel, which is a wear component, the screen basket has multiple lives. Reuse of the more expensive component in the basket, the support framework, reduces screen basket costs significantly, especially in high-wear applications. Also, Valmet Screen Basket NC adds flexibility to your screening process by providing the opportunity to switch to a different screening panel profile design or slot width during each panel replacement. As a result, adjusting to new process requirements becomes easier and more cost-efficient.
Mechanical pulping
Valmet Screen Basket H2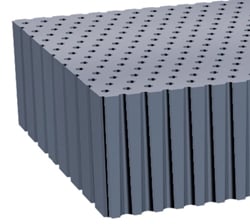 Screen Baskets H2 is Valmet's innovative screen basket designed to enhance fiber removal and water cleaning. By means of electron-beam drilling, more than five million holes per square meter are perforated in the plate. Despite the perforations' tiny size, their great number increases the percentage of open screen basket surface to more than 10%. Screen Basket H2 helps papermakers save costs by minimizing fiber losses. Useful fibers can be recovered from process waste water and filtrates, and returned back to the process.
In addition to better capacity, Screen basket H2 helps keep screens clean. The special electron-beam drilling method makes the perforations ideally conical, so they remain clean and open. The Screen Basket H2 is designed for use in fiber recovery and water cleaning applications.
Valmet Screen Dilution Belt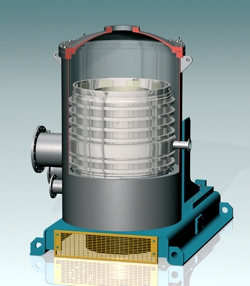 Valmet Screen Dilution Belt converts your existing screen into a two-stage system. A Screen Dilution Belt unit consists of two individual baskets, joined together with a dilution belt. Screen Dilution Belt improves screening efficiency by utilizing the available screening area more effectively. An additional screening stage is added without adding a new screen, i.e. no additional piping, motors or chests. There is increased capacity and screening efficiency, as well as reduced fiber losses at maintained screening efficiency because of the addition of another screening stage. Also this solution provides reduced and controlled reject thickening.
A Canadian TMP mill has reported excellent results after the installation of its first Screen Dilution Belt basket. In spite of wider slots in both the primary and the secondary stage, the Screen Dilution Belt basket has proved superior to the reference basket. A Swedish market pulp mill produces groundwood pulp from spruce and aspen. The use of Screen Dilution Belt brought shive removal efficiency to levels that were previously unobtainable at the mill. By adding the correct amount of dilution water in the correct position, a lower rotor speed could be used. Energy was saved and screen basket service lifetime increased due to reduced wear.
Chemical & mechanical pulping
Valmet Screen Basket NL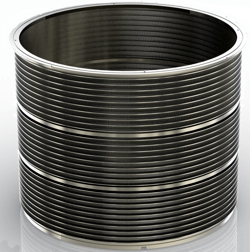 Screen Basket NL is a new screen basket design based on the proven Screen Basket LD wedge wire technology. Advanced laser cutting capabilities with new manufacturing techniques allows the assembly of the pre-formed baskets using a single piece mounting and stiffening ring to reduce cost while retaining performance and durability in operation.
Highly accurate narrow slots with Screen Basket LD wire profiles create an optimized flow pattern to deliver controlled thickening and low reject rate, together with minimal debris, sticky and contaminant breakdown providing additional savings through lower usable fiber loss. Wedge wires feature Valmet Screen Coating L for high wear applications giving basket performance and lifetime comparable to baskets costing up to 25% more. Low flow resistance combined with the large open area of the screen provides high screening capacity with efficiency. With Valmet Screen Basket NL you will be able to target pulp quality and boost efficiency in a wider operating window.
Valmet Screen Recoating Services
Valmet has developed a proactive recoating service to optimize screening performance. This innovative service ensures that the screen basket profile is maintained in top shape at all times by replacing the baskets before their profile starts to wear down and then recoating them. Knowing when to replace and recoat the baskets is the key to minimizing unplanned shutdowns, ensuring stable performance and saving costs.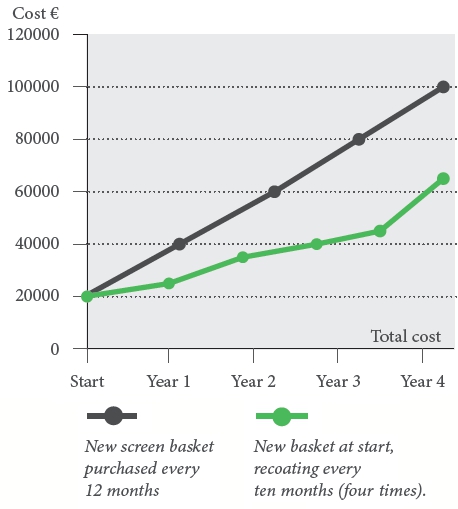 Recoating services are a cost-effective solution to maintain capacity at a desired level. Recoating, instead of buying a completely new basket, brings considerable savings in screening costs. This is illustrated in the graph showing a cost comparison in a typical case.
StockBoost for optimal performance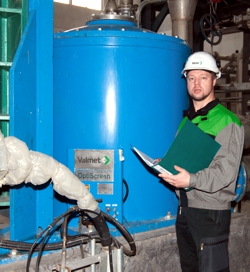 Optimal screening performance is essential for achieving the desired pulp quality with the highest possible production efficiency. Valmet's StockBoost for screening is a customized service concept offering products and services that keep screening equipment in top condition for maximum availability and productivity and ensure that the targeted end-product quality is achieved with the lowest production costs. The agreements can contain various services for the screening process and may range from a single service package to a continuous support program. The cooperation agreement can be applied to all types of screens, regardless of make or brand.
For more information on lowering your total screening costs for your fiber, paper, board or tissue line, contact your Valmet representative.