We interviewed Remigiusz Lewaszkiewicz, Category Manager, about his career at Valmet and what he thinks of Valmet's culture. Remigiusz is working at Valmet in Poland and he started in this position recently.
What is your background?
"I am a graduate of the Technical University of Wrocław, Poland, where I earned my mechanical engineering degree in July 2001. Before joining Valmet, I have worked as a paper machine designer (dryer section department), purchasing and subcontracting manager, and as a project manager for capital projects.
The desire to develop further, explore new areas of business and meet new people led me to Valmet's Flow Control Business Line as a Category Manager. The new position also gives me the chance to use the experience I have gained previously and apply it in a new environment. Before this position, I worked for Valmet's Paper Business Line as an Expert Project Manager for four years."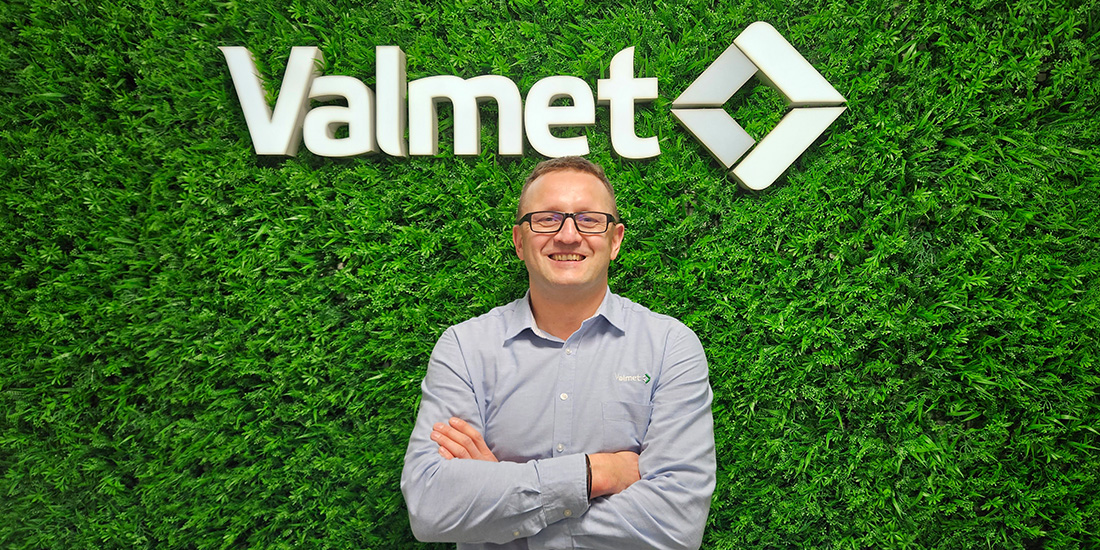 What are your responsibilities as a Category Manager?
"As a Category Manager, I am responsible for the development of the EMEA area sourcing. The job of a Category Manager is related to the search for new suppliers, sending requests for quotations (RFQ), visiting suppliers, and conducting pre-audits to assess the suppliers' capabilities. Supplier relationship management and the collaboration with Finland and Germany factory purchasing teams is an important part of my responsibilities."
When do you usually start your workday?
"I usually start my day around 7:30 am by reviewing correspondence from the end of the previous day. Recently I have been dealing with projects for customers from different time zones, from countries like Indonesia, Turkey, Poland, and Mexico, so there was always some news while I was out of the office. During the day, I usually have a lot of meetings with departments that participate in projects, such as the engineering department, purchasing, production, assembly, and logistics. Reporting on the progress of the project, assessing opportunities and risks is also very important. The summary of the work is communication with the customers, taking part in conferences, meetings, and participation in the start-up of machines, which is the closing of an important stage of the contract."
What kind of team do you have?
"Currently, I work in a team of 10 people, which consists of both employees with many years of experience in various areas of the company, and people at the beginning of their careers. In my new position I am working mostly independently, but by remaining in the same office and surrounded by many other Valmeteers, makes me feel part of a bigger team".
What inspires or motivates you at work?
"The biggest motivation for me is to take on new challenges, finding solutions to the targets which have set by looking for new suppliers, creating new delivery channels, meeting new people, and having the opportunity to travel. For example, while visiting a gearbox supplier some time ago to conduct a quality acceptance, I picked up on the fact that they could also supply equipment for our new project, which was in the development phase, so we were able to successfully get it to market faster."
Seeing the paper winding up on the reel is incredibly satisfying"
What do you think has been your greatest achievement at work?
"A major achievement for me was the start-up of the tissue machine for the project in Mexico. The implementation and process of the project had some twists and turns, however, in the end we managed to make the launch of the machines on time. Seeing the paper winding up on the reel is incredibly satisfying!"
How would you describe the Valmet's culture?
"I have met many very friendly, helpful people at Valmet. When problems arise, I can always count on the help of colleagues from my department, the company or other Valmet departments."
What do you like to do in your free time?
"In my free time I like to do sports. This includes running and, when possible, I take part in competitions to test my abilities. I also go cycling with my friends and colleagues, as the area I live in gives me the possibility of visiting not only interesting but also beautiful locations."
What makes Valmet a good place to work?
"The working atmosphere, work-life balance, mutual respect for others and professionalism makes Valmet a very good place to work in my opinion."